Whole World Arts, located in the MarketFair space formerly operated by Bobby's Burger Palace, is the West Windsor Arts Council's new exhibition space gallery, shop, and a studio for workshops and classes.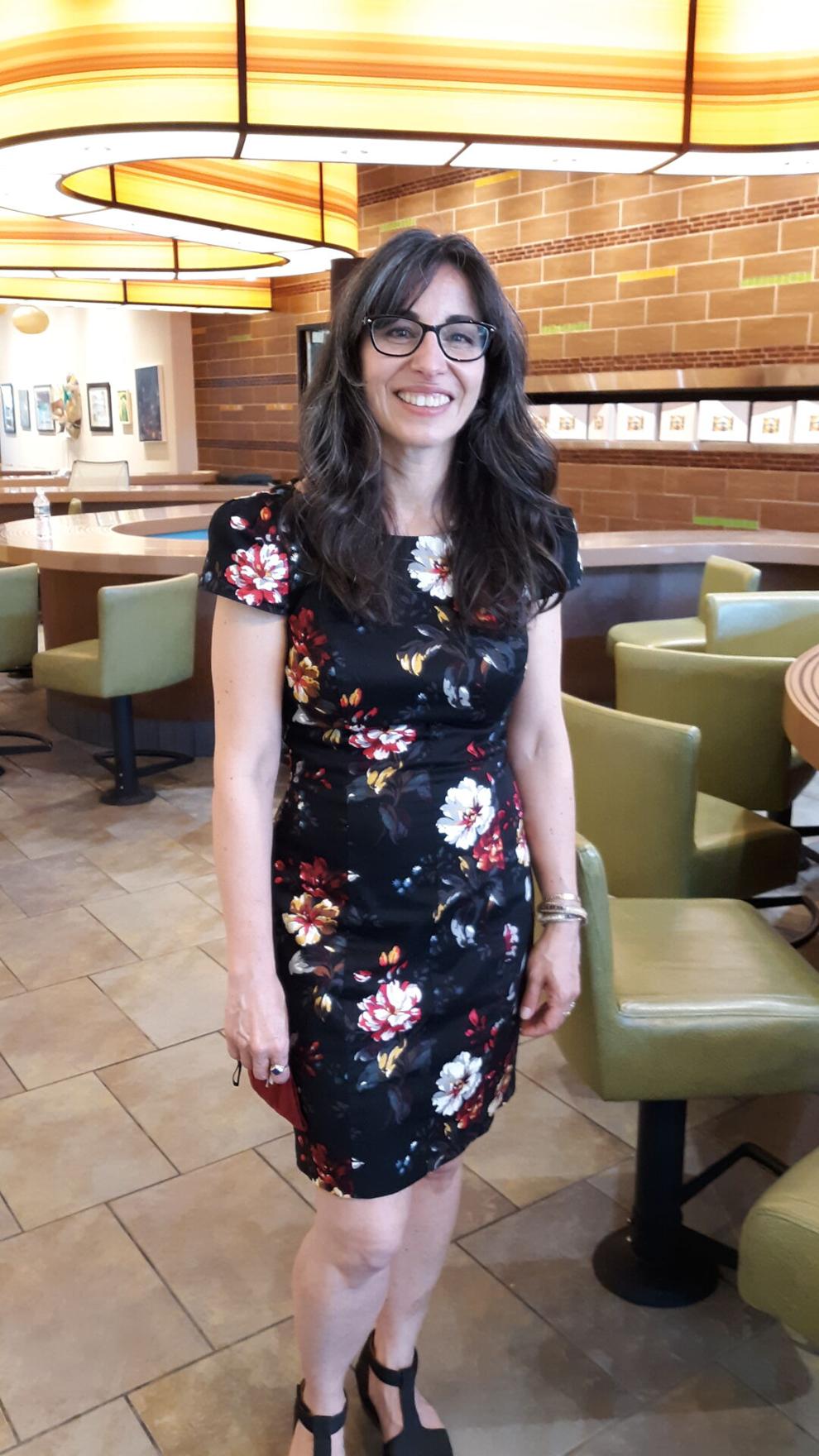 "Because of our longstanding relationship with MarketFair, the folks there approached me about West Windsor Arts taking a space," says WWAC director Alyin Green, referring to past art and music ventures at the Route 1 shopping center managed by Madison Marquette.
Green says the property owners "have created other, similar partnerships with arts groups at other shopping centers around the country, specifically in Bee Cave, Texas, to actively engage the community. They offered us a one-year lease in which we pay utilities and a percentage of revenues generated at that location. It was an exciting proposition that the West Windsor Arts board and I could not pass up.
"Before COVID we had been constrained for space. Additionally, we saw this as an opportunity to more fully explore the concept of harnessing the arts to create a positive impact on our community and beyond."
Green credits an NRG Energy grant for providing the project "with key start-up funding" to employ artists to launch the new project.
That includes commissioning a mural from two regional artists who provide a glimpse into the creative energy of the region and the merging of artistic trends between Princeton and Trenton.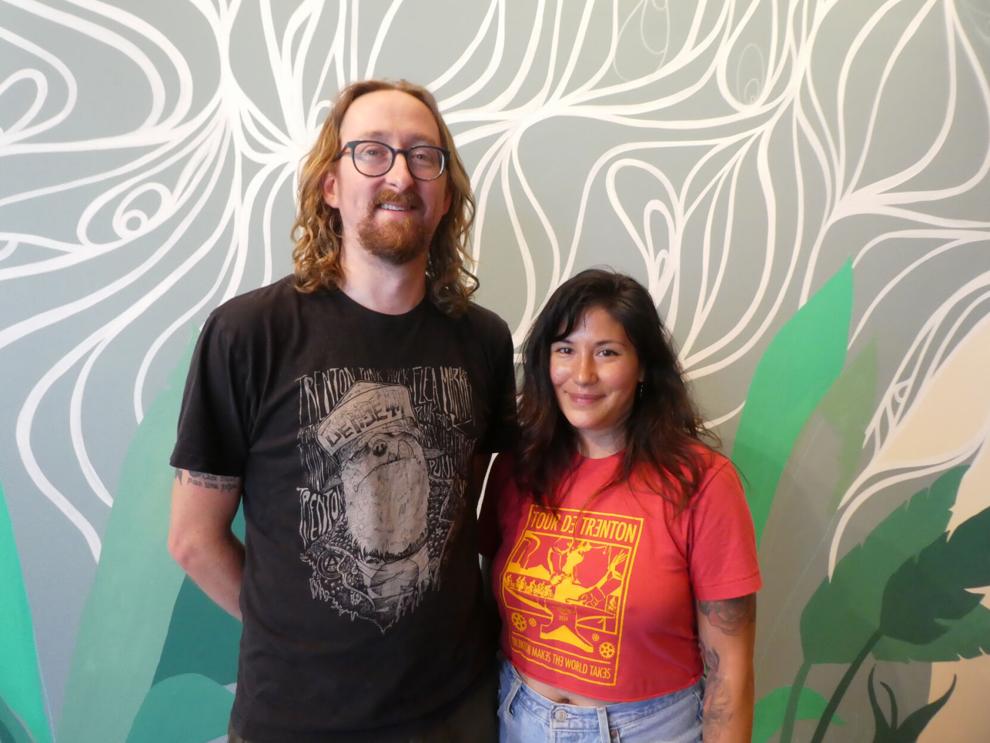 While street muralists Jonathan Conner (aka Lank) and Liz Amaral have been in a personal relationship, this is one of the few times that the two have partnered professionally to create a work.
During the painting of the Whole World Arts Mural, the two Trenton-based artists spoke individually about their work.
"I do a lot of different things," says Lank about his work over the past decade. "Mostly murals, public arts projects, are most of it."
Interested in street art beyond the wall surface, he adds, "I'm also doing a master's program in anthropology (at Monmouth University) with the idea of studying public art and its impact and best practices to find out ways to improve the city — because that's what I care about. I'd like to see the projects have an actual impact rather than just beautification but getting people involved in the city and space. We have a lot of un-activated spaces, abandoned buildings that need some upkeep."
Asked to elaborate on approaches, Lank says, "There are a couple of different models. There's what you call an open wall model, free space for people to express themselves creatively without formality. There is a mural festival project, where you can set up a large amount of time for something that's a pop-up and other organizations that can participate and inform people about the services," such as HomeFront. "There are programs, but you have to meet people on the street."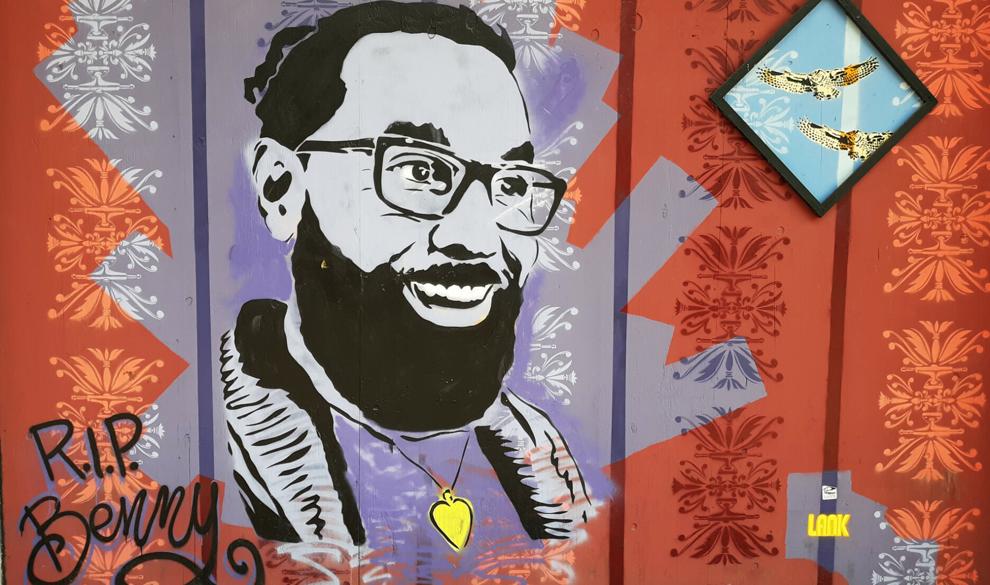 Lank says his own personal case study of getting involved with public art is through the S.A.G.E. Coalition. He calls it a "real grassroots creation. It started out as art for art's sake and grew into something different." That includes engaging downtown community members in actively addressing neighborhood blight through art and providing services for the poor at its gallery at 419 East Hanover Street in Trenton. (The project's momentum was disrupted when the gallery needed to be closed for renovations.)
Although a professional illustrator for Monmouth University and a painter, Lank says, "I prefer the outside of the gallery versus the inside of the gallery. I like spaces and shows, but I think you have more reach and impact in the environment. Also the unique space that you're working with guides the way you're going to paint and how to solve it. Every space is like a puzzle of the logistics and how you use the space. And I like to work big, and outside provides the opportunity to do that."
He says his interest in public art was lit by street writer and artist Leon Rainbow. "Leon and I went to Mercer (County College) together in 1999 and 2000. I bumped into him at Art All Night in around 2007. He invited me to check out the Jersey Fresh Jam (the annual hip hop festival Rainbow coordinates). That was my first exposure. I met (noted Trenton-born street writer and artist) Will Kasso and we started painting together.
"I had been doing illustration — I had two young kids at the time — so I wasn't doing art. That got me on to painting on a regular basis. I was always a designer; I had art jobs.
"I was working for Whole Foods Market — every store had a chalk board artist, and it was really great for letter practice and fun to illustrate things. But at the end of the day I wasn't going home and getting the paints out. Getting involved with Jersey Fresh and the graffiti scene got me back into making art."
Born in Trenton, Lank grew up in Hamilton and attended Steinert High School.
The son of a state worker father, who also sang in the Boheme Opera chorus, and a home economics middle school teacher whom he calls "crafty," Lank says his interest in drawing and illustrating came because it "was my easy gift. I'd draw my mom a picture as a gift for Mother's Day or a birthday."
He says his path to illustration came from a high school program that had students take classes in Mercer County College's illustration and design program.
There he became so engaged with the classes, he finished MCCC's design course and received his BFA from Pacific Northwest College of Art in Portland.
Reflecting on Mercer's importance to his career — and later teaching there for a decade — Lank mentions his interaction with MCCC professor and nationally known artist Mel Leipzig. "Mel was a big part of my artistic life, and why I wanted to teach. As amazing as he is as a painter, he's just as amazing advocating for people creating art. It's never about how good you are at painting, it's about you painting."
Assessing the current state of the art on creating street art, Lank says, "The challenge with public art is funding. You have to get support and funding. It may be easy to get support but not funding. Everyone wants to do a project, but when you start talking about the budget, it changes.
"The actual execution of (murals) is pretty labor intensive as well as intellectually taxing. Far too often people see your artistic ability as a gift or skills; it's still a lot of work to come up with concepts and execution. That's the kind of the big challenge. And with public art, it's maintaining your own artistic voice. "
He says his interest in researching public art is to explore how an artist "can do work that is artistically impactful and enriching an environment and serves the public. To make the place more inviting and help people care about their community."
Another way, he says, is encouraging the study of art. "An arts education really prepares you for a lot more than just art. It is a different way of thinking that can benefit anyone in whatever they're doing."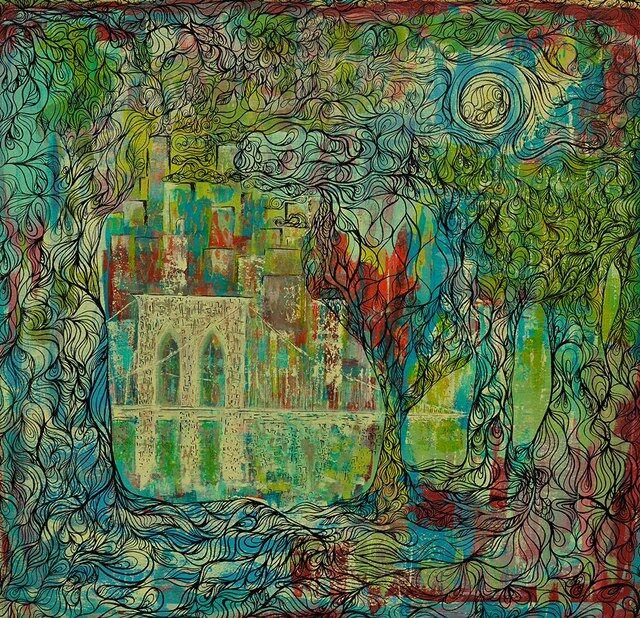 Taking a break from painting, Amaral talks about the creation of the mural designed to welcome visitors to the café-turned-gallery. "They wanted a tropical plant kind of vibe. They showed us pictures from a Pinterest folder, and it's something we had to put together."
About her approach to creating art, she says, "I do abstract expressionism, contemporary abstract expressionism. Most of my art has a lot of line work, and I involve shapes. A lot of it is done intuitively unless, I'm doing a commission. With my line work I just let it flow in wherever it wants to go."
Thematically, she says "most of my work is spirituality based" and deals with traditional images that reflect spiritual grow, such as Buddha and chakras points.
"I've always been going towards that route," she says, adding that she also works in the healing arts as a reiki practitioner.
She adds that there was also a spiritual element in her family. Her father was a Boston-born Catholic priest in the Philippines when he met her Filipino mother, a nun. They eventually found work in New Jersey — he as a state corrections officer and she as a state taxation office employee — and settled in Ewing. Amaral mainly attended school there but because of a rebellious time eventually graduated from Hamilton Township.
Raised Catholic, Amaral says she follows a different spirituality that involves meditation, daily appreciation, and a belief that "everything is connected."
She says that she always painted, did well in art classes at school, and was interested in the graffiti art her older brother was doing. But she didn't pursue an art career, electing to study skincare at the Rizzieri School for health and wellness and worked as an aesthetician in Lambertville and Princeton.
She also picked up work at restaurants and found herself connecting with art.
Amaral says it was around 2000 when she took a job at Trenton Social and began meeting the group of artists who were working together and creating a movement that included the SAGE Coalition beautification projects and the Jersey Fresh Jam.
Yet, she adds, her spark to become an artist came from one involved with another group in the area, sculptors moving to the region to work at the Johnson Atelier, when Hopewell-based Rory Mahon stopped into the café one night and the two struck up a casual conversation.
"He asked if I was an artist, and I said I used to be. I said I had stopped painting for some time because I had a block. He said to find a place in my room and leave the paints out and the canvas up and do a little every day until you feel you can do the painting.
"It was serendipitous that we met. He got me to set up my paint stuff and a few weeks later I ran into Will Kasso. He was doing live portraits during the week, and I sat for him. That's how we started our friendship. I painted a portrait of Bob Marley that he liked. We exchange paintings."
She says she began learning by interacting with Kasso, whom she calls her first mentor. She also points to learning art approaches and techniques through her involvement with the Hive, which grew out of the Trenton Atelier, working with Leon Rainbow, and being active with other artists on various projects.
"Working at a bar in the Trenton community at that time you met a lot of artists and made a lot of connections and got pretty much involved with everything going on around town," she says.
While still picking up healing art work and some substitute teaching, she has been creating murals for Trenton business like the One Up, One Down coffee shop and Championship Bar, selling works on her website, creating custom painted skateboards, and recently had a work accepted in the Trenton Transit Center arts project.
Then this autumn she will be an artist in residence for a school mural project in Vermont, where Kasso now coordinates community and educational institution-sponsored mural projects.
Summing up her involvement with art, Amaral says she wants to be an inspiration to people who say they always wanted to be an artist. People forget that you don't have to be serious all the time you should just play more. Art flows better when you just play with it."
Focusing back on the Whole World Art mural, she says she was the lead artist and that Lank supported the work by "adding some of his expertise and fine tuning and adding more layers of flowers and foliage." And that even though she and Lank have known Green through her own involvement with Trenton's AbOminOg Intl. Arts Collective and Sage Coalition projects, Amaral says, "I'm super happy that they thought of us. It's way nice."
Green says that the new mural using Amaral's themes "is a reminder of the tenacious power as well as the vulnerability of the natural environment. We will take inspiration from it as we build programs that create a vision for a more just, equitable, and sustainable world. I firmly believe that the work we do on the local level has a ripple effect that will lead to the creation of the world we want to see, and I'm so excited to start this new journey with the staff, artists, and friends we have met along the way."
Whole World Arts, 3535 Route 1, West Windsor. www.westwindsorarts.org.
In addition to its new space, West Windsor Arts Council is also bringing back its summer concert series at Nassau Park Pavilion in West Windsor. First up is the B.D. Lenz Trio, which performs Saturday, July 10, from 5 to 7:30 p.m. Trinidelphia performs on Saturday, August 7. Both shows will be opened by contemporary cellist Dan Kassel.
The concerts are free and family-friendly.