Institute Director Nominated to Dutch Cabinet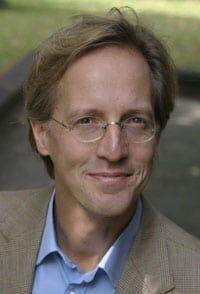 Robbert Dijkgraaf, director and a professor of physics at the Institute for Advanced Study in Princeton, has been nominated to join the cabinet of Netherlands Prime Minister Mark Rutte. Dijkgraaf's appointment as minister of education, culture, and science is set to begin January 10.
Dijkgraaf, who has been the institute's director since July, 2012, was scheduled to step down from that role later this year. His successor, David Nirenberg, was announced last November.
In his new role in the Netherlands, Dijkgraaf will be responsible for the ministry's mission of ensuring "a knowledgeable, skilled, and cultured country." His focus will include, in particular, higher education, research, and fostering a creative environment to support students, teachers, and scholars.
"On behalf of the Board of Trustees and our entire Institute family, it is with great pride that we recognize Robbert for his nomination as Minister of Education, Culture and Science of the Netherlands," IAS Board Chair Charles Simonyi said in a statement. "We are deeply thankful to Robbert for his extraordinary leadership during his ten-year tenure and wish him continued success in this new role. Our community will miss very much Robbert, Pia, and their family."
"For me this call presents a unique opportunity to serve my country at a critical time. Although I am leaving the Institute with a heavy heart and earlier than planned, I'm comforted to know that with David Nirenberg as my successor, IAS will be in very able and caring hands," Dijkgraaf said in a statement. An official transition plan is being developed by the Board of Trustees.
Artworks Appoints New Director
Artworks Trenton has announced the appointment of M'kina Tapscott as executive director, effective January 18. Tapscott will succeed Lauren Otis, who has served as executive director since February, 2016, and announced his intention to step down following the appointment of a successor last year.
"I am very delighted to witness the critical and historical transition of the organization" said Barry Zhang, chair of Artworks' board of trustees, in a statement. "Lauren will leave very big shoes for the new executive director to fill, and I am very confident that M'kina, as the top choice of the search committee, the board, and the staff, is the ideal person to fill them."
Tapscott's 15-year career in education, access, curation, and advocacy resonates with Artworks' mission "to connect community, culture and creativity through the arts." Beginning with her work as director of education and programs at Project Row Houses, an art and social service development in Houston, Texas, and continuing through education and outreach positions at the Whitney Museum of American Art, the Museum of Fine Arts Houston, and the Houston Center for Contemporary Craft, Tapscott has championed the primacy of art in building community and advancing social change.
Concurrent with her curatorial and administrative work, Tapscott has taught art history and studio art at all levels, most recently at the University of Houston and Houston Community College. A practicing artist, she holds an MFA from the University of Houston and a BFA from Texas State University. She currently resides in Houston and plants to relocate to Trenton this month.
"As a city, Trenton continues to struggle for resources and recognition despite being the state capital. Artworks is deeply committed to partnering with those working to improve and revitalize Trenton, using art as a change agent, and celebrating human diversity in all its forms," Tapscott said in a statement. "I appreciate the similarities between the communities in Trenton and my hometown Houston. It is in these likenesses of needs, of opportunity and space where positive change can be enacted through deepening connections to people, art and community. I genuinely believe 'el arte cambia a la gente y la gente cambia el mundo.' This is where the work truly lives, and I intend to lead this organization in service of that need to inspire all of greater Mercer County."
Artworks Trenton, 19 Everett Alley, Trenton 08611. 609-394-9436. Lauren Otis, executive director. www.artworks­trenton.org.