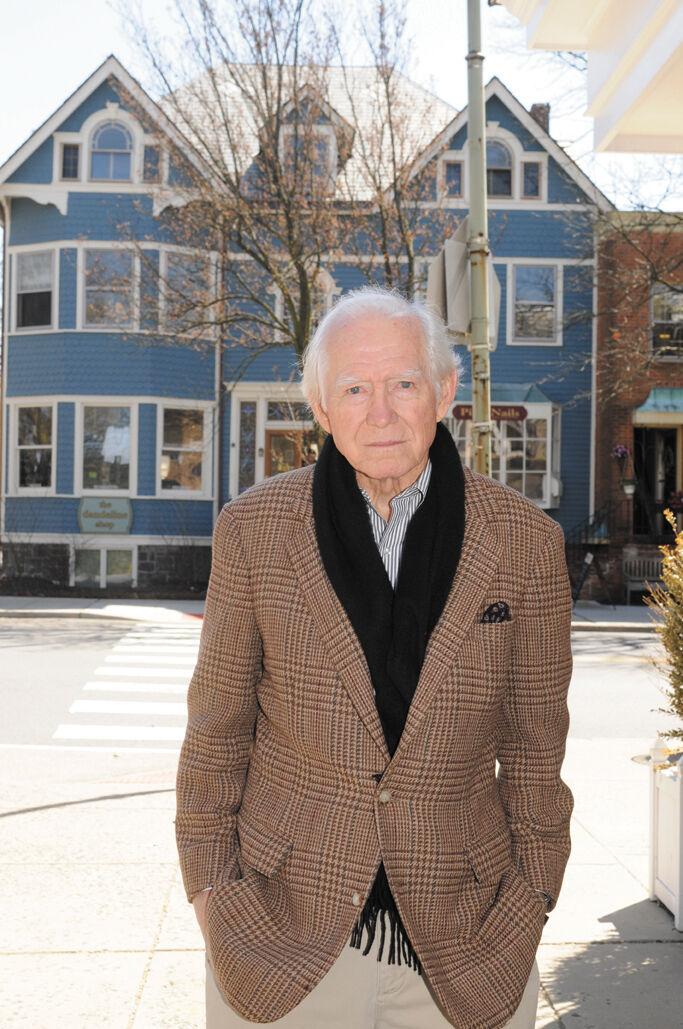 William Bryce Thompson IV, one of the largest individual landowners in Princeton, died June 12. He was 87.
Thompson was known for having a big personality to match his sprawling land holdings, which included properties in Lawrence, Hamilton, Robbinsville, Bordentown, and the surrounding areas. Although his properties include a number of commercial buildings and several residences, he is best known for buying farmland and selling it to governments and nonprofit groups for land preservation. Some of his land holdings were sold to create part of Mercer County Park.
Thompson's family has a long history in Princeton. Both sets of his maternal grandparents arrived in the United States around 1850, having fled the Irish potato famine. His maternal grandfather built a stately house at 195 Nassau Street along with several other buildings around town. The home is still in the family, and the lower level serves as the headquarters of Thompson Management, the company that Thompson founded in 1959.
In a 2008 profile (U.S. 1, April 30, 2008), Thompson described his father, William Bryce Thompson III, as an alcoholic who "played at antiques and did not contribute much to the support of his family." He had a real estate business in Birmingham, Alabama, but lost it in the Great Depression.
Despite his father's lack of success in business, however, Thompson grew up in luxurious circumstances in his early childhood thanks to his grandparents' wealth.
After the grandparents died, Thompson's mother scrambled to make ends meet, renting out nine garages in the family home for extra income. Thompson went to work at age 12, selling Christmas trees in the side yard of the house. He eventually earned enough money from this and other jobs to buy the house from his mother and aunts.
His odd jobs also sponsored an eclectic college career that spanned one semester each at the University of Alabama, Florida State, Florida Southern, Rider, the University of Miami, the University of Tennessee at Chattanooga, the University of Miami, and Mexico City College.
He never graduated, but his studies did keep him out of the Korean War. When the war was over he joined the Army and was assigned to the sports office, where his tour of duty consisted mostly of tennis and skiing. He showed a thrill-seeking streak and was in trouble several times for fighting. His daredevil attitude carried over to his life back home, where he was a lifelong motorcycle rider. (His obituary photo shows him doing a handstand on a moving bike.) He said he played polo until age 72 when he was bucked and run over.
"His endeavors included hang-gliding, sky-diving, scuba diving, fast cars, fast motorcycles — he loved his Triumph motorcycle — and beautiful women," his obituary said.
His risk-taking ways extended to his real estate ventures.
Thompson's friend Shawn Tully, writing for New Jersey Monthly once wrote: "Thompson uses leverage as if he were moving the rock of Gibraltar with a crowbar." The article went on to say that if Thompson had $100,000, he would put $10,000 down on 10 different things and borrow as much as he could. I never saw anyone as willing to take risks."
Thompson bought his first piece of property in 1958. Together with his first wife, Siri Romsaas, a Norwegian, he paid $6,000 for half of a house backing up to the home at 195 Nassau. He bought the second half the next year.
This riskiness nearly sank his business in the early 1990s following the savings and loan crisis. He said he lost an average of $1.7 million a year between 1991 and 1994 when he was unable to sell his land or borrow money. He avoided foreclosure by just an hour on one property.
Aggressive buying got him into the crisis, but aggressive selling got him out of it. "As they were about to foreclose on a lot of my properties," he told U.S. 1, "I would go around and knock on the doors of counties, give them a sales pitch about why this particular farm would fit into their plans."
In 2008 he told U.S. 1 that he owned as many as 15,000 to 20,000 acres during his career, and as many as 9,000 acres at a time. His company, Thompson Management LLC, today lists about 6,000 acres among its holdings.
Thompson had two children, Lise Thompson and William Bryce Thompson V, from his first wife and two more, Barton Thompson and Hannah Thompson, from his second, Frances Lippincott. At the time of his death he was married to Grace White Thompson.
Thompson Management LLC, 195 Nassau Street, Princeton 08542; 609-921-7655. www.thompsonmanagementllc.com.
Deaths
Elaine Pedersen on June 18. She was employed with the New Jersey Association of School Business Officials as an assistant to the executive director.
James P. Mahlmann, 91, on June 21. The West Windsor resident was a chemical engineer with Maxwell House at General Foods and is credited with making the first freeze-drying coffee, created Maxim Instant Coffee, and worked on the decaffeination patent.
Bernard J. Manning on June 18. He was a career negotiator for the state of New Jersey Department of Transportation in its Right of Way Division.
Laura Nicole Varone, 24, on June 8. She she worked in several salons as a hairdresser and makeup artist. In addition to her hair stylist position, she worked at Princeton University as a data assistant for a research project.
Patricia T. Carlough, 62, on June 16. She was a senior clinical research analyst for more than 20 years.
Caitlin Cummings Tierney, 31, on June 14. She worked in the data strategy department of Dow Jones.
Robin Hauer, 56, on June 13. She worked on climate change and sustainability initiatives at Princeton University and Climate Central.
Victor E. Wichert, 82, on April 8. He worked for 33 years at Educational Testing Service, where he was a director in the systems division and later became a part of test development.