Management Moves
Biggins Lacy Shapiro & Company LLC, 47 Hulfish Street, Suite 350, Princeton 08542. 609-924-9775. Jay Biggins, executive managing director. www.blsstrategies.com.
Princeton-based site selection consulting firm Biggins Lacy Shapiro & Company LLC has hired Haley Hop as its newest site selection and incentives consultant in its Princeton, N.J., headquarters. BLS, which also has offices in New York, Chicago, Cleveland, and Walnut Creek, California, provides site selection, incentives advisory, redevelopment, and energy and economic development services to clients across the country.
"We're pleased that we continue to attract top talent and look forward to utilizing Haley's engineering and economic development education, as well as her experience working with BIO Alabama, to serve our growing roster of clients," said Jay Biggins, executive managing director, in a statement.
Hop's work experience includes positions with the University of Alabama, Garver, and BIO Alabama. During her time at BIO Alabama, she coordinated efforts to create the organization's economic development strategic roadmap.
Hop earned a bachelor of science in civil engineering from the University of Alabama in Huntsville and holds a master of science in economic development. Hop is on track to secure her MBA from the University of Southern Mississippi this summer.
"I'm honored to join BLS & Co. and for the opportunity to serve clients regionally and nationally," Hop said in a statement. "The BLS team has helped many of the world's best-known companies select the optimal locations for their diverse operations and I look forward to supporting the BLS team to build on an already impressive legacy of success."
Experic, 2 Clarke Drive, Cranbury, 08512. Dave Wood, chairman and CEO. 609-537-4040. www.expericservices.com.
Experic, a Cranbury-based contract development and manufacturing organization that serves the pharmaceutical industry, has named Dave Wood as its new chairman and CEO. He replaces Jeffrey McMullen, a co-founder of the company who had been serving as interim CEO since 2019.
Wood has more than 30 years of experience in the life sciences industry, including roles at Captek Softgel International, Catalent Pharma Solutions, Cardinal Health PTS and Becton Dickinson.
"I am excited to work with the talented Experic team and impressed with their dedication to serving clients," Wood said in a statement. "Combined with a great facility and capabilities, Experic is an organization that brings expertise and value to its pharmaceutical clients as they race to address the challenges of product development and commercialization."
Princeton Theological Seminary, 64 Mercer Street, Box 821, Princeton 08542. 609-921-8300. M. Craig Barnes, president. www.ptsem.edu.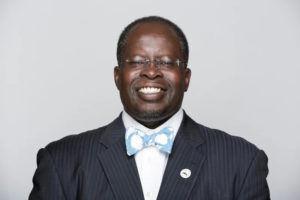 Rev. Dr. David Latimore has been appointed the first full-time director of Princeton Theological Seminary's Betsey Stockton Center for Black Church Studies, effective June 1.
"I consider this an extraordinary opportunity to utilize the full span of my academic training and research interests, along with my ecclesial and professional experiences, in Princeton Seminary's vibrant academic community and campus life," Latimore said in a statement.
Latimore's teaching and research interests focus on the intersection of religion, race, and economic justice through the examination of how economic ideological pre-suppositions underlie many of the disparities and inequalities witnessed in African American communities and their impact on the theology of the Black church.
Under the umbrella of Academic Affairs, Latimore is charged with enhancing programming to support ongoing critical theological research and engagement on the legacy of enslavement and enriching the formative experience of seminarians.
Latimore comes to Princeton Seminary from Tennessee, where he served as senior pastor at Fifteenth Avenue Baptist Church in Nashville, taught at Belmont University, acted as a minority student mentor, and was associate director for the Academy of Preachers. He earned his PhD from the University of Chicago, his doctor of ministry from McCormick Theological Seminary, his master of divinity from Duke Divinity School, and his bachelor's from Harvard University.
He has served as pastor at three other congregations, Mt. Zion Baptist Church in Joliet, Illinois; Mt. Carmel Baptist Church in Gainesville, Florida; and Southern Union Baptist Church in St. Louis, Missouri. Before attending seminary, Latimore had a successful career in investment management and economic development.
This appointment marks another significant milestone in the implementation of a multi-year action plan to repent for the Seminary's historical ties to slavery. The Center has been named for Betsey Stockton, a prominent African American educator in Princeton during the antebellum North and a Presbyterian missionary in the Sandwich Islands (present-day Hawaii). Prior to her emancipation in 1817, Stockton was enslaved by the chair of Princeton Seminary's Board of Trustees.
MCCC Program Earns National Accreditation
Mercer County Community College's Advanced Manufacturing Technology (AMT) Program, under the supervision and direction of professor Michael Hanna, has received national accreditation by the National Institute of Metalworking Skills (NIMS). MCCC is the only institution in the state to receive the accredited certification in the nation's precision manufacturing industry.
NIMS accreditation is the nation's only distinction for excellence in metalworking training as based on NIMS industry-written, industry-approved skills standards. Accredited programs demonstrate the ability to produce skilled, work-ready individuals that fulfill industry's 21st century workforce needs.
"NIMS accreditation is a mark of excellence for Mercer," said Hanna, who joined MCCC in 2018. "Earning this distinction in manufacturing, training, and safety has established Mercer as the premier provider of Advanced Manufacturing Technology training programs in the state of New Jersey."
The Advanced Manufacturing Technology program at Mercer is designed to prepare students for the modern manufacturing environment. Certificates of proficiency in the industry are highly attractive to employers who implement team-oriented design, production quality, and maintenance systems within the manufacturing environment. The accreditation process included a full revamp of the curriculum, practical and theory-based tests for students and teachers, and an on-site safety evaluation of MCCC's advanced manufacturing lab.
"Students who take advantage of the Advanced Manufacturing Technology Program at MCCC will now have the opportunity to earn an NIMS credential, which secures a competitive edge when applying for jobs, as they have demonstrated that their skills meet the established industry standards both on the practical side of advanced manufacturing as well as the theory side," Hanna said.
Students may choose a full two-year degree program or individual certifications. For information visit www.mccc.edu/amt/academic_cert.shtml or www.mccc.edu/catalog/manuf_tech_amt_aas.shtml.
Funding News
Edison Partners, 281 Witherspoon Street, Suite 300, Princeton 08540. 609-896-1900. Chris Sugden, managing partner. www.edisonpartners.com.
Witherspoon Street-based investment firm Edison Partners has announced a $15 million growth capital investment in MacroFab, an electronics manufacturing-as-a-service company.
MacroFab, based in Houston, plans to use the funding for sales and marketing of its cloud manufacturing platform for midmarket industrial, energy Internet of Things, robotics, and computing businesses.
"MacroFab is at the forefront of building supply chain resilience as the trend to nearshoring and multisource shoring continues with rising costs in Asia, component shortages and the increasing need for agile production," Edison Partners' Daniel Herscovici, who led the investment, said in a statement. "By optimizing both factory capacity and breadth of capability, while digitizing that interface, CEO Misha Govshteyn and his leadership team are unlocking the $29 billion in manufacturing volume that is currently stranded in North America. All this, plus expanding economic opportunities and job creation in local factory markets."
Herscovici will join MacroFab's board of directors.
Grants Received
Princeton Symphony Orchestra, Box 250, Princeton 08542. 609-497-0020. Marc Uys, executive director. www.princetonsymphony.org.
The League of American Orchestras has awarded a $19,500 grant to the Princeton Symphony Orchestra to strengthen its understanding of equity, diversity, and inclusion and to help transform organizational culture.
Given to just 25 orchestras nationwide, the one-year grants comprise the final round of The Catalyst Fund, the League's three-year, $2.1 million grant-making program. In 2020 the Princeton Symphony received $15,000 from the program.
"This grant represents the second consecutive year of Catalyst funding for the PSO, which will enable us to build upon the foundational work we have begun under the guidance of our EDI consultant this season," PSO executive director Marc Uys said in a statement.
Through this grant, the Princeton Symphony Orchestra will develop and enact a formalized plan for equity, diversity, and inclusion efforts. The EDI plan will become part of the larger strategic plan, which will guide the organization forward in the years ahead. Board members, staff, and musicians will continue to engage in shared learning opportunities and discussion through the EDI Task Force and external trainings and workshops.
Deaths
Trudy Glucksberg, 86, on May 22. An artist and longtime fixture of the Princeton arts scene, she worked as a graphic designer for Princeton University Press, retiring in 2000, and volunteered for many years with the Arts Council of Princeton.
Robert Joseph Cartlidge, 86, on May 20. He worked for Railway Express trucking and retired as a truck driver for Consolidated Freightways in Trenton.
Veronica 'Ronnie' Kozlowski, 99, on May 19. She was the co-founder and proprietor of Brunswick Sports and Hardware for 30 years.
Anthony David Baldino, 76, on May 17. He retired from Bank of America as a loan officer and later taught math and business courses at Mercer County College.
Alan R. Grover, 73, on May 14. He retired from the state Department of Health after 38 years.
Susan Ellis Waskow, 59, on May 17. She worked in various capacities for Princeton University, including the Office of Religious Life, Engineering, the Art Museum, and Outdoor Action.
Francis McGraw, 94, on May 23. He worked for US Steel for 33 years and then spent 25 years with the state Department of Treasury.