Area Historic Sites Named to 'Most Endangered' List
Preservation New Jersey named historic sites in two U.S. 1-area towns on its annual list of the 10 most endangered historic places in the state.
The list, published in conjunction with National Preservation Month, is based on historic significance and architectural integrity, how critical threats to the site are, and the likelihood that inclusion on the list will have a positive impact on efforts to protect the resource.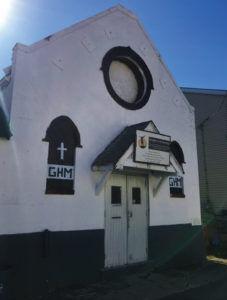 One site, in Trenton, is the Greater is He Ministries at the former St. Monica's Episcopal Church on Spring Street in Trenton.
Preservation New Jersey writes: "St. Monica's Episcopal Church lies in the very center of the Spring Street neighborhood of Trenton. Spring Street was the center of Trenton's middle class African-American community during the mid-twentieth century. St. Monica's was included as one of 34 African American sites identified in the 2011 publication by Richard Grubb & Associates for the Trenton Historical Society, 'Three Centuries of African-American History in Trenton: A Preliminary Inventory of Historic Sites.'
"St. Monica's Mission for Colored People was established in 1919 as a mission congregation of the Trinity Cathedral. In 1935, a three-story dwelling located on the church property was removed and the existing one-story church constructed. St. Monica's was the first Black Episcopal congregation in Trenton. The congregation was merged with that of St. Michael's Episcopal on Warren Street around 1960.
"The site today is operated by Greater is He Ministries. The primary threat to the site is the expenses associated with critical upkeep. Greater is He Ministries leadership would like to upgrade work that was done piecemeal by previous tenants to protect the structure.
"Preservation New Jersey believes it is critical to identify and save more resources like this one with a direct history to communities of color in Trenton. Preservation New Jersey encourages the City of Trenton to prioritize taking the next steps identified in the 2011 Inventory and prepare a nomination for the Spring Street District to the National Register of Historic Places. This site spotlights how the 2018 New Jersey Supreme Court decision to prevent New Jersey Historic Trust grants to religious structures could hamper future fundraising efforts for this important structure."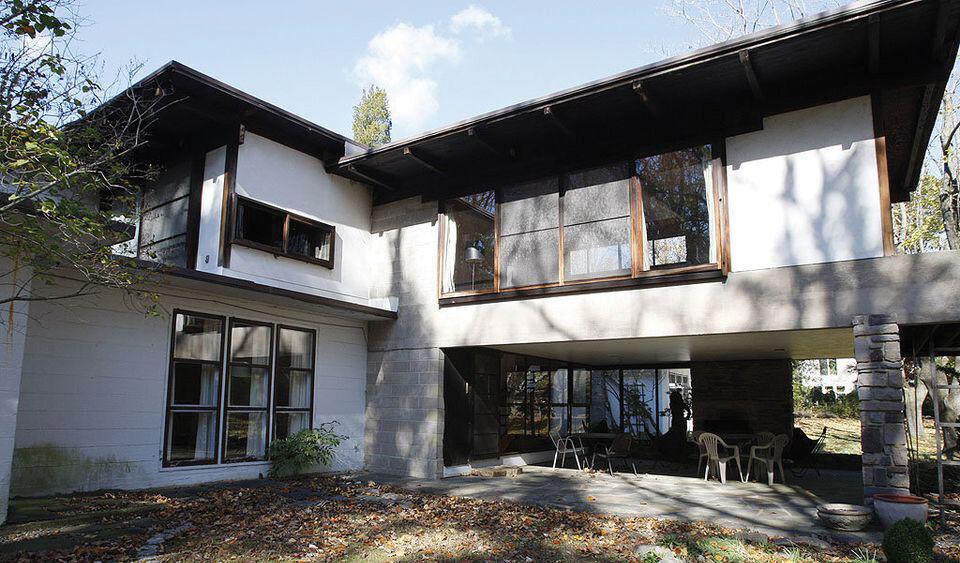 The second site, in historic Roosevelt in Monmouth County, is the Shahn House & Studio.
Preservation New Jersey writes: "The Shahn House was constructed in 1936 as part of Jersey Homesteads (later renamed Roosevelt), a New Deal project established in response to the Great Depression as an agricultural-industrial cooperative community for Jewish garment workers and farmers.
"Architect Alfred Kastner was commissioned for the project, and he hired a young Louis Kahn as assistant architect. Combining modernist design with suburban American ideals, they used prefabricated construction techniques and clusters of housing with common space in the middle of each block.
"Ben and Bernarda Bryson Shahn, both successful artists, moved to Jersey Homesteads in 1938 after Ben painted a mural in the town's public school (included on PNJ's 10 Most list in 2020). George Nakashima, a leading woodworker, architect, and furniture designer of the mid-20th century, and a close personal friend of the Shahns, designed additions and modifications to the house in the 1960s. The Shahns continued to live in the house throughout the rest of their lives.
"In 2010, the family decided to sell the home and placed a preservation easement on the property through the New Jersey Historic Trust to protect its significant architectural heritage. The new owners had an interest in Kahn and Nakashima's work and expressed their intent to restore the home.
"However, due to a work relocation, they were never able to fully occupy the home, and it has suffered from a lack of attention and regular maintenance over the years. The current owners have made some interior repairs and installed a new roof in 2019-2020, but more repairs are needed. Unless the property receives the full attention it needs and deserves, it will continue to deteriorate.
"Preservation New Jersey encourages the Trust to maintain the intent of its easement and work to ensure the preservation of this important resource."
For more information visit www.preservationnj.org.
Artworks to Receive Our Town Grant
Artworks, Trenton's visual arts non-profit, has been approved for a $25,000 National Endowment for the Arts (NEA) Our Town grant to support the establishment of a public art program in Trenton in partnership with the City of Trenton and the public art organization Mural Arts Philadelphia.
The NEA funding is one of 63 grants nationwide that the agency has approved to support projects that integrate arts, culture, and design activities into efforts that strengthen communities by advancing local economic, physical, and/or social outcomes; ultimately laying the groundwork for sustainable systems change.
"As the country and the arts sector begin to work towards a post-pandemic world, the National Endowment for the Arts is proud to announce this Our Town funding. These awards will support cross-sector partnerships such as the one lead by Artworks Trenton Inc. that demonstrate the power of the arts to help communities create a better future for themselves," said NEA Acting Chairman Ann Eilers.
"Artworks is incredibly excited to be receiving an NEA Our Town grant to develop a formal public art program for Trenton," said Artworks Executive Director Lauren Otis.
"Trenton already has a great legacy of public art and many exciting current projects underway, but this funding will enable us to establish a mechanism for the ongoing creation of community-based and community-focused public art," Otis said. "With the support of Mayor Reed Gusciora and his administration, and the expertise of Mural Arts Philadelphia, this project will help improve the lives of residents throughout Trenton and literally change the face of the city."
"This is great news for the Capital City arts community," Gusciora said. "In Trenton we have the celebrated Art All Night festivities as well as other local art venues that add to the City's landscape. It is hoped with continued NEA support we will see more flourishing artists among our residential byways."
In 2011, Artworks worked with Mural Arts Philadelphia and other partners on the creation of Philip Adams' "Passage of Time" mural along Route 129 in Trenton's South Ward. In recent years, Artworks has executed numerous other public art projects in Trenton with multiple community partners, and is actively planning several new projects at present.
The creation of a public art program for Trenton will enable Artworks to move beyond a piecemeal, individual project-based approach and engage residents throughout the city on planning community-driven art projects in areas of the city beyond downtown. After the establishment of the program, benefiting from MAP's expertise and best practices, Artworks will commence planning for public art projects in each of Trenton's four wards.
"We are honored to build on our past work with Artworks and the City of Trenton to support their developing a public art program that is driven by community and rooted in inclusive, participatory creative practices, " said Mural Arts Philadelphia's Executive Director, Jane Golden." Through the Mural Arts Institute, we bring the Mural Arts model to other change-oriented cities looking to build their capacity in this important work."
Deaths
Stuart Duncan, 93, on April 30. A noted New York theater producer and central New Jersey theater critic, the New York City-born Duncan came to Princeton via Princeton University where he graduated in 1950 and became a longtime Grand Marshall of the university's annual reunions P-rade. The connection to the region was solidified when he met his future wife of 65 years, Nellie May Oliphant from Trenton. They met while performing in a student production at Princeton's Miss Fine's School.
A former vice-president of the family-owned company that had the exclusive U.S. rights to distribute Lea & Perrins Worcestershire sauce, Duncan left the business to team with fellow New York theater enthusiast Edgar Lansbury to produce the important Off-Broadway revivals of "Waiting for Godot" and "Long Day's Journey into Night" and the 1971 premiere of the legendary Broadway musical "Godspell," financed by a backers' gathering Duncan held in his Prince­ton living room.
For the past several decades, Duncan was known for his theater reviews for the Princeton Packet and U.S. 1, where he annually requested to review one of his favorite theater events, the Princeton Summer Theater.
Robert Manning Davison Sr., 84, on May 7. He began work at McGraw Hill Publishing Company in 1962, eventually becoming a vice president. Along with his wife, Mary Ann, he was also a part of U.S. 1's delivery team for many years.
Jack L. Chrisner, 84, on May 7. He worked as a fireman and boiler mechanic for PSE&G and retired as head of maintenance.
Franz V. Knott, 89, on May 6. He was a funeral director at the family business, Knott's Colonial Funeral Home in Hamilton.
Richard Eugene McCarron, 50, on May 7. He worked for the New Jersey State Parole Board.
Rose Belfiore Rickert, 94, on May 3. She last worked for Princeton Theological Seminary, where she retired as business manager for the quarterly journal "Theology Today."
Lucy Graves McVicker, 90, on May 9. An award-winning artist and Princeton resident since 1957, she was a founding member of the Princeton Artists Alliance. She was also a member of the American Watercolor Society, the New Jersey Watercolor Society, and the Garden State Watercolor Society.
Marianne E. Dickson, 89, on May 13. She worked for the state Department of Labor and Industry for more than 35 years.
John 'Jack' DeStefano, 87, on May 4. He was a marketing manager for RCA and Harris Semi-Conductor and later spent 20 years with Sterling Title Agency. He was also instrumental in the development of the Hamilton YMCA and coached numerous youth baseball, basketball, and football teams.