Trenton Artists to Honor Lives Lost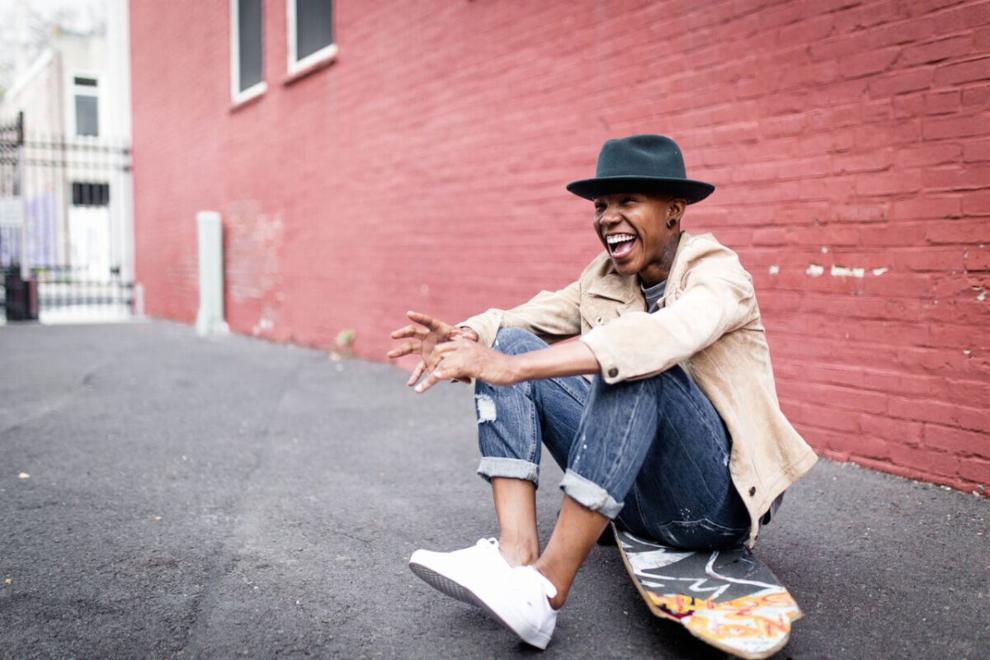 Trenton Health Team is partnering with local artist Bentrice Jusu to create public art throughout the city celebrating the lives of violence victims, mourning their absence, and encouraging the emotional conversations needed to heal traumatized communities.
"The Potential Project" will employ storytelling, visual art, photography, and digital media to remember those lost to violence. An interactive website was recently released.
"I'm using this project to really show how much potential our city has lost to violence," Jusu said. "But I also want to show that each of us also has the potential to create a better city, where we can all heal together."
The Potential Project, supported by the Kresge Foundation, reflects Jusu's experience with violence, including loss of people she loved, and the lack of resources available to residents to process and prevent the cycle of trauma.
The Potential Project website, www.potentialproject.art, will include links to mental health resources and allow community members to voice their experiences. As the project unfolds, website content will expand to include individual stories and original artwork remembering those who have died.
Jusu also plans to install markers at locations significant to life stories shared to illustrate the relationship between trauma and place. Community members will be able to use a phone to scan these markers to view original digital art and a story page on the website. She hopes sharing stories will lead to healing for victims' families and our city.
"It's not an elixir; this project is not going to fix it," Jusu says. "But it's a necessary conversation to have."
For THT, this project expands ongoing efforts addressing trauma in our community. "We recognize that art is a perfect catalyst for difficult conversations," said THT Executive Director Gregory Paulson. "This project will create an example for other cities struggling to begin the conversations that lead to solutions and healing."
Jusu is working with a team of Trenton artists, including Big OOH!, one of Trenton's best-known hip hop artists; Hana Sabree (poetry/multimedia); Terra Applegate (poet); Diego Gordon (videographer); and Jennet Jusu (dance). Artists are creating a multimedia "collage" for each person's story that incorporates interviews with people who knew them as well as videos, photographs, and original artwork.
"This project will inspire conversations from the top down, and the ground up," Jusu said. "People ages 5 to 90 can do something with it."
Community members will also be able to add their own stories and ideas on how to reimagine our neighborhoods to end the violence.
In the second phase of the project, Jusu and the creative team will work with residents and local experts in healing, trauma, and mental health to design a community-based trauma response team to assist residents experiencing trauma or mental health crises. Technical assistance is being provided by Kimme Carlos, an expert in urban mental health challenges and healing; the Mercer County Office on Mental Health; and Artworks Trenton.
For more information, visit www.trentonhealthteam.org.
Merger
Advaxis Inc., 9 Deer Park Drive, Suite K-1, Monmouth Junction 08852. 609-452-9813. Ken Berlin, president and CEO. www.advaxis.com.
Monmouth Junction-based biotechnology company Advaxis has announced that it has entered a merger agreement with Israeli pharmaceutical company Biosight.
Through the transaction shareholders of Biosight, a private company, will become the majority shareholders in Advaxis, which trades on the Nasdaq exchange. The combined company will be known as Biosight Therapeutics and trade on the Nasdaq under the ticker symbol BSTX.
Biosight, a developer of therapeutics for hematological malignancies and disorders, currently has a product, aspacytarabine, in clinical trials for the treatment of acute myeloid leukemia. Advaxis focuses on cancer immunotherapy, and specifically the use of listeria monocytogene (Lm) based antigen delivery products. The new company will focus on the clinical advancement and commercialization of the novel leukemia drug.
Ken Berlin, current president and CEO of Advaxis, will continue in those roles as he leads the combined company.
"After an extensive and thorough review of strategic and potentially transformative options for Advaxis, we are very pleased to announce a proposed merger with Biosight," Berlin said in a statement. "We believe the combined company's strong and diversified oncology pipeline with late stage and early stage assets, near-term milestones, seasoned leadership team, and focus on both hematological malignancies and solid tumors have the potential to provide transformative benefits to patients while also providing value to our stockholders."
Management Moves
Palatin, 4-B Cedar Brook Drive, Cedar Brook Corporate Center, Cranbury 08512. Carl Spana, president and CEO. www.palatin.com.
Palatin, a Cranbury-based biopharmaceutical company focused on medicines targeting the melancortin peptide receptor system, has announced several changes to its senior leadership team.
Michael B. Raizman was appointed chief medical officer. Raizman was educated at the University of Michigan and Harvard Medical School, and in addition to his oversight responsibilities for Palatin's clinical pipeline, he is an ophthalmologist with Ophthalmic Consultants of Boston and an associate professor of ophthalmology at Tufts University School of Medicine.
James E. Hattersley was appointed senior vice president, business development. He was previously senior vice president with Mission Pharmacal Company. He earned bachelor's and master's degrees in neurobiology and biochemistry from the University of California, Santa Cruz.
J. Don Wang was appointed vice president of product development. He was previously head of research and development for American Regent Inc. He earned his bachelor's in chemistry from Shaanxi Normal University in China, a master's in chemistry from California State University-Northridge, and a PhD in inorganic chemistry from Northwestern University.
"We are proud that we continue to attract the best and brightest minds who share our passion and approach to bringing impactful treatments to patients," Palatin president and CEO Carl Spana said in a statement.
"We are at a critical stage in the advancement of our inflammatory and autoimmune programs, and we believe Dr. Raizman, Mr. Hattersley, and Dr. Wang will significantly aid the company in responding to the evolving challenges in the market with agility, expertise, and determination."
Deaths
Benjamin R. Britt, III, 70, on June 23. A 1969 graduate of the Lawrenceville School, he worked for more than 27 years as a shipping and receiving foreman with Princeton Gamma Tech. He was also a former president of the Princeton Mac Users Group.
Virginia Z. Atwood, 85, on June 29. She worked for the state Department of Health and Human Services for 25 years.
Harry J. Masterson Jr., 72, on July 3. He was working at security company Allied Universal at the time of his death. He had previously served 25 years with the Ewing Police Department, from which he retired as lieutenant, and had worked for the Mercer County Prosecutor's Office.
Margaret Schneider, 81, on July 2. She worked as an investigator for the state Department of Higher Education.
Virginia Zuno, 96, on July 4. She was retired from General Motors Fisher Body in West Trenton, where she worked on the production line during World War II.
John E. Trafford, 88, on July 3. He worked for 37 years for the New Jersey State League of Municipalities, 15 of which he spent as executive director.
Anne Ott Stolowski, 68, on June 27. She was a certified public accountant and had previously worked for Princeton University.
George E. Adams Sr., 85, on July 2. He retired from the W.R. Grace Trucking Co. and Teamsters Local 701 after 36 years.