NJEDA Announces New Micro-Lender Grant Program
The New Jersey Economic Development Authority (NJEDA) has created a $2 million pilot program to make grant funding available to organizations that lend to New Jersey small and micro businesses, providing resources to help Community Development Financial Institutions (CDFIs) and other lenders continue supporting small businesses struggling with the economic impact of the COVID-19 pandemic.
The Micro Lender Support Grant Program will provide grants of up to $200,000 to CDFIs, Minority Depository Institutions (MDIs), and other eligible lenders as identified in the Economic Recovery Act. This pilot program is meant to identify and assist eligible partners.
Grant funds received through the program can be used to fund operating expenses associated with servicing micro businesses and the buying down of interest rates of loans offered to micro businesses.
CDFIs and MDIs based outside New Jersey that service New Jersey businesses will be eligible to receive funds, which will reduce the financial burden on New Jersey-based CDFIs.
The NJEDA anticipates launching the application for the Micro Lender Support Grant Program on Monday, April 19. Organizations interested in learning more about the program should contact smallbusinessservices@njeda.com.
Rider University Announces Fall Plans
Rider University intends to resume extensive in-person teaching, residential housing, and on-campus activities and events this fall, the school announced.
In a letter to the campus community on March 8, President Gregory G. Dell'Omo, Ph.D., and Provost and Vice President of Academic Affairs DonnaJean Fredeen, Ph.D., wrote that they are "cautiously optimistic" about the return to more-normal campus operations.
Plans for the fall semester ultimately depend on how the pandemic, and along with it, state and federal regulations, evolve between now and then. With the resumption of in-person teaching, Dell'Omo and Fredeen said they did not anticipate academic courses being offered in hybrid or remote formats. Online courses would continue in that format only if they were available that way before the pandemic.
The university is preparing to support a greater number of residential students and on-campus activities in the fall. The use of face masks and other safety measures would be required as needed and dictated by federal and state COVID-19 regulations. Dell'Omo and Fredeen emphasized that Rider will continue to "prioritize the health and well-being of our campus community."
Rider also announced its intention to announce a gradual return to work plan for employees and implement it "over the next several months and beyond."
"We hope today's announcement provides a very high-level overview and expectations for our return to campus, but we know you most likely have many more questions yet to be answered," the letter stated. "We ask for your patience as we work through the myriad of details required to make this transition a smooth one."
Information about fall plans will be posted on Rider's Resolved and Ready website as it becomes available.
New Apartments Set to Open in West Windsor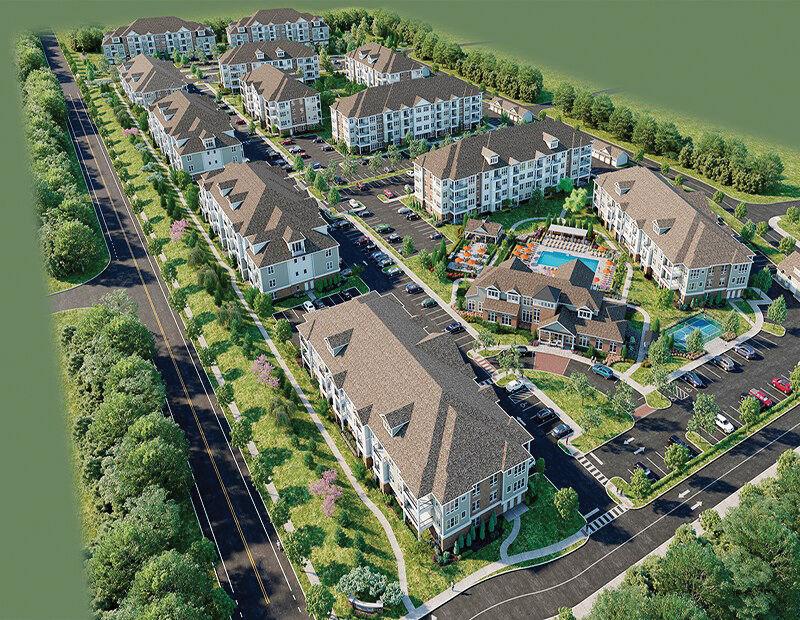 Leasing is now open at Woodmont Way, a luxury apartment complex off Canal Pointe Boulevard in West Windsor.
Construction began last summer on the complex, which has a total of 443 units. In addition to one-, two-, and three-bedroom residences, the community offers a number of outdoor amenities including a pool, terraces, barbecue grills, and areas for lawn sports such as bocce.
Rental prices start at $2,145 per month for an 830-square-foot, one-bedroom apartment and go up to $3,615 per month for a three-bedroom, two-bath 1,535-square-foot apartment. One- and two-bedroom units are available with or without a bonus den.
Woodmont Way at West Windsor, 100 Woodmont Circle, Princeton 08540. 833-376-1414. www.woodmontwayapartments.com.
Deaths
Dorothy Susan Hess, 74, on March 9. She worked for more than 44 years as a principal fiscal analyst for the New Jersey Civil Service Commission.
Dolores S. Moceri, 82, on March 12. She was head secretary at the state Division of Pensions for more than 40 years.
Jackie Allen Hitt Sr., 81, on March 12. He served in the Navy and retired from Scanticon Hotel and Conference Center on Route 1.
Americo A. Lucchi, 82, on March 10. He was a professional land surveyor with Lanning Engineering Company for more than 50 years until his retirement in 2019.
Patricia McNelly, 81, on March 8. She was employed by the Lawrence Township Board of Education and Educational Testing Service.
Pauline A. Plaag, 86, on March 11. She was retired from the City of Trenton Board of Education, where she worked as a security officer.
Ann L. Sweeny, 75, on March 8. She was retired from a career as an inspector for Switlik Parachute Company.
Paul Rada on March 5. He worked for the College of New Jersey for 27 years.
Rebecca Rousseau-Mitchell, 93, on March 5. She starter her career as a real estate agent and broker at Richip Realty Company in Trenton. She later worked in various capacities for the Trenton Housing Authority and eventually became the first African American woman to serve as bureau chief at the Department of Housing and Development and Neighborhood Planning for the City of Trenton.
Michael Strumpen-Darrie on March 3. He worked for the Berlitz School of Languages for more than 50 years.