NJEDA Offers Small Business Assistance Grant Program
The New Jersey Economic Development Authority (NJEDA) is accepting applications beginning October 20 for a new program aimed at helping small businesses with their rent payments.
The $10 million Small Business Lease Grant program, paid for by funds allocated from the New Jersey Economic Recovery Act of 2020, offers two grant awards for 20 percent of a business' total annual lease payment.
Eligible small businesses must have signed a new lease of at least 250 square feet or have amended or extended a lease for at least 250 additional square feet. The minimum term of the lease is five years.
An initial payment of 20 percent of the first year's lease payment occurs when the grant is made, and a second totaling 20 percent of the second year lease payment will be made after the lease has been paid for 12 months. There is a $100 approval fee for applications.
Specific eligibility requirements are as follows:
• Be a commercial business, nonprofit, or operator of an incubator.
• Meet SBA definition of a Small Business — determined by employee count and NAICS code.
• Provide a current tax clearance certificate prior to approval.
• Provide certification from the landlord showing they are current on lease payments.
• Be in good standing with Department of Labor and Department of Environmental Protection.
• Certify at time of application that they are not in default of any other NJEDA or State assistance.
• Certify at application the applicant will pay wages that are the greater of $15/hour or 120 percent of the minimum wage rate for the term of the grant agreement (five years). Tipped employees are only required to be paid 120 percent of minimum wage rate.
• Commit to remaining in the facility for at least five years.
A lease must meet the following eligibility requirements:
• Square footage: between 250 to 10,000 square feet — over 10,000 is still eligible however, over 10,000 square feet will not be incentivized. For lease extensions, renewals, or amendments, the applicant must expand or add a minimum of 250 square feet.
• Must include first-floor (street-level) space. Leases that include two floors are eligible, but must include first-floor (street-level) space.
• Lease payments can only include the leasing of square footage (equipment cannot be included).
• Must be a minimum five-year term.
• Leases must be executed on or after March 9, 2020, and within 12 months of application.
• Must be market-rate based on commercial real-estate information.
For more information visit www.njeda.com/small-business-lease-grant.
NJEDA, 36 West State Street, Trenton 08625. 609-858-6700. Tim Sullivan, CEO. www.njeda.com.
New in Town
The Lobby Club, 17 East Front Street, Trenton 08608. 609-900-8001. www.thelobbyclubnj.com.
The capital city has a new place to see and be seen, but don't expect to just walk right in. The Lobby Club, recently opened on East Front Street, is a private restaurant, bar, and club meant to cater to the city's business and political elite. The members-only spot offers lunch, dinner, and drinks on weekdays as well as an executive center open to certain levels of membership.
Memberships range from the Silver – Government Employee level, which comes with a $500 initiation fee, a $50 per month membership fee, and a maximum of three guests per day, up to the platinum level, intended for businesses, which costs $750 per month with a $10,000 initiation fee and includes up to 10 memberships, access to the executive center and private room rentals, discounts on catering, a private cigar locker, and shuttle service.
Private meeting spaces include a 30-person front room as well as four conference rooms with audiovisual and videoconferencing abilities. The lounge area can also accommodate an event for up to 60 people.
PTC Therapeutics, 311 Pennington Rocky Hill Road, Pennington 08534. Stuart W. Peltz, founder and CEO. www.ptcbio.com.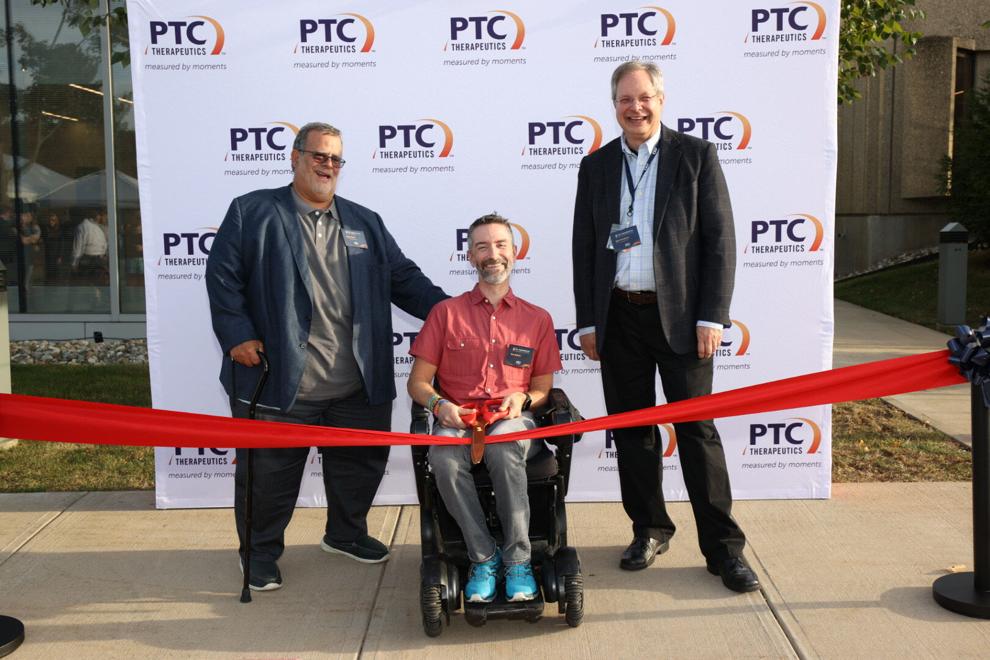 PTC Therapeutics, a science-driven, global biopharmaceutical company, hosted a ribbon-cutting ceremony to recognize the official opening of its new gene therapy manufacturing facility on the former Bristol-Myers Squibb campus in Hopewell on October 14.
Featured speakers and attendees included a rare disease patient, local government officials, and PTC employees.
PTC's Hopewell facility is approximately 220,500 square feet of office, manufacturing, and laboratory space, including state-of-the-art technology equipped to handle process development and manufacturing of plasmids and adeno-associated virus (AAV) vectors. The company is also offering plasmid DNA and AAV manufacturing services to external partners.
PTC's in-house manufacturing, research and development capabilities promote maximum control over the quality, capacity, supply, and seamless transition from clinical to commercial development.
The Hopewell gene therapy manufacturing center complements PTC's existing operations at the company's global headquarters in South Plainfield and brings the total number of New Jersey-based employees to 625.
"We are committed to being an innovation-based company that brings the best therapies to patients with rare diseases," said PTC Therapeutics CEO Stuart W. Peltz said in a statement. "Gene therapy holds tremendous promise to treat intractable rare genetic disorders. We have built our capabilities to both perform gene therapy research and to manufacture these biological products. We are proud to have such a talented team and state-of-the-art manufacturing facility here in Hopewell, N.J. that will help expedite bringing these therapies to patients."
Deaths
Norman S. Gebhart, Sr., 89, on October 12. He worked for the state of New Jersey as a conservation officer.
Mary Anne Hoch, 76, on October 17. She worked for the Diocese of Trenton and served as administrative assistant to five different principals at her alma mater, Notre Dame High School in Lawrence.
Maria Stella Taylor, 82, on October 15. She worked for International Schools Services in Princeton.
Helen Markulec Precinski, 95, on October 3. She worked for 46 years for Pierce Roberts Rubber Company in Ewing.
Claire S. Winkler, 82, on October 10. She worked with her husband to found Trenton Diesel Inc. and served as the bookkeeper there.
Jack G. Mattaliano, 72, on October 9. After a career in computer programming and restaurant management, he worked for the state Motor Vehicle Commission as a records technician.