Mercer Bucks Pickleball Club Set to Open in Ewing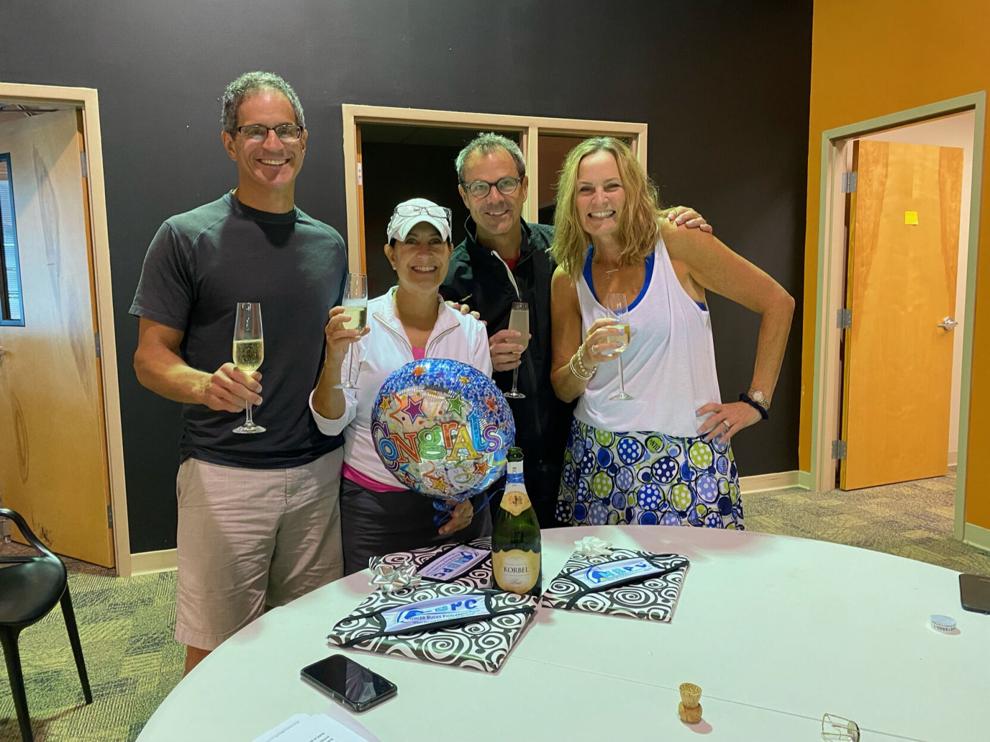 A state-of-the-art pickleball facility is coming to Ewing Township. The 26,000-sqare-foot facility at 370 Sullivan Way is expected to open in late January.
Pickleball was invented as a children's backyard game in the 1960s and has grown in popularity in recent years. It involves two or four players hitting a ball similar to a wiffle ball over a net using solid paddles, mixing elements of tennis, table tennis, and badminton.
The Mercer Bucks Pickleball Club (MBPC) is owned by Frank and Becky Gabriele and Bob and Sharon Voelzke, two couples from Yardley, Pennsylvania, who developed a passion for the sport and had been playing on a makeshift court in their cul-de-sac. The onset of colder weather led them to the realization that the area needed a good, indoor facility.
"We visited indoor pickleball facilities across the country and were certain we could bring the best-of-the-best to Mercer and Bucks counties," Sharon Voelzke said. "After searching the area for many months, we found the perfect location for fun and fitness with easy access for all."
MBPC will have nine indoor courts featuring Pro-Cushion floors that are easier on the joints than asphalt or concrete. Soundproofing, LED lighting, and climate control will provide a pleasant playing experience.
Additional amenities at the club will include cornhole setups, a lounge, and a cafe offering light snacks. A private event space will be available for birthday parties and other special occasions.
The facility also plans to offer summer camps as well as instruction for beginner to advanced pickleball players through group classes and private lessons.
Members can book courts by the hour and participate in leagues, round robins, and tournaments. An automatic ball machine and practice court will also be available. The club will provide balls and paddles and also offer pickleball-oriented merchandise for sale.
Mercer Bucks Pickleball Club, 370 Sullivan Way, Ewing 08628. www.playmbpc.com.
Commercial Transactions
The medical office building at 800 Bunn Drive in Princeton has been sold to Thomas Park, a private equity real estate firm.
The sale of the 100 percent occupied, 30,000-square-foot, Class A space was facilitated by commercial real estate firms Colliers and Commercial Property Network.
"We are excited to further our medical office acquisitions in New Jersey with the purchase of 800 Bunn," said Alex Kopicki, chief investment officer at Thomas Park. "With an outstanding patient base and ability to draft off of (Princeton) University, we know this asset is positioned to sustain long-term value."
"There is a flood of interest in (medical office buildings), creating a higher demand from institutional buyers in the sub-$10 million on- and off-campus assets," said Colliers' Kim Kretowicz, who represented the buyer. "800 Bunn, Princeton, checks the institutional boxes with its internationally recognized address, tenant quality and income durability. Thomas Park recognized this value and seamlessly acquired the property."
Hamilton-based commercial real estate firm NAI Fennelly announced the sale of a 58,000-square-foot flex building at 68 Culver Road in Monmouth Junction.
The building sold for $5.575 million to Acutis Diagnostics, which plans to convert the building to lab space and will occupy 30,000 square feet. It plans to lease out the remaining 28,000 square feet.
Acutis specializes in creating diagnostic tools for infectious diseases as well as toxicology screening.
NAI Fennelly's Pat Dintrone represented the seller, and Doug Petrozzini of Colliers represented the buyer.
NAI Fennelly, 200A Whitehead Road #222, Hamilton 08619. Gerard J. Fennelly, president. 609-520-0061. www.fennelly.com.
Management Moves
Adare Pharmaceuticals, 1200 Lenox Drive, Suite 100, Lawrenceville 08648. 609-450-1312. Tom Sellig, CEO. www.adarepharma.com.
Lawrenceville-based Adare Pharma Solutions, a global contract development and manufacturing organization, has named Tom Sellig as its CEO.
Sellig has 30 years of experience in the pharmaceutical and life sciences industries. He was most recently CEO of LabConnect, which provides central lab and support services for the biopharmaceutical industry. He previously served as chief commercial officer at ConnectiveRx and held roles at Patheon and Covance.
"Tom's track record of driving commercial and operational excellence in pharmaceutical services uniquely prepares him to lead Adare, at a moment when pharmaceutical companies are increasingly seeking partners to solve their most complex formulation and commercialization challenges," said Adare chairman Vivek Sharma, who has been serving as the company's interim CEO.
"This is a watershed moment when pharmaceutical and biotech companies are introducing transformative medications into market," Sellig said in a statement. "Adare has developed innovative solutions that make these medicines more widely and readily available to patients through our partnerships with leading pharmaceutical companies. I could not be more excited to join such a talented team as we help widen access to critical health care."
Deaths
Timothy J. Bliznawicz, 64, on January 2. He was the owner operator of Bliz's Tavern in Hamilton.
Albert Michael Greczylo, 78, on December 31, 2021. He worked for 36 years for the State of New Jersey Department of Personnel.
Arthur H. Hartman, 94, on January 1. He served in the United States Air Force in World War II and worked for Electricians Local #269 in Lawrenceville for more than 50 years.
Diana L. Kozlowski, 73, on January 6. She worked as a legal secretary at many Mercer County law firms and retired from Hill Wallack.
Steven Vandegrift, 60, on December 30. He worked in maintenance for the Lawrence Township school system.
Frederick W. Wolf, Sr., 79, on January 5. He worked as a facilities manager at IBM in Dayton for 25 years and retired in 2012 from the state police, where he worked as a homeland security agent.
Ronald W. Germano, 79, on January 1. He retired from the Trenton Housing Authority as a maintenance repairer.
Nathan Lautermilch, 51, on December 29. He worked in biotechnology, most recently as director of global clinical operations at Adlai Nortye USA. He also served as the vice president of recreation for the Hopewell Valley Soccer Association.
Carl F. Nugent Jr., 75, on December 30. He retired from the state Department of Environmental Protection, where he was an acting bureau chief.
Anthony J. Maccaroni, 78, on December 30. He was the owner/operator of All State Quality Granite Memorials in Trenton.
Maryann J. Suto, 82, on December 30. She worked for McGraw Hill in East Windsor for 30 years.
Joann J. Vanisko, 78, on December 28. She worked as a secretary for Robert Buda Associates Engineering in Lawrenceville.
Janice C. Mastriano, 85, on January 7. A long-time Hightstown resident, she was a shop steward for Local #741 HMBA & AFLCIO and also worked for McGraw Hill and Merrill Lynch.
Acquistions
Merit Financial Advisors ("Merit"), a Georgia-based financial advisory firm that specializes in financial planning and wealth management solutions for high-net-worth individuals and families and those navigating life transitions, has merged with Biltmore Capital Advisors ("Biltmore") and Stone Creek Capital Management ("Stone Creek"). The merger solidifies Merit's existing presence in South Florida and adds significant talent and scale to the firm's dynamic investment offerings and expertise.
Based in Boca Raton, Florida, and Princeton, New Jersey, Biltmore is an independent registered investment adviser that provides comprehensive wealth and investment management and financial planning services for affluent individuals, families, executives, and business owners. The firm's affiliated company Stone Creek, which offers services to those seeking margin lending, portfolio reporting, research, and other consulting services, will continue to operate as a stand-alone business line within the Merit family of companies. Biltmore and Stone Creek are led by D. Tyler Vernon and Timothy Ralph, both of whom will assume new roles at Merit and will be joined by their entire team. Vernon will serve as Regional Director and Ralph will become Managing Partner.
"Merit's growth objectives are centered on our commitment to providing additional capabilities, expertise and access for our clients," said Kay Lynn Mayhue, President of Merit. "The partnership with Tyler, Tim, and the Biltmore and Stone Creek teams exemplifies this. Having known Tyler for over 20 years, I have watched him build an incredible business and team. This merger is bringing a tremendous amount of talent and an entirely new business line to Merit, and we are extremely excited to welcome the Biltmore and Stone Creek teams to the firm."
Vernon added: "As we look to the future, we have a clear eye toward growth and enhancing our offerings for our clients. The partnership with Merit will propel this mission, allowing us to serve a wider client base with our consulting business and proprietary investment management strategies, while positioning us for future growth opportunities."
This is Merit's third partnership announcement since taking a minority investment in December 2020 from Wealth Partners Capital Group ("WPCG") and a group of strategic investors led by HGGC. In 2021, Merit announced its acquisitions of Consilium Financial Group based in Roswell, Georgia, and the business of Brian Fisher, an Arlington, Texas-based independent practitioner. These investments support Merit's goals of aligning with like-minded advisors and teams, bolstering its growth within existing geographies, and establishing a nation-wide presence.
"Like all high-growth wealth management firms, Merit depends first and foremost on talent," said Rich Gill, Senior Partner of WPCG. "We could not be more excited for the combination of Biltmore, Stone Creek, and Merit, which will harness the exceptional capabilities of the combined teams and give them access to the expanded services and scale of Merit. We view this partnership as an important step on the road to Merit becoming the leading hybrid advisory firm in the country."
The merger was finalized on December 31, 2021 and adds $557 million in assets under management, together with consulting services on an additional $1.6 billion in assets. Financial and legal terms of the deal were not disclosed.