FEMA Aid Available in Mercer County
Following the extensive damage caused by flooding from the remnants of Hurricane Ida, the Federal Emergency Management Agency (FEMA) approved a major disaster declaration for Mercer County, making individuals and businesses who suffered hurricane-related losses or damage eligible for assistance with repairs, housing, loans, and other programs.To apply for assistance visit www.disasterassistance.gov, downloading the FEMA app for Android or iPhone, or by calling 800-621-3362. An in-person disaster recovery center is also open in the Hollowbrook Community Center at 320 Hollowbrook Drive in Ewing. The center is staffed by FEMA representatives who are available to answer questions about aid for individuals and businesses.
The center is open Mondays through Fridays from 7 a.m. to 7 p.m. and Saturdays and Sundays from 8 a.m. to 5 p.m. No appointment is needed.
Certain small businesses and nonprofits are also eligible to apply for disaster relief loans from the Small Business Administration. Visit disasterloanassistance.sba.gov for more information.
New Partnerships
Princeton Community Television, 1 Monument Drive, Princeton 08540. 609-252-1963. George McCollough, program manager and head of operations. www.princetontv.org.
Princeton Community Television (PCTV), a provider of public television programming in central New Jersey, has announced a partnership with the Mercer County Office of Economic Development to expand tourism throughout central New Jersey.
PCTV will be airing a series of tourism videos and sponsored announcements highlighting the activities, events and historical points of interest that make Mercer County a visitors' destination. Mercer County is host to more than 2 million visitors a year, and tourism is a leading economic driver for the region.
"Many important pieces of our nation's history have been preserved here in Mercer County," said County Executive Brian M. Hughes. "I invite everyone to come and learn about our past while also enjoying the present through the wide variety of activities and amenities we have to offer."
Peter Crowley, vice chairman of PCTV said, "Washington's crossing of the Delaware in Trenton and his march to the battle of Princeton defeating the British changed the history of our country and visitors to our region can experience that journey."
George McCollough, PCTV's program manager and head of operations, added, "We are excited about partnering with Mercer County in getting the message out that Mercer County offers our visitors so much to see and do."
The tourism videos will air four times a day through November. Watch Princeton Television on Comcast Channel 30, on Verizon Channel 45, or streaming on Roku, Apple TV, Amazon Fire TV, and online at www.princetontv.org.
Princeton Radiology, 419 North Harrison Street, Princeton 08540. 609-921-3345. www.princetonradiology.com.
Medical Park Imaging, a radiology practice with four decades of experience in Passaic and Morris counties, has become part of Princeton Radiology.
The integration will provide patients and referring physicians with expanded diagnostic services, new state-of-the-art equipment, and additional access to radiologists with sub-specialty training.
Princeton Radiology has 10 locations, including two hospitals. It has offices in Princeton, Mercerville, Monroe, Freehold, and Marlboro.
"Medical Park Imaging shares our values of bringing empathy, compassion, and a remarkable imaging experience to the communities we serve," said Dr. Jonathan Lebowitz, president of Princeton Radiology. "We expect this integration will continue to promote those high standards."
Medical Park Imaging's three locations in Wayne, Mountain Lakes, and Newfoundland will transition to the Princeton Radiology name, and services and capabilities will expand in the coming months.
TESU Establishes New Research Award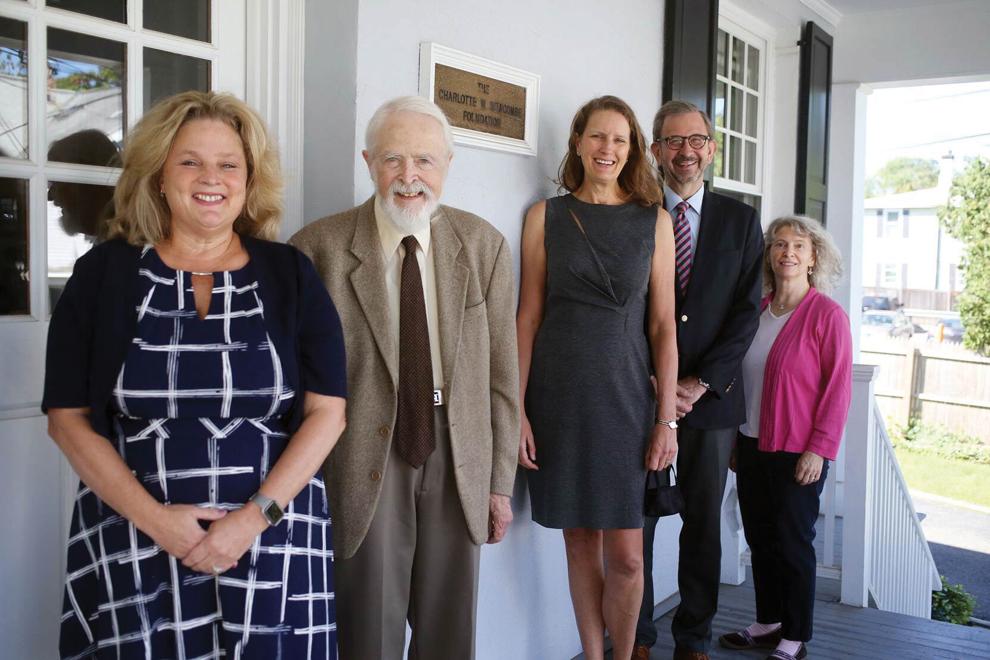 Thomas Edison State University, 111 West State Street, Trenton 08608. 609-777-5680. Merodie A. Hancock, president. www.tesu.edu.
In a first-of-its-kind gift agreement between the Charlotte W. Newcombe Foundation (CWNF), Dr. Robert M. Adams, and the Thomas Edison State University (TESU) Foundation, Adams has provided a gift of $100,000 to the TESU Foundation to establish the Dr. Robert M. Adams Legacy Award for Student Research fund.
The legacy award will provide endowed funding to support student-led applied research projects aimed at addressing key public policy issues for the city of Trenton and other urban centers in the state.
A founding trustee of the CWNF, who recently retired after 40 years of service, Adams and the CWNF agreed to establish the gift in his name. Adams is also a professor emeritus of philosophy at Yale University.
"The Newcombe Foundation has supported nontraditional students for over 40 years. However, I wanted to do even more to support student research and see what we can do to raise their sights higher," Adams said in a statement. "We want to enable these students to immerse themselves in public policy, education and healthcare issues while realizing the direct benefits their focused research projects can have on their local communities."
Adams' funding presents the university with the opportunity to assume an increasingly proactive role in identifying challenges and developing enduring solutions for New Jersey's traditionally underserved communities. In realizing this goal, the university will be able to expand its existing collaborations with local government, hospitals and healthcare organizations, educational institutions, businesses, and nonprofit organizations in the state.
"As the anchor institution for higher education in the city of Trenton, we are honored to have been selected by Dr. Adams for a legacy grant to support research projects crucial to New Jersey communities," said Dr. Merodie A. Hancock, president of Thomas Edison State University. "His legacy award, and the endowed funding created from it, presents us with a unique opportunity to inspire and foster tomorrow's public service leaders."
In addition to the legacy award this year, the CWNF provided a $50,000 scholarship grant to Thomas Edison State University Foundation through the Newcombe Scholarship Program for Mature Students directed to undergraduate students, aged 25 years and older, demonstrating financial need.
To learn more about available scholarship programs at TESU, visit tesu.edu/tuition/scholarships.
Acquisition
Insurance Restoration Specialists, Inc., 30 Abeel Road, Monroe Township 08831. 888-949-9888. Tim Jarema, president. www.irs-restoration.com.
Insurance Restoration Specialists, a Monroe-based disaster response company founded in 1985, has been acquired by Colorado-based First Onsite Property Restoration. The financial terms of the deal were not disclosed.
First Onsite, which operates in the U.S. and Canada, is a provider of restoration and reconstruction services for commercial enterprises. The acquisition of Insurance Restoration Specialists (IRS) allows First Onsite to expand its service platform in environmental and HVAC work. IRS' work includes remediation of oil and chemical spills, biohazards,fire and flood damage, and more.
"Everyone at IRS is excited to join First Onsite," IRS President Tim Jarema said in a statement. "With their support, we can expand our environmental expertise into other industries that need our help. Their national reach and resources will bring us opportunities to respond to larger, more complex projects."
"The strong, collaborative leadership at IRS, combined with their deep customer relationships in key practice areas, makes them a seamless new addition for the First Onsite brand," First Onsite CEO Stacy Mazur said in a statement. "We look forward to having them join our team."
Investment News
ETS Strategic Capital, 660 Rosedale Road, Princeton 08540. 609-921-9000. Ralph Taylor-Smith, managing director. www.ets.capital.
Rosedale Road-based education company Educational Testing Service (ETS) has announced two new investment deals for its investment arm, ETS Strategic Capital.
One equity investment was in Pymetrics, a New York-based firm that uses behavioral science and artificial intelligence to help employers build optimal teams. For more information about the company visit www.pymetrics.ai.
The other was in CollegeDekho, a company based in India that provides an online platform for admissions and other higher education services. Learn more at www.collegedekho.com.
"We continue to identify and invest in companies both domestically and internationally whose missions and long-term vision align with that of ETS," said Ralph Taylor-Smith, managing director of ETS Strategic Capital, in a statement. "We're pleased to further expand the ETS portfolio with these two investments in service of the organization and focus on making equitable education available to all learners at all stages, globally."
Deaths
Ronald J. Furlong, 70, on September 1. He worked at Pennington Quality Market for 35 years.
Mark Pratico, 63, on September 5. He was the owner and operator of Mark Pratico Jewelers in Hamilton from 1979 until 2020.
Marion Andrzejewski, 100, on August 31. She was retired from Princeton Applied Research Corporation, where she was a wire technician.
Sharon R. Birch, 56, on September 6. She worked as an administrative assistant in the state Office of Legislative Services for 35 years.
David Gonzalez Sacalxot, 54, on September 4. He was a foreman in the construction department of Princeton Design Guild.
Anthony Neil Gervasio, 90, on September 5. He owned and operated Gervasio's Italian Restaurant on Whitehorse-Mercerville Road in Hamilton from 1968 to 2006.