PU News: Historic Donation, Art Museum Plans
Princeton University has announced a $20 million donation from alumni Kwanza Jones and José E. Feliciano. The gift, the largest ever by Black and Latino donors, comes at a time when the university's diversity efforts and past history of racism and discrimination have been under increased scrutiny.
The gift also comes as the university is planning a significant expansion of the undergraduate student body, including the construction of two new residential colleges. Two new dormitories will be named for Jones and Feliciano.
Jones, a member of the Class of 1993, is an artist, investor, and lawyer who founded Supercharged, a media company specializing in self-development. Her husband, Feliciano, of the Class of 1994, is the founder and a managing partner of Clearlake Capital Group, a private investment firm based in Santa Monica, California.
"Their generosity makes possible new dormitories that are essential to Princeton's future. Through their visionary gift, Kwanza and José are enabling us to increase the number of outstanding undergraduates we admit and to attract and support talented students from all backgrounds," President Christopher Eisgruber said in a statement.
"In addition to supporting the expansion of the undergraduate population, which is among the university's highest priorities, this historic gift from Kwanza and José diversifies Princeton's institutional narrative in meaningful ways by weaving their names, identities, and experiences into our shared campus tapestry. As we strive to make Princeton a fully inclusive community, we are fortunate to have their partnership."
"We see this gift as the color of commitment. It celebrates the many contributions to Princeton's legacy from its diverse students and alumni making a tremendous impact in the world," Jones said in a statement. "It demonstrates that people of color belong in the room and sit at the table as patrons and co-creators to help the university to continue to do the work of service to humanity. Most importantly, during this time of national reckoning on race and racial injustice, it highlights the benefits that diversity, inclusion, and belonging can bring. Princeton is a microcosm of America; we're modeling that working together makes us all stronger moving forward."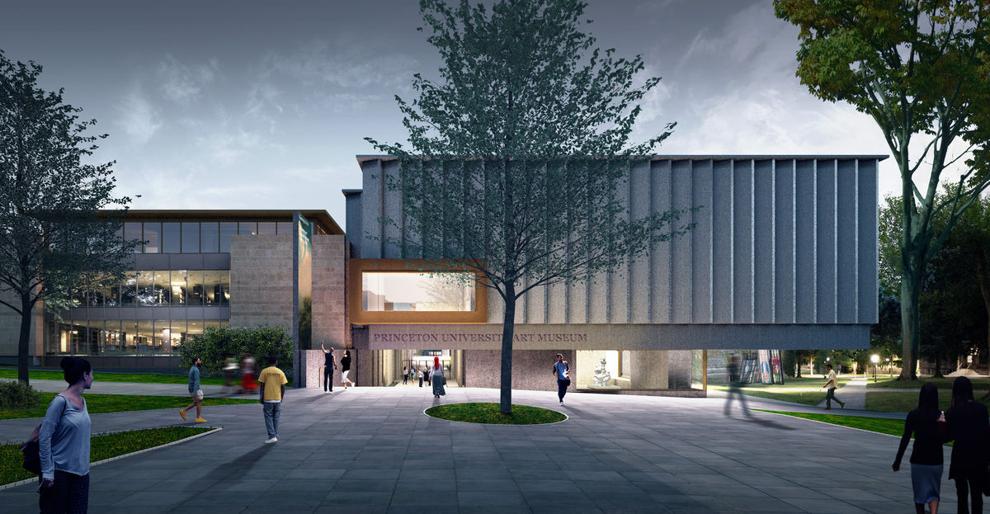 The university has also unveiled plans for the new Princeton University Art Museum. Renderings were shown in a late September Zoom-based discussion between museum director James Steward and Sir David Adjaye, the architect leading the redesign project.
The new museum will be built on the site of the existing museum in the center of campus, with walkways that will become "artwalks" through the museum. The three-story structure will allow more spaces for exhibitions as well as study and gathering spaces.
"The reconstruction of the Art Museum is conceived as a campus within the campus," said Adjaye, "a space of genuine inquiry where the exhibition of diverse practices, learning as a synthesis of knowledge, and cross-cultural connections weave together into a singular experience that encompasses a multiplicity of ideas and peoples."
The new museum is expected to be completed in 2024. The existing museum has been closed to visitors since March due to COVID-19, but many of its collections can be viewed online at artmuseum.princeton.edu.
McCarter Names New Board Members
McCarter Theater has announced the addition of three new members to its board of trustees.
Christi Gautam, a former human resources professional, is now a community volunteer, including work with Princeton's Cornerstone Community Kitchen.
Rita McGrath, an expert on innovation and growth in times of uncertainty, is a professor at Columbia Business School in addition to being a best-selling author and sought-after speaker.
Mark E. Thierfelder is chair of corporate and securities group and global private equity practice at the law firm Dechert LLP.
ETS Launches Investment Arm
Educational Testing Services, the Princeton-based nonprofit educational assessment and measurement organization, has announced the creation of ETS Strategic Capital, a new unit focused on strategic equity investments, growth partnerships, and mergers and acquisitions.
ETS Strategic Capital currently has a portfolio of five companies and is actively seeking additional transactions to expand and diversity its offerings in assessment, learning and development for K–12, higher education, and corporations.
"We've reached a pivotal point in the ongoing evolution of education — there is a fundamental change in how educational services are delivered, how tools and assessments are structured, and how learners, schools, and companies are engaged and connected," said Ralph Taylor-Smith, managing director of ETS Strategic Capital, in a statement. "With our funding, expertise and experience in education, ETS Strategic Capital is well positioned to help emerging education companies that are addressing these gaps grow and increase their impact, while tapping into new opportunities. ETS brings value-add capabilities in assessments, research and development, global distribution, and innovative technologies to our portfolio and partner companies."
The companies that are currently part of ETS Strategic Capital's portfolio are:
ApplyBoard: A Canada-based platform for international student recruitment. A partnership is being developed between ApplyBoard and ETS's TOEFL business unit, which provides the most prominent English-language test for university study, work, and immigration. More information: www.applyboard.com.
Pipplet: A Paris-based start-up specializing in language assessment for businesses. Companies use Pipplet to assess job candidates' language fluency based on their practical, real-world ability to interact in a professional context. More information: www.pipplet.com/en-gb/hom.
Capti (by Charmtech Labs LLC): Through the use of machine learning, artificial intelligence and natural language processing, Buffalo, N.Y.-based Capti, created by Charmtech Labs LLC, provides personalized literacy and learning support to K–12 students.
EdAgree: The newly formed ETS spin-out company will match international students with universities and support those students throughout their education journey. EdAgree plans to validate student profile information, package it for streamlined processing by admissions departments, and collaborate with universities to identify and deliver support that will optimize learning outcomes. More information: https://edagree.com/
Gradschoolmatch: The interactive internet-driven software platform helps prospective graduate students match with potential graduate academic programs using an approach modeled on successful match-making dating websites. Features will include biographies, research interest, and academic information, and ways for students to indicate interest in and interact with potential programs. More information: www.gradschoolmatch.com.
Deaths
Rodney Fisk, 79, on September 9. He moved to Princeton in the midst of a long career with TWA. He served as a Borough councilman and also worked for a time with Coldwell Banker. An expert in transportation economics, he advocated for the privatization of Princeton's Dinky train line.
Marion B. Hilinski Bak, 76, on September 24. She was a branch manager for 3rd Federal Savings Bank in Hamilton.
Richard A. Ragsdale, 77, on September 10. He was a partner at the law firm of Davidson, Sochor, Ragsdale and Cohen, LLC, in Skillman.