Rider, Artists Partner for Mural Project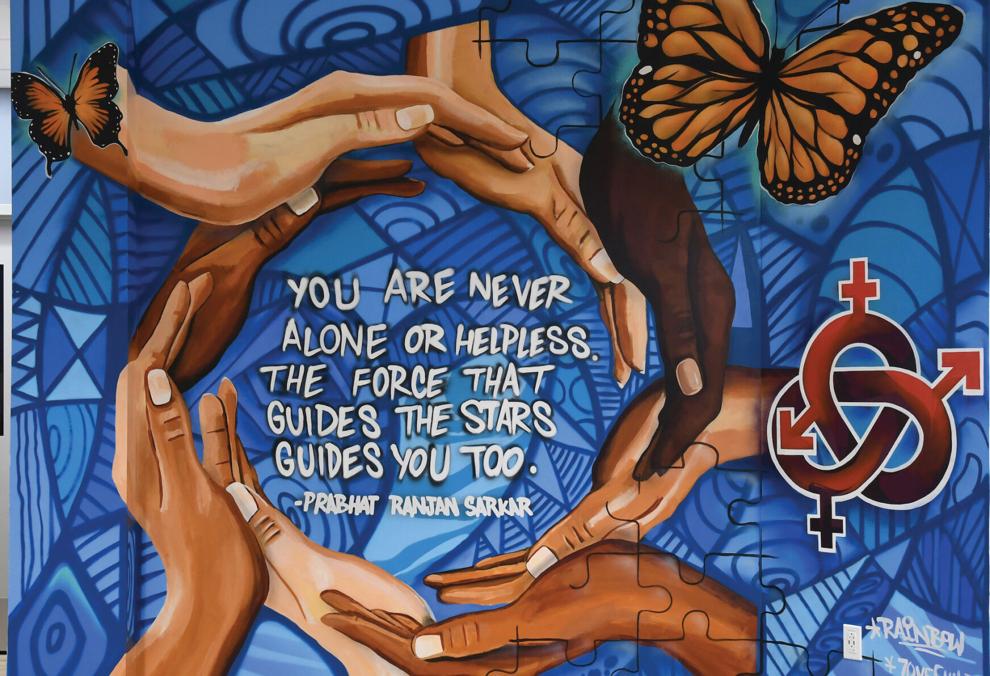 Three Trenton-area artists have partnered with Rider University and its students to create a series of murals for its Center for Diversity and Inclusion.
The murals were painted by Leon Rainbow, Marlon Davila, and David Gillespie, in collaboration with Rider University students and Trenton high school students. The images are designed to illustrate the wealth of diversity within the Rider community.
"The intention of this project is to make every Rider student from diverse backgrounds feel welcomed, inspired and proud to be their authentic selves, and to inspire leaders committed to promoting equity and inclusion on campus and in the world," said Leanna Fenneberg, vice president for student affairs, in a statement.
The professional artists led the student contributors in online instruction and discussion of styles and techniques before the students and artists created sketched renderings of their visions.
The first mural, located in the center's main lobby, features eight hands, illustrating a spectrum of diverse skin tones, positioned in a circle, supporting one another. A quote from spiritual guru Prabhat Ranjan Sarkar positioned in the center of the circled hands, reads, "You are never alone or helpless. The force that guides the stars guides you too," while butterflies, a symbol that represents gender fluidity, and puzzle pieces accent the mural.
The second and largest mural displays a rainbow gradient spanning the length of the wall and features a globe held up by two hands, a raised fist, puzzle pieces, butterflies and an icon of a person in a wheelchair wearing a cape with an equal sign overlaid on the wheels. The words "unidad en la diversidad," which translate to "unity in diversity," are positioned above the globe.
The final mural resides in the Identity-Based Student Organizations Work Room and portrays civil rights activist Ruby Bridges, who bravely desegregated William Frantz Elementary School in Louisiana at the young age of six. Next to the young girl is a quote from Bridges, "Don't follow the path. Go where there's no path and begin the trail." The words "no place for hate," a peace sign, puzzle pieces and butterflies encompass the image of the girl.
Rider's new space for its Center for Diversity and Inclusion recently opened in September. The center, on the ground floor of the Bart Luedeke Center, provides support for 23 identity-based clubs and student organizations.
Rutgers Leads COVID Clinical Trial
Researchers from Rutgers University are leading a clinical trial of a new therapy with potential applications for newly diagnosed cases of COVID-19 in individuals with few or no symptoms.
The treatment, called Triple Combination Antiviral Coronavirus Therapy (TriACT), combines the drugs nitazoxanide, ribavirin, and hydroxychloroquine. The trial, for patients ages 21 and older, seeks to determine if the medication will reduce viral load and reduce the chances of the patients becoming severely ill.
The trial is being conducted with Synavir Corporation, a global health company that works with academia, industry, and government to develop combination treatments for new viral infections.
"Medications for outpatients with COVID-19 that shorten the duration of the illness, prevent the need for hospitalization and, perhaps most importantly, prevent spread of the disease to others are a critical need that are currently missing in therapeutics," said principal investigator Jeffrey Carson, a provost at Rutgers Biomedical and Health Sciences and professor of medicine at Rutgers Robert Wood Johnson Medical School.
The trial will assess the rate of decline in viral load in 70 people over 10 days and compare the proportion of participants who are asymptomatic and symptomatic at 10 days versus the time of onset; the frequency of the development of symptoms; the progression in severity of COVID-19 symptoms; and the side effects of the therapy compared to a placebo. It also seeks to determine whether the baseline viral load predicts response to therapy and new COVID-19 infection in household members.
The researchers are seeking referrals from physicians of outpatients with a SARS-CoV-2 positive test within seven days. For more information, call 833-874-2281, email triact@rwjms.rutgers.edu, or visit www.triact1.com.
Leases Signed
Duke Realty has announced lease agreements for new tenants for two distribution facilities on Half Acre Road in Cranbury. Duke is an Indianapolis-based commercial real estate investment firm with offices in Jersey City and a portfolio of industrial properties in New Jersey,
One tenant, electrical supplies and services provider Cooper Electric, will occupy 650,000 square feet at 315 Half Acre Road. The other is Comptree, a California-based distributor of furniture, outdoor accessories, and printer media, which signed on for 300,000 square feet at 311 Half Acre Road.
"Duke Realty continues to see significant demand in New Jersey for modern distribution space — especially for facilities along the New Jersey Turnpike Corridor," Ben Rosen, Duke's vice president of leasing and development, said in a statement. "We are excited to welcome Cooper Electric and Comptree into our best-in-class New Jersey portfolio and glad we were able to meet their regional distribution needs."
Cushman & Wakefield represented Cooper Electric, and Lee & Associates represented Comptree in the transactions.
Deaths
David Balitz, 68, on December 13. For the past 18 years he was director of mail operations and services at Princeton University. He had previously worked for the state Division of Taxation.
Anna Christy Peacock, 72, on November 27. She worked as a real estate agent, interior designer, and as affordable housing manager for the Township of Princeton.
George W. Robinson Jr., 73, on December 11. He worked for the state for 32 years as a supervisor in the food stamps program.
Lawrence M. Ferrante, 66, on December 10. He was the owner/operator of Larry's Way of Hair on Butler Street in Trenton for 40 years.
Courtney Alexis Leopold, 32, on November 30. She was a yoga instructor at various Princeton-area studios and an adjunct professor of psychology at The College of New Jersey.
Roger Rada, 91, on December 6. A former professional baseball player, he coached baseball and softball at The College of New Jersey and taught in the Department of Health, Physical Education and Recreation.
Amelia Elizabeth Blyden, 92, on December 8. She taught in the Department of Special Education at The College of New Jersey for 14 years.
Paul Joseph Hill, 97, on November 23. He was the third-generation proprietor of Hill's Market at the corner of Witherspoon and Spring streets in Princeton. The store was destroyed by a fire in 1977. He was also a member and past general manager of Springdale Golf Club and a member of the Old Guard of Princeton.
Theodore Joseph Ziolkowski, 88, on December 5. He was a professor of German and comparative literature at Princeton University beginning in 1964 and served from 1979 to 1992 as dean of the graduate school.
Philip Alexander Cruickshank, 91, on December 4. He was a chemist at FMC's Princeton research center.