State Pension Reaches a Milestone
State Treasurer Elizabeth Maher Muoio announced that the Treasury Department started the new fiscal year by paying the full state-funded portion of the $6.9 billion pension contribution slated for Fiscal Year 2022.
This marks the first time in more than 25 years that New Jersey is making the full actuarially determined contribution to the pension fund, plus an additional $505 million contribution, and also the first time in years that the state has made a lump sum payment, rather than quarterly payments.
Muoio also announced that by making the contribution in one lump sum, the state is now expected to save taxpayers roughly $2.2 billion over 30 years, rather than the $1.5 billion in savings initially anticipated if the state had made quarterly pension payments this year.
"Today is a remarkable day for the State of New Jersey," said Governor Phil Murphy in a statement. "When we started this journey more than three years ago, I made a promise to the hardworking public employees and retirees of our state. Today is not only the day we officially make good on that promise, it is the day we start filling in the hole that has been dug over the last 25 years. This budget is the first in a generation — 25 years — to make our full payment into the pension funds of our public workforce."
"After years of kicking the pension can down the road, a practice which has cost the state billions and billions of dollars, today we are officially turning the corner," Muoio added. "This problem was 25 years in the making, and will not be solved overnight, but thanks to the Governor's commitment, and the collective determination of this administration and our partners in the Legislature, we are making the full contribution a year earlier than anticipated and putting an end to years of unmet obligations and substantial growth in the unfunded liability. Today is a milestone achievement for New Jersey."
With July 1 kicking off the new fiscal year, the state made a $5,796,973,000 lump sum contribution to the state pension fund. The remainder of the total $6.9 billion payment, just over $1.1 billion, will come from state lottery proceeds under a 2017 law, the Lottery Enterprise Contribution Act, which mandates that a portion of lottery proceeds be dedicated to the pension fund. Those payments will be made monthly throughout the fiscal year, as they normally are.
"Having pushed for years to see prior administrations make full pension payments, and make quarterly payments, today's action — which we recommended — is the fulfilment of years of hard work on one of my top priorities," Senate President Steve Sweeney said. "The system faced bankruptcy, pure and simple. Instead, the additional $505 million, together with the full 100% payment, helps ensure the solvency of the pension fund, and results in more than $2 billion in savings over 30 years. And that in turn leaves a greater portion of our general fund to go toward other pressing needs of the state. Every New Jersey resident stands to benefit from this action for decades to come, and I am proud beyond words of this accomplishment."
"The pension payment being made today is historic, it's an investment back into our people, and it honors the state's commitment to our hard-working civil servants," Assembly Speaker Craig Coughlin said. "Fueling the promise of retirement security, this payment builds upon our pledge towards restoring the health of our public pension systems and ensuring full benefits to pensioners for years to come. Today's contribution is another significant step in the right direction."
For years, the state had short-funded the pension system or skipped payments entirely, drastically increasing the pension system's unfunded liability and ballooning the minimum contributions required as determined by actuaries. Treasurer Muoio noted in budget testimony last year, that had the State been making the full required pension contribution over the last 25 years, this year's contribution would only be roughly $800 million.
The state had been on a 1/10 ramp up plan as it worked its way up to meeting the full Actuarially Required Contribution and was initially slated to contribute 90 percent of the full pension contribution this year. In February, the Governor proposed accelerating the "catch-up" plan and making the first full pension payment since FY 1996.
The final budget signed into law included an additional $505 million payment that will mitigate the increase that was expected as result of the planned reduction in the assumed rate-of-return for FY 2023 and allow the state to make more level pension contributions going forward.
RWJUH Hamilton Opens Better Health Center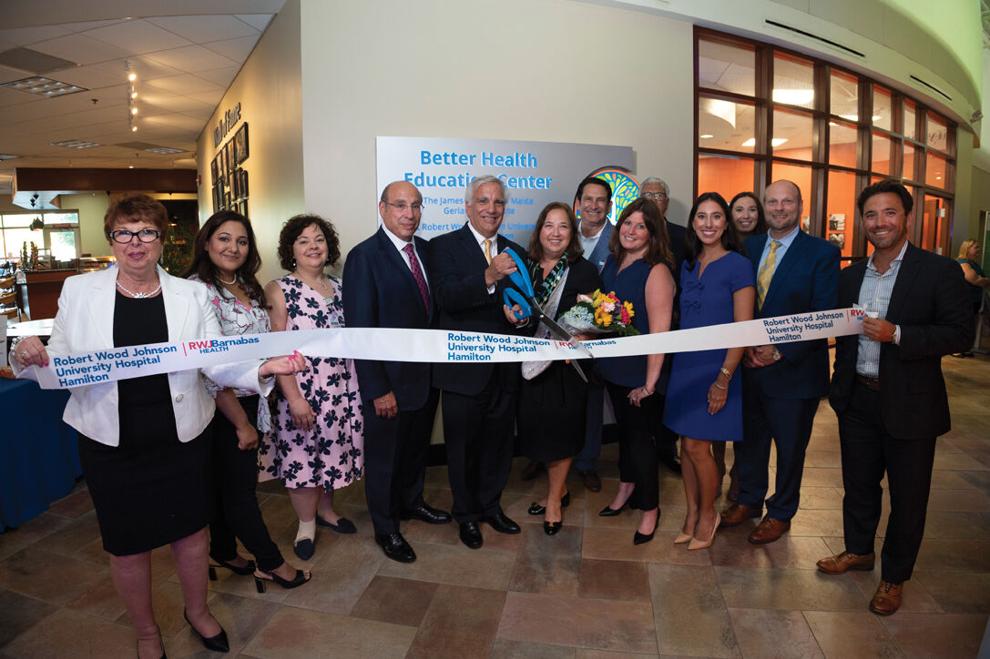 Robert Wood Johnson University Hospital (RWJUH) Hamilton held a ribbon cutting ceremony on June 29 to commemorate the grand opening of the Better Health Program and Education Center at The James and Sharon Maida Geriatrics Institute at 3100 Quakerbridge Road in Hamilton.
The event welcomed James and Sharon Maida and family; senior leaders from RWJBarnabas Health, including president and CEO Barry Ostrowsky and Dr. Jessica Israel, senior vice president for geriatrics and palliative care; and leaders and staff from RWJUH Hamilton.
Better Health at RWJUH Hamilton is a free program, specially designed for members age 65 and up, that focuses on creating a personalized approach to health wellness. It features programs and events ranging from health topics to the arts to spirituality, museum trips, and more.
The James and Sharon Maida Geriatrics Institute, slated to open in Hamilton in 2022, will provide a unique, integrated approach to geriatric services for patients in Hamilton's service area.
"Hamilton is a demographically aging community, so establishing this program is very important to us," Richard Freeman, president and CEO of RWJUH Hamilton, said in a statement. "In less than a year of operation, and during a pandemic, more than 300 Hamiltonians age 65 and up have already started to enjoy the Better Health program."
For more information and to become a Better Health member, visit www.rwjbh.org/hamiltonbetterhealth or call 609-584-5900.
TESU Receives NJ Place Grant
Thomas Edison State University (TESU) has been selected by the New Jersey Department of Labor for a career-forward initiative that will merge apprenticeship training with higher education. The university is the sole higher education institution in the state to be awarded a NJ PLACE grant in the amount of $849,000 to support 100 student/apprentices in completing their associate degrees, all at no cost to the student apprentice.
The NJ PLACE grant is an innovative approach by the state to seamlessly blend apprenticeship training, on-the-job training and college learning into a degree pathway, saving students time and money while actively building the New Jersey workforce. The state's goal is to create a broader and more transferable skill set for working adults in New Jersey.
Student apprentices will be able to simultaneously fulfill the requirements of an apprenticeship program and the requirements for an associate degree while still earning a living.
"TESU is very excited to work with the state of New Jersey as we increase options and opportunities through integrated apprenticeship and college experiences," TESU president Merodie A. Hancock said in a statement.
"Our expertise with prior learning will be at the heart of the program and benefit the student apprentices and their employers. Students will be able to earn and learn as they build their resume and their academic transcript. Thomas Edison has evaluated workplace training programs through prior learning review for decades, across a multitude of industries, and we are proud to play such a significant role as more and more employers and their employees are finding the value in this win-win approach."
The university has partnered with four USDOL apprenticeship programs in New Jersey: Northeast Carpenter Apprenticeship Training Fund, International Brotherhood of Electrical Workers Local 269, Eastern Millwork, and the National Elevator Industry Education Program to kick start this initiative and aims to bring on additional partners in the near future.
Thomas Edison State University, 101 West State Street, Trenton 08608. 888-442-8372. Merodie Hancock, president. www.tesu.edu.
Deaths
John Raymond Hipple, 81, on July 1. During a long career in banking he was president of Mercer Savings, vice president of United Savings and Loan, and owner of Princeton Mortgage. In retirement he worked as a bartender at the family-owned Ernie's Tavern.
Judith Ann Krueger, 77, on July 6. She worked as a executive secretary for the State Commission of Investigation for more than 25 years.
Elmer C. Gafgen, 85, on July 8. A self-employed custom home builder, he played a key role in the development and construction of the Little League baseball fields and clubhouse in Robbinsville.
Nancy A. Ruszczyk, 59, on July 10. She was a senior tax examiner for the state Department of Labor and Workforce Development.
Diana Kuck, 77, on July 7. She was an executive assistant at Mercer Oxygen for many years.