Trenton Cycling Revolution Gains Nonprofit Status
The 22-year-old Trenton Cycling Revolution (TCR), Trenton's primary organizer of biking events, has recently reorganized itself as a 501(c)3 nonprofit organization and elected the following as its board of trustees officers: Jacque Howard, president; Kathleen Dieal, vice president; Ed Adams, treasurer; and Bernard McMullan, secretary.
The other trustees include Jim Simon, Helen Dudar, and Jun King. The board also appointed Wills Kinsley as director of operations, and Sonia Szczesna as outreach coordinator. Both were recognized for their leadership in leading TCR activities and initiatives.
According to press materials, the TCR promotes safe biking for all and advocates at the local and county level for increased attention to bike lanes and the creation of more bike trails throughout the region. In addition, TCR is known for its annual Tour de Trenton, the Ciclovia Open Streets event, Canal Path cleanups, as well as countless bike repair and bike giveaways focused on Trenton children and families. It works closely with the Bike Exchange of the Boys' and Girls' Clubs of Mercer's to help ensure that youth and adults who want to ride have a safe vehicle.
TCR was recently awarded grants to install a biking information, tire pump, and repair kiosk in partnership with the Trenton Historic Development Collaborative. Input on the project was collected during a community meeting discussing the purpose and design with Trenton residents living near the Delaware Raritan Trail.
Other spring/summer plans include kids bike giveaways in partnership with the Boys and Girls Club Bike Exchange and City of Trenton and developing garage shop space where bike repair clinics and "do it yourself" repairs can take place.
More information about Trenton Cycling Revolution can be found at www.trentoncycling.org.
New In Town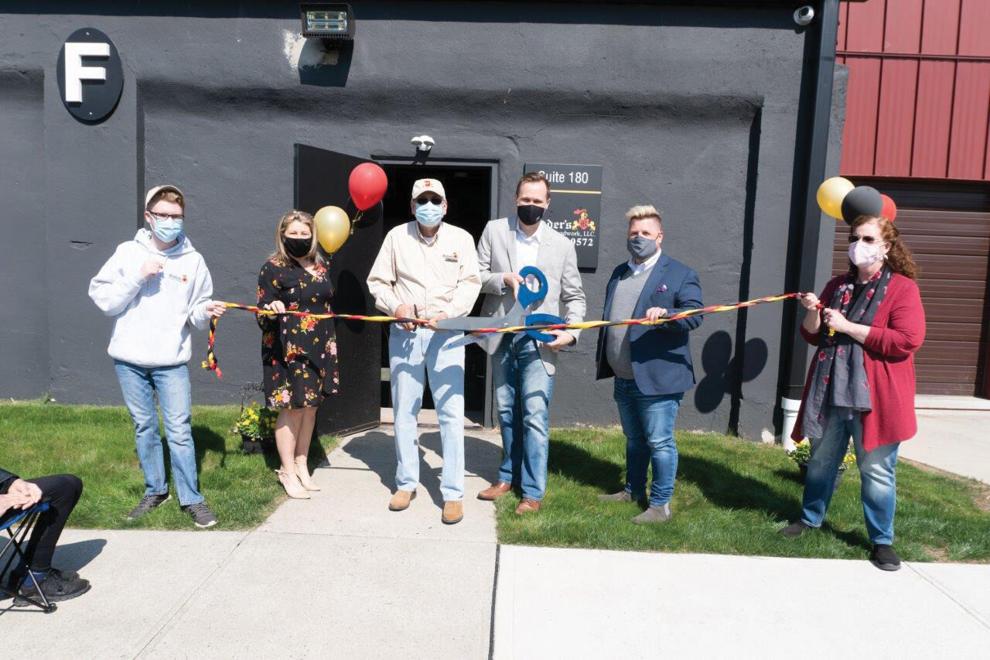 Ridder's Custom Woodwork, LLC, 1800 East State Street, Suite 180, Hamilton 08609. 732-259-0572. Phil Ridder, owner. www.ridderworks.com.
Ridder Custom Woodwork, LLC has opened its workshop in Hamilton's Studio Park. A ribbon cutting ceremony took place April 24 featuring owner Phil Ridder along with Hamilton Township Mayor Jeff Martin, Associate Director of Economic Development Kate Kane, and SHOP Hamilton Chair Jay Dugan.
Ridder had previously operated out of his 900-square-foot basement after founding his woodworking business in 2010 in Flemington. His new space in Hamilton is 6,000 square feet.
Ridder inherited his passion for woodworking from his father, who was a master cabinet maker, and he acquired his first set of tools using savings from his paper route. He worked in civil engineering and building technology, holding jobs in bridge and building design before starting his own company.
Ridder Custom Woodwork specializes in handcrafted custom furniture, cabinets, built-ins, bars, mirrors, gifts, awards, memorials and other custom items. Ridder delivers throughout New Jersey and in parts of Pennsylvania.
"We are thrilled to welcome Ridder Custom Woodwork to Hamilton Township," Martin said in a statement. "Phil's unique talent and craft of woodworking is exceptional. His woodworking shop is the perfect addition to Studio Park."
Management Moves
Princeton Mercer Regional Chamber of Commerce, 619 Alexander Road, Suite 101, Princeton 08540. 609-924-1776. Hal English, president and CEO. www.princetonmercerchamber.org.
Gretchen DiMarco has joined the Princeton Mercer Regional Chamber of Commerce as events manager. She started in her new role on April 19.
DiMarco has a background in community relations, event planning, and non-profit association management.
"Gretchen's professional experience in event management and close ties to our local business community will complement the already outstanding staff of the Chamber. We are excited to welcome her to our organization as we work to meet the changing needs of our members throughout Mercer County and Central New Jersey," said Brenda Ross-Dulan, chair of the Princeton Mercer Regional Chamber.
"Gretchen has a passion for building community that is right in line with our mission as a Chamber. As the business community starts to re-open and we adjust to new ways of building relationships, her skill set and creativity will be important tools for us. The future looks bright for the Princeton Mercer Regional Chamber," said Chamber President and CEO Hal English.
New Jersey Advocates for Aging Well, 145 West Hanover Street, Trenton 08618. 609-421-0206. Cathy Rowe, executive director. www.njaaw.org.
New Jersey Advocates for Aging Well (NJAAW), a nonprofit that works to optimize the aging experience for New Jersey residents, has selected Cathy Rowe, DrPH, to serve as its new executive director. She replaces Melissa Chalker, who stepped down earlier this year to accept a position with the State of New Jersey.
Rowe most recently served as Coordinator for SOMA (South Orange/Maplewood): Two Towns for All Ages, a grant-funded healthy aging initiative in a community with more than 6,000 residents over 60. It focuses on developing programs to address economic and infrastructure needs for an age-friendly community.
She has spoken extensively on aging issues at conferences and symposia locally and globally and is an expert on establishing age-friendly communities. Rowe earned her doctorate of public health in health policy and management from Columbia University, where she received a fellowship in public policy. Her BA in economics is from Bates College.
"Cathy is just the person we need to lead our organization into the future, as we stand at a critical juncture in building a network for healthy aging in New Jersey," said Steve Leone, chairman of the NJAAW Board of Trustees, in a statement. "Her experience and skills align perfectly with our mission to advance policies and opportunities that enable older adults to live with independence and dignity in their communities," he said.
"I am thrilled to join NJAAW at this pivotal point, as our demographics shift to an older, active population," Rowe said. "We need to prepare and rethink what enables residents to age well in our State," she added.
Deaths
Lydia Osborne, 74, on April 24. She worked her entire career for the Alumni Council of Princeton University, where she was assistant to the director.
Rita A. LaMarca, 87, on April 28. She worked for the state Department of Labor for 45 years.
Carol Arlene Combs, 78, on April 27. She worked for the state for 25 years, retiring as an auditor in the Office of Legislative Services.