Building Sold
A Hamilton warehouse under construction has been sold to Southern California-based Cohen Asset Management Inc. for $29.6 million.
The 145,950-square-foot industrial building developed by Indianapolis-based Scannell Properties is scheduled to be completed in February. Known as the Kuser Industrial Center, it is located at 2555 Kuser Road.
CBRE has been named exclusive leasing agent for the property.
"The Kuser Industrial Center offered a unique opportunity to acquire a new Class A industrial property that benefits from superior highway access and an abundant available labor pool in a location equidistant from Port Newark, Port Elizabeth and the Port of Philadelphia," CBRE's Brian Fiumara said in a statement.
Partnership
Pennington-based OncoSec, a biotechnology company that develops immunotherapy cancer treatments, announced an agreement with Sirtex Medical to co-promote TAVO, its most promising treatment candidate.
Under the agreement, global healthcare business Sirtex will pay $5 million for a non-exclusive option to co-promote TAVO in U.S. patients with certain types of metastatic melanoma. If exercised, this option would require Sirtex to pay an additional $20 million in cash and purchase $5 million in common stock of the company at a market price.
TAVO, short for tavokinogene telseplasmid, works by making tumors responsive to drugs that inhibit tumors' built-in "off switches" that keep the body's immune system from attacking them.
In a statement, Daniel O'Connor, president and CEO of OncoSec, stated, "Sirtex is a strong company with significant experience in the sales and marketing of drug/device combination products to treat cancer. This deal provides OnocSec with the potential to commercialize TAVO with a highly skilled U.S. sales force in this initial indication, while retaining the right to grant others the ability to do so and the flexibility to buy back the rights if warranted."
OncoSec, 24 North Main Street, Pennington 08534. Daniel O'Connor, CEO. www.oncosec.com.
Management Moves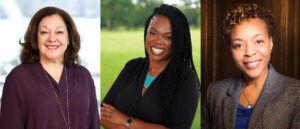 The Princeton Area Community Foundation announced the appointment of three new members to its board of trustees. Sonia Delgado, Shannon Mason, and Tonya Woodland will each serve three-year terms.
Delgado, a Lambertville resident who grew up in Trenton, is a partner at the Princeton Public Affairs Group. She is an expert in health policy, strategic planning, and business development. She previously served on the board from 2011 to 2016 and also helped evaluate applications to the foundation's COVID-19 Relief & Recovery Fund in 2020.
Mason, a Trenton resident and pastor, holds a PhD in counseling psychology and offers strategy and leadership coaching. She was previously executive director of Mercer Street Friends and serves as an advisor to the foundation's Bunbury Fund.
Woodland, who grew up in Trenton and lives in West Windsor, is an assistant vice president at the Commonwealth Fund, where she oversees human resources, IT, facilities, budget development, and organizational culture initiatives. She was previously senior director of human resources and organizational Development at the Henry J. Austin Health Center in Trenton, service area director of the Office of Emergency & Community Services for Catholic Charities Diocese of Trenton, executive director at Do Something, Inc., and program officer of Organizational Capacity Building at the Philadelphia Foundation.
"We welcome the new trustees, who will bring extensive nonprofit, strategic, and management experience to the board," said Anthony "Skip" Cimino, the board chair. "They join an extraordinarily talented board, whose members are dedicated to helping our communities thrive."
Princeton Area Community Foundation, 15 Princess Road, Suite A, Lawrenceville 08648. 609-219-1800. Jeffrey M. Vega, president. www.pacf.org.
Special Appointment
The New Jersey Chapter of the American Institute of Architects (AIA-NJ) has announced the inauguration of Joshua Zinder as AIA-NJ president. Zinder will lead the chapter's executive committee in this volunteer position for a one-year term spanning the 2021 calendar year, in support of the organizational mission to boost public understanding of architecture, while advancing the priorities of the building design profession.
Zinder is the managing partner of Nassau Street-based design firm JZA+D, which he founded in 2006, and has served on the AIA-NJ executive committee since 2019.
"The community we serve will face unprecedented challenges this year as all of us begin the task of rebuilding," Zinder said in a statement. "Responding with a unified voice and strategic vision is critical to securing a promising future for New Jersey's architecture professionals as well as for the state's building stock and its economy."
Deaths
Mary Ann Piffat, 80, on January 30. She retired as a production planner from Carter-Wallace in Cranbury after 30 years of service. She was previously employed by EMR.
Norman Lee Fairall, 91, on January 27. He was a chief boiler operator at Princeton University for 20 years.
Robert Goeke Sr., 91, on January 25. He worked for Redding's Plumbing & Heating for more than 30 years.
Elizabeth M. Hart, 89. With her husband and a business partner she established Rosedale Mills in Pennington.
Sybil L. Stokes, 89, on December 31. She worked at the Educational Testing Service, eventually directing the SAT program, and as director of grants management for the State of New Jersey's Health and Human Services Department.
Bruce Harrison, 58, on January 24. He was the owner and head carpenter of Harrison Home Improvements for 38 years.