Management Moves
D&R Greenway Land Trust, 1 Preservation Place, Princeton 08540. 609-924-4646. Linda Mead, president and CEO. www.drgreenway.org.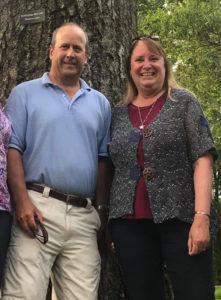 The D&R Greenway Land Trust has announced new leadership for its board of trustees.
Peter J. Dawson of Pennington, the owner of Leigh Visual Imaging Solutions on Everett Drive, is the new chair. He has been a member of the board since 2013 and replace current co-chairs Wendy Kvalheim of Princeton and Christopher DeGrezia of Montgomery, an attorney with Fraegre Drinker on College Road East.
West Windsor resident Michael R. Bramnick, senior vice president of NRG Energy, joins the land trust's executive committee as assistant secretary of the board.
Seven additional new trustees have also joined the board in the past year:
Heather Eshelman McCusker, a trusts and estates lawyer at Stevens & Lee on Lenox Drive; Alanna Jameson Papetti, assistant director of communications for the NJ Board of Public Utilities; William C. Martin, chairman and chief investment officer of Raging Capital Management in Rocky Hill;
Patrick L. McDonnell, syndicated "Mutts" cartoonist, author, and playwright; Laura Napoli, retired environmental scientist for ExxonMobil; Ian Snyder, a former Princeton resident who now lives in New York City and works for J.P. Morgan; and Peter Tucci, a partner at law firm Fox Rothschild on Lenox Drive and chairman of the board of Trustees of The Pennington School who was instrumental in the recent preservation of the Point Breeze estate in Bordentown.
Crosstown Moves
Princeton Infrared Technologies, Inc., 7 Deer Park Drive, Suite E, Monmouth Junction 08852. 609-917-3380. Martin Ettenberg, founder and CEO. www.princetonirtech.com.
Princeton Infrared Technologies, Monmouth Junction-based specialists in indium gallium arsenide imaging technology for the design and manufacture of shortwave infrared cameras and one- and two-dimensional imaging arrays, has relocated from 9 Deer Park Drive to a larger space at 7 Deer Park Drive.
The new facility has 2,200 square feet and clean room and lab space as well as 1,980 square feet of office space.
In a statement, founder and CEO Martin Ettenberg said "We are looking forward to this exciting new phase in the growth of our company. We are moving into a new, larger office and lab space that will allow us to expand our capabilities in the development of SWIR imagers, detector arrays, and cameras. This move will enable us to better serve our customers as we continue to grow our product line in the SWIR market."
Deaths
Alfred Abbotts, 92, on February 16. The Korean War veteran was a trial attorney who worked in the New Jersey Attorney General's office and as chief federal prosecutor for central New Jersey. He was also involved in alumni affairs at Princeton University, where he was a member of the Class of 1950.
Joan Flesch, 80, on February 26. She was a teller at PNC Bank in Princeton for many years.
Richard Eugene Schweizer on February 25. He owned Pathway Car Care in Lawrence for 30 years.
Jacqueline Clowes, 79, on February 22. She retired as a mail room supervisor in the state Department of Treasury.
Richard Peter Braconi Sr., 83, on February 22. He was a highway inspector for the state Department of Transportation for 20 years.
Annie Laura Lee Alexander, 89, on February 14. She worked for General Motors in Ewing for 43 years.
Elisabeth Joseph, 97, on February 21. Born in Germany, she was the only member of her immediate family to survive the Holocaust, working as a maid for a family who protected her with false identity papers. She was a salesperson at Dunham's department store in Trenton and Lawrence.