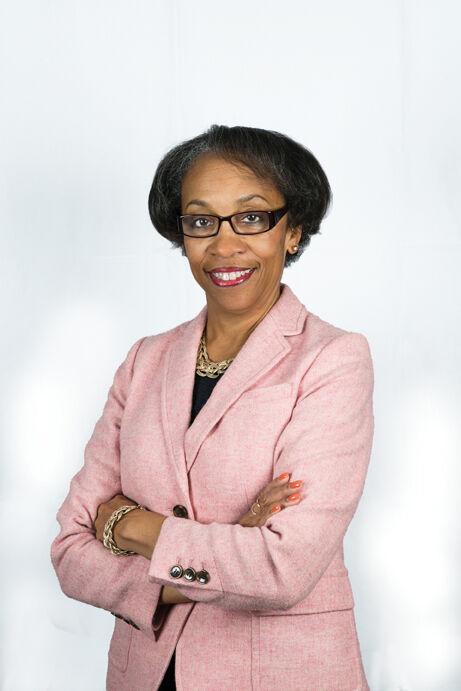 In 2008, Karen Andrade-Mims, then a longtime board member for New Jersey's oldest nonprofit, was asked to take the helm of the organization. She imagined she had been chosen as the next leader to steer the organization into the future.
Instead, she was told by board members that they wanted her to manage an orderly shutdown of programs, and ultimately, to dissolve the nonprofit.
The organization was called the Union Industrial Home for Destitute Children of New Jersey and had been in existence since 1859.
Andrade-Mims wasn't ready to let the nearly 150-year-old organization fade away, especially under her leadership. Instead, with some guidance and thought, she led the transformation of the nonprofit by re-focusing its mission on helping fathers — and by extension, their children — to live better lives.
And thus, after a rebranding, Trenton is now home to The Father Center.
The Father Center currently runs two programs: Operation Fatherhood, which started in 1993; and WorkFirst NJ, a program The Father Center manages on behalf of Mercer and Burlington counties.
The men who land on the doorstep of The Father Center come for one of two reasons, and enter one of those two programs. Operation Fatherhood helps men who are behind in child support payments. Men entering the WorkFirst NJ program receive financial assistance from the state, funding which only lasts five years, so WorkFirst NJ helps them reach financial independence.
In both cases, the men need to ultimately find employment. What path they take to reaching that goal depends on the person.
Some participants want to earn a high school diploma, Andrade-Mims said, and The Father Center can help them achieve that goal through a program at Mercer County Community College. Others want to go directly to work but need skills. Those men can participate in a program called Bridges to Success, which is a short-term credentialing program.
The Father Center addresses needs with virtual programs that participants access through the center's computer lab. Two programs — one to train forklift drivers (NJ Forklift) and CDL license training — happen off site.
The Father Center has an interesting history. In 1859, 18 Presbyterian women came together to create an organization that would serve the needs of children whose parents could no longer take care of them, or children whose parents had died.
According to a 2012 news story, those women "representing a union of area churches came together to provide educational, vocational, and moral formation opportunities for young people struggling to make their way in an increasingly industrial world." And so they created the Union Industrial Home.
A year later, the state legislature made the venture a state corporation, giving it the formal name: Union Industrial Home for Destitute Children of Trenton, New Jersey.
The home was run by the 18 women, along with volunteers. But the legislature gave formal oversight to a "Board of Counselors consisting of six male members." That first board included Trenton stalwarts John A. Roebling, the German-American engineer who designed and built the Brooklyn Bridge; Stacy Potts, a journalist who became a lawyer, an assemblyman, and ultimately, a state Supreme Court justice; and James T. Sherman, who became the clerk of the Mercer County courts.
Children either resided in the home run by the women, or, if a child was orphaned, that child would be placed in a private home. None of the children remained at the Union Industrial Home (UIH) after the age of 12. Each year, the women hosted fundraising dinners where the children provided entertainment.
Additionally, UIH relied on donations from the community. One of the more remarkable donations came from Charles G. Roebling, John A. Roebling's son. On April 14, 1912, the Titanic sank in the North Atlantic Ocean. On board was 31-year-old Washington A. Roebling II, the son of Charles Roebling. The younger Roebling died after making sure others got into lifeboats. His father, Charles, made a $20,000 to the Union Industrial Home in memory of his son, a gift which would be about $500,000 today.
For years, the home ran as envisioned — a place for children who had no homes or family. But as the city of Trenton changed, so did the offerings at UIH. The home closed down in the 1960s, and later became a refuge for teen mothers and their babies. That program lasted until 2010. It was that program that captured the interest of Andrade-Mims who, when she joined the board, was working for Planned Parenthood.
But other services offered by the Union Industrial Home focused on men, more specifically fathers. And that focus received a boost in the early 1990s when President Bill Clinton's administration encouraged governors to reform the nation's welfare programs.
In 1992 then New Jersey Gov. James Florio signed legislation that created the Family Development Program. The program was designed "to break the cycle of poverty, by encouraging family stability while instilling a sense of individual responsibility and dignity to all participants." Operation Fatherhood was an outgrowth of FDP, a program designed to help men who owed child support. Operation Fatherhood was overseen by the Union Industrial Home. A second pilot program, titled Parents Fair Share, was a federal program designed to get people off the welfare rolls, and UIH ran that pilot program, too.
By 2008, using the home for teen mothers and their children began to drain the nonprofit's bottom line, and only three young women and their offspring lived in the home. Andrade-Mims estimated the organization was losing about $200,000 a year. But during that time, Operation Fatherhood continued. In an effort to save what by then was called UIH Family Partners, Andrade-Mims traveled to Washington to speak with a staff member at the Child Welfare League of America about the organization's future. That staff member reminded Andrade-Mims that the Union Industrial Home had built a very successful program for fathers. That aha moment led to a new and focused mission for the organization all revolving around fatherhood.
Jonathan Ledlow was one of the early participants in Operation Fatherhood. On January 31, 1993, Ledlow testified before the National Governors' Association Committee on Human Resources in Washington, a committee chaired by Florio. Ledlow told those in attendance: "Operation Fatherhood has given me the incentive to be a productive and responsible human being." It wasn't easy. Ledlow told the governors' committee when he arrived at Operation Fatherhood, he had no direction; he had a drug addiction.
"Thanks to Operation Fatherhood," Ledlow testified, "I am one less minority male that's not incarcerated. I am one less minority male that is unemployed. And I am one more minority male that is taking care of all of his responsibilities. Without this program, I have absolutely no idea where I would be, or what I'd be doing right now."
Now, almost 30 years later, Ledlow has a master's degree in clinical mental health and works as a therapist for StressCare of New Jersey. We spoke by phone.
Ledlow was introduced to Operation Fatherhood by his sister-in-law, Marsha Gore, who at the time was the operations manager of the program. "She saved my life," Ledlow said. He qualified for the program because he owed child support for his daughter.
"At Operation Fatherhood, I was introduced to my potential. They told me I could achieve when I was told for so long that I couldn't do anything," he said.
Ledlow said the program also revealed another side of him as a person. "Operation Fatherhood showed me that there was a different me; one that people liked to see. It was different from the person who was drinking and smoking. It was another person I could become — one who was formidable, who was respectful and respected," he said.
Unfortunately, Ledlow said, the one key piece he needed from Operation Fatherhood in 1993 was counseling to help him overcome years of self-doubt and bad habits. Andrade-Mims said the organization now has the ability to refer people out for counseling. Staff can also make referrals for housing and other medical concerns.
The Father Center continues to grow its offerings. "About five and a half years ago, we decided to work with young boys in Trenton, looking at our mission from a prevention perspective," Andrade-Mims said. The program is called Healthy Relationships/Healthy Choices, and serves 15 ninth grade boys at the Trenton school district's Ninth Grade Academy. "We focus on ninth grade," Andrade-Mims said, "because we know it's a troubling time for boys."
Boys in the program go through a long selection process. Two cohorts of boys have finished the program; one young man received a full scholarship to Harvard. Another young man who told program recruiters that he really wanted to do something in computers is now attending the Rochester Institute of Technology.
There is one more piece from the history of the Union Industrial Home Andrade-Mims wants to revive, and that is conferences. This November 3, The Father Center will hold its first state-wide conference. The focus, of course, is on fatherhood.
While conference planning continues, Andrade-Mims was willing to share the name of one conference speaker, Wade Horn, a New Jersey native who founded the National Fatherhood Initiative.
The Father Center, 1 West State Street 5th Floor, Trenton 08608. 609-695-3663. Karen Andrade-Mims, executive director. www.thefathercenter.org.