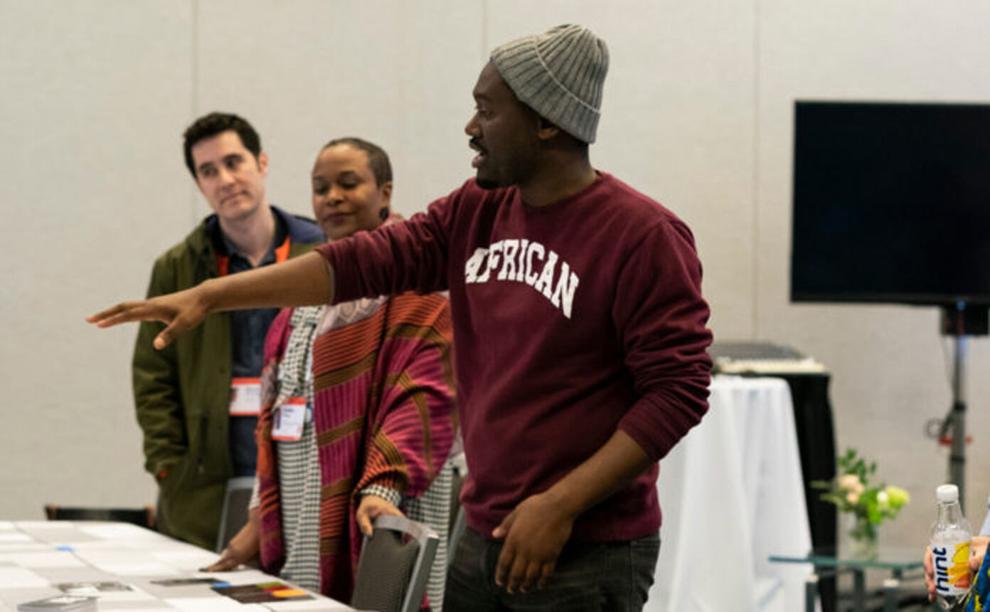 Trenton Health Team (THT) hosts a free online discussion on Saturday, April 10, at 11 a.m. featuring architect and former Trenton resident Bryan C. Lee Jr. exploring how urban planning and design impacts our lives and how we can strengthen communities through "design justice." Join the event via Zoom. For more information visit www.trentonhealthteam.org.
The event, titled "Power and Place," will encourage participants to imagine what the city of Trenton could look like if decisions were grounded in social justice principles.
THT says using local examples, Lee, who recently taught a design studio at the Harvard Graduate School of Design focused on Trenton, will show how architecture and planning not grounded in design justice actually create injustice toward communities.
Historic processes such as redlining, urban renewal, and strip mall development have harmed neighborhoods and communities, particularly communities of color, by removing gathering spaces and opportunities to interact, Lee notes. Even modern developments are typically designed as separate from the surrounding community, rather than including and uplifting them, notes THT.
Lee's firm, Colloqate Design, is a multidisciplinary nonprofit design justice practice based in New Orleans, Louisiana, that is "working to expand community access to, and build power through, design of social, civic, and cultural spaces."
"I've been interested in being an architect since I was about seven years old," Lee says in an interview on the construction-related online site Autodesk. "My family moved to Sicily for about three years. When I moved back from Sicily to Trenton, New Jersey, when I was about 10, 11 years old, we moved in with my grandmother for a little while, and the first thing you notice is the complete dissonance between the spaces and places in Sicily versus the streets of Trenton, New Jersey. And that difference really started to spark a little bit of a light and at least an acknowledgement of what physical spaces are, what they do, and how they impact the community or impact people."
He expanded on the idea of social justice further in an interview published by Common Edge, a nonprofit organization dedicated to reconnecting architecture and design with the public that it's meant to serve:
"I think the profession's role is to reconcile our complicit nature in all of the various systems at play. We talk about the fact that for nearly every injustice, there's an architecture that has been designed to sustain it. Look at our climate crisis: 40 percent of the world's carbon emissions come from buildings. When we talk about policing and jailing: We have built out an immense prison system. By doing so, we've forced a system of mass incarceration upon it. So we have to stop designing and constructing buildings that directly and actively create harm in the world.
"It means that we have to imagine communities that are not centered solely on whiteness as our prevailing understanding of how people move through the world. We often base our considerations of space and place on how white people might feel in that space. For example: the idea of a picket fence and two children and having your own domain as the owner of a single lot. That ideal is much different than those found in communities of color, who often live together, who often prefer to have communal spaces, communal interactions. We need to recognize and acknowledge the way that design and architecture perpetuates that disconnect, and instead build with other considerations in mind, both amplifying the health, wealth, and educational outcomes, directly related to those underserved communities.
"We talk about the continuum of power, where designers can have impact on that continuum. It includes pedagogy, policies, procedures, practice, projects, and people. Those are the ones that we consider most pressing. And what that means is, the way we teach people is important to fix and change. We have to change our universities. We have to look at our high schools and how we're training people to think about the physical environment, whether they're architects or not. We have to actively change policies, whether it's HUD or city councils or planning offices, to reflect programming that can allow for justice to emerge.
"We have to change the way our procedures work. Oftentimes we set in place these policies that have theoretically good intentions, but the people who implement them either don't know how to, or have varying levels of understanding of what the policy was attempting to do in the first place. Red lining, the way it was written, did not specifically call out black people. It called out 'undesirables.' So there's a difference between policy and the way that those things are implemented.
"And then we go to the receiver side and talk about practice. How does practice change from an internal standpoint? How do we extend the range of services to adamantly include the community process as a part of the entire scope of work? In our projects, how do we test and make sure in the long run that the projects are accomplishing what they were supposed to do? And then, lastly, how are we expanding, not just the profession, but the number and variety of individuals that have a say in how the built environment is created? Because we've done such a woefully poor job of addressing those issues throughout our history, all of them need to be addressed."
This will be the final event in THT's "How Spaces Shape Us" speaker series, supported by the Nicholson Foundation to spark civic dialogue around social justice and equity issues.