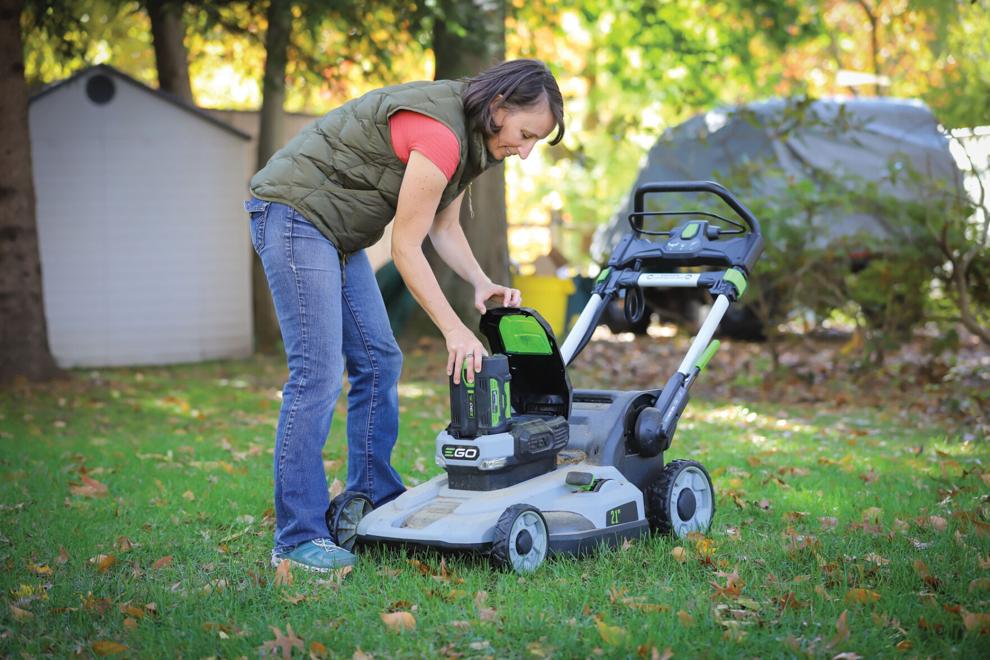 The warm spring weather has brought people outside to their yards, and while they are places for gathering and personal relaxation, they are also part of the local ecosystem and should be sustainably managed.
To educate the public how to go about doing that, Sustainable Princeton is presenting an outdoor Sustainable Landscaping Mini-Expo at the Princeton Shopping Center on Saturday, April 24, from noon to 3 p.m.
Attendees will have an opportunity to explore best practices in sustainable landscaping by checking out electric landscaping equipment, learning about organic lawn care techniques, and diving into native plants.
Quiet Princeton, a group focused on reducing the use of loud and environmentally wasteful leaf blowers, will provide advice on sustainable landscaping and mulching.
Native plant garden designer Judith Robinson will share her knowledge about native plants and show off a few that might work in your garden. In addition, The Watershed Institute, D&R Greenway, and Princeton's Shade Tree and Environmental commissions will share additional best practices.
The Mini-Expo will offer several models of electric landscaping equipment for attendees to check out. A few "green" residents will be present to show off their favorite battery-powered mowers, blowers, tillers, leaf shredders, hedge trimmers, line trimmers, and more.
This event will be held outdoors in the courtyard of the Princeton Shopping Center to maintain social distance. Attendees are asked to wear a mask and stay home if they feel unwell. To encourage sustainable transportation, attendees are encouraged to bike to the free event. Princeton Bike Advisory Committee (PBAC) will be onsite hosting a bike valet near the Verizon store for all attendees.
In advance of the event, Sustainable Princeton is also hosting a webinar on Wednesday, April 21, from 7 to 8:30 p.m. on Princeton's "Changing the Landscaping: Healthy Yards = Healthy People" project. To register visit bit.ly/ChangingTheLandscape-2.
For more information on Sustainable Princeton visit www.sustainableprinceton.org.
The Mercer County Sustainability Coalition is also offering a series of events from April 24 to 30 in celebration of Earth Week. All events are free, but registration is required.
The annual storm clean-up at Colonial Lake in Lawrenceville takes place Saturday, April 24, from 10 a.m. to noon, coordinated by Public Works and The Watershed Institute.
On Sunday, April 25, at 3 p.m. Kathleen Biggins, founder of C-Change Conversations, presents "Climate Change and Energy" to learn about the science of Climate Change and its impacts.
At 4 p.m. artist Susan Hockaday, shows another way of seeing the impact of climate change. At 5 p.m. KerriAnn Lomardi and Michele Calabrese present NJ Clean Energy Plan incentives, which are designed to help reduce our energy and carbon footprint.
On Monday, April 26, at 7 p.m. the Hopewell Valley and West Windsor green teams present "Journey Toward Zero Waste" with tips for assessing the waste that your family generates and ways to reduce it.
Trenton's Green Team hosts a panel discussion on Tuesday, April 27, at 7 p.m. on "Clean Transportation in the Capital City." Learn about the EV car share initiative, bike projects, and other transit-oriented development plans.
Water Wednesday kicks off April 28 at 7 p.m. Learn why Mercer County is experiencing more flooding and what that means for water quality in a program hosted by the Friends of Colonial Lake and The Watershed Institute.
On Thursday, April 29, at 7 p.m. stormwater specialist Kory Kreiseder of the Watershed Institute presents "Green Infrastructure Resources" and discusses how we can use trees, plants, and soil to capture and clean the polluted stormwater runoff.
Friday, April 30, concludes Earth Week events with two Zoom sessions. At 2:30 p.m. Jillian Stark, land steward for Mercer County Parks, presents " Spotted Lanternfly — Learn what to do." And at 6:30 p.m. Mercer County Parks naturalist Christy Athmejvar presents the family-friendly program "Trees are Terrific."
Visit www.mercersustainabilitycoalition.org/greening-together-2021 for more details on these events and to register.