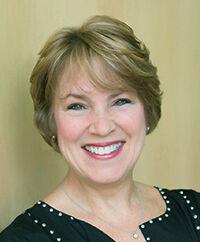 As many office workers enter their second year of full-time working from home — and companies consider a future in which substantially less time is spent in a physical office — one concern that has arisen is the loss of opportunities for professional development, innovation, and growth. The spontaneous encounters and watercooler conversations that happen naturally in a workplace don't happen when all communications flow through email and Zoom.
But even as some sense of normalcy begins returning to everyday life, many events will continue to run virtually, it's a valuable skill to be able to make the same type of connection in an online setting that you can during an in-person networking gathering.
Lisa Manyoky, a communications expert, presents on effective virtual networking at a meeting of the Professional Service Group of Mercer County taking place via Zoom on Friday, May 21, at 9:45 a.m. Access the free session at www.psgofmercercounty.org.
Manyoky earned a degree in graphic design from Rochester Institute of Technology and worked briefly for a Princeton-based design firm before establishing her own business assisting companies with all aspects of marketing and communications.