Learn how to spot the warning signs of human trafficking with the North Brunswick Public Library's in-person and virtual events during National Human Trafficking Prevention Month. The library, which held a similar online-only presentation in 2021, will offer younger library-goers and their families a chance to meet educators from the New Jersey Coalition Against Human Trafficking (NJCAHT) and Legal Services of New Jersey's PROTECT Project.
On Thursday, January 19, from 5 to 7 p.m., representatives will be available to share information and answer questions at the library building at 880 Hermann Road. NJCAHT's Diana J. Starace is set to speak, alongside others from LSNJ, to inform the general public about the problem.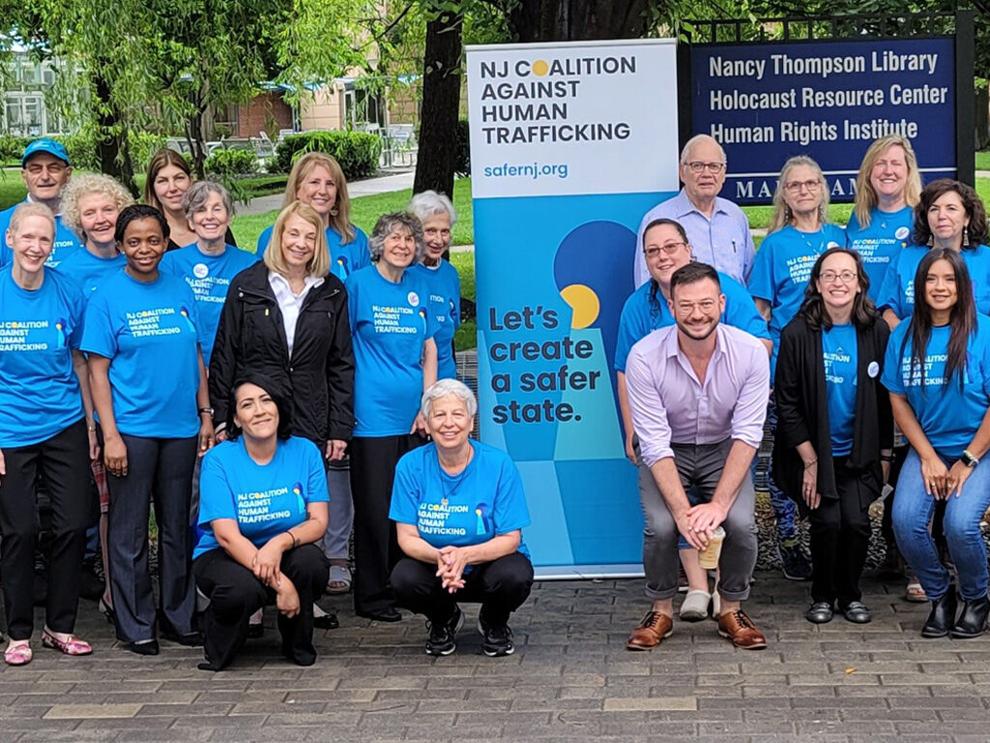 "I just think it is really important to raise awareness and let people know what [human trafficking] really is, that it does exist here in New Jersey, right here in your own backyard, and this is how you recognize it, and this is what you do about it, because that's the only way we're ever going to stop this from happening," says Starace, the training coordinator for the speakers bureau, a member of the operating council, and the former co-chair of the healthcare committee.
The two nonprofit organizations in New Jersey work to eradicate human trafficking in the state while also advocating for survivors. They will return the following week for a virtual presentation titled "Human Trafficking Awareness and Prevention: Engaging and Empowering Youth and Families," which will take place on Thursday, January 26, from 6:30 to 7:30 p.m.
Starace explains that this workshop will help people define human trafficking, recognize "red flags," and know how to report it if they suspect someone is a victim of trafficking. Guests in grades nine and up, as well as their parents and caregivers and other interested members of the public are encouraged to attend.
For questions or more information about NOBR PL's upcoming "Human Trafficking Awareness and Prevention" events, contact librarian Ryan Miller through email at rmiller@northbrunswicklibrary.org. Registration for the January 26 presentation is available online at tinyurl.com/HumanTraffickingAware0126.
Starace, a Dunellen resident, first became acquainted with NJCAHT through her work as an injury prevention coordinator at Robert Wood Johnson University Hospital in New Brunswick.
She has been in her position since October 2003, focusing on "education and outreach, both in the hospital and out in the community, to help people understand what the injury risks are that potentially could [affect that age group or that population], and then sharing prevention strategies so that we can prevent those things from happening in the first place."
According to her biography on the RWJUH website, Starace is also a coordinator for Safe Kids Middlesex County, a member of the Wellspring Center for Prevention's Middlesex County Coalition for Healthy Communities' executive board, and a member of the Middlesex County Center for Empowerment's Sexual Violence Prevention Coalition.
Her work in the field of human trafficking began in 2014, a year after state legislators had passed the Human Trafficking Prevention, Protection, and Treatment Act and created the New Jersey Commission on Human Trafficking.
Starace notes that Super Bowl XLVIII was being held at the MetLife Stadium in East Rutherford, and "although human trafficking happens all year round, when there are huge events, like Super Bowls, historically, the demand goes up — many people coming into town, a transient population," and other factors, she says.
In anticipation of this increase, New Jersey launched a series of informational campaigns and established a 24-hour hotline for calls at 1-855-END-NJ-HT.
"That was really when I first started hearing about human trafficking. I didn't know what it was," Starace says. After attending a documentary screening hosted by Prevent Child Abuse New Jersey, Starace, who was able to talk to one of the survivors after the event, felt moved. "The whole time that she was standing up there, all I could think about was 'this could be my daughter.' They were the same age, so it really just hit me."
Together with another RWJUH colleague in attendance, Starace brought what they had learned back to the hospital and helped establish its Human Trafficking Committee.
The NJ Coalition Against Human Trafficking, which was founded in 2011 as part of the Jewish Federation of Greater Metrowest's Community Relations Committee, "coordinates statewide community efforts to end sex and labor trafficking in New Jersey," according to its website, with the help of about "200 volunteers and more than 180 affiliates."
Several years later, NJCAHT reorganized, established itself as a 501-c3 nonprofit organization, and invited the RWJ committee to join them in forming a NJCAHT Healthcare Committee, Starace says.
Now, as statewide efforts bring together resources and communities against human trafficking, Starace focuses on educating healthcare providers who may not be equipped to recognize or intervene in cases of human trafficking. As per a study on the NJCAHT website, "over 80% of survivors sought medical care while being trafficked, but they were not identified."
"Nobody said a word to them — so, why didn't they say anything to them? Because many, many people don't understand what human trafficking is, they certainly don't know what those red flags are, the signs, and even if they do, they're not sure where to go with that information," Starace explains.
The LSNJ PROTECT Project has a "specially designated staff" for helping survivors of human trafficking, Starace says, as a part of Legal Services of New Jersey, which provides counsel, advice, representation, and more for people of lower income throughout the state.
LSNJ's website for free legal information, LSNJLAW, has a page about human trafficking that links to LSNJ PROTECT's "Trafficking Postcard" from March, 2020. Available online in multiple languages, the document defines human trafficking as "the illegal trade or use of a person against their will for the purpose of forced labor or sexual exploitation."
LSNJLAW continues that those who are or have been trafficked may be entitled to a number of actions, depending on the circumstances; these could include acquiring an order of protection, applying for immigration status or public benefits, claiming compensation for unpaid work or being a "victim of crime," and more.
Current or previous subjects of human trafficking can call LSNJ's PROTECT Project completely confidentially and toll-free at 1-844-LSNJ-PROTECT or 1-844-576-5776.
Starace recommends that anyone looking to report a case — whether a healthcare provider, a member of the community, or the person directly experiencing the trafficking — reach out to the National Human Trafficking Hotline at 1-888-373-7888, by text at 233733, or the NJCAHT website, safernj.org.
"Call the National Human Trafficking Hotline, because they're the ones who will talk to you and walk you through either what you're seeing, what you have seen, whatever is happening in that situation, and that [they] will help," Starace explains. "If I suspect something, I can call them and I can say, 'Look, this is what is happening, this is what it looks like.'"
After speaking with the caller and asking questions, the anti-trafficking hotline advocate will determine whether there is a need to call groups such as law enforcement or DCP&P—who Starace says must investigate any report of trafficking for someone under the age of 18, as it qualifies as a form of child abuse—for further assistance.
"One of the things that we talk a lot about with teens is online exploitation, because they spend so much time online, and they spend so much time online with people they don't know, and traffickers use that online platform to target and groom their victims," she says.
Patti Pfeifer, a retired elementary school teacher and fellow NJCAHT member, will also be joining Starace for the January 26 presentation.
The goal of the event, Starace adds, is "to help [parents and] youth understand what this is [and] how they can recognize it, because they might have someone in their school who's being trafficked, and they may not understand what's happening with them. But, once they get educated, there's a possibility that they will."
This information, she explains, helps them "to not only be aware of this information for themselves, because we always talk about traffickers identifying people who are vulnerable," but to extend that for those in their peer group.
"It's important for youth to be able to really understand what that vulnerability means or what it could look like, and 'is that me, too?' Because we all have had experiences with being vulnerable in our lives, but as a teenager, you don't often use or think about that word, so to think about what might make you vulnerable to being targeted by a trafficker, or your friend, or one of your classmates, and then to be able to recognize that and then know where to go with that information," Starace says.
January has been designated as National Human Trafficking Prevention Month since a proclamation by Barack Obama in 2010. In that same tradition, President Biden designated January 2023 as National Human Trafficking Prevention Month again, with the press release estimating that there are "more than 27.6 million people — adults and children — subjected to human trafficking around the world, including in the United States."
Starace received her bachelor's in psychology from Barry University in Miami Shores, Florida, then attended Florida International University for her postgraduate studies in public health administration.
She acknowledges that giving more people the tools for detecting human trafficking will allow them to better assess the "combination" of factors to consider as a situation unfolds. Informed observations, such as whether a younger person receives gifts from an older partner or dresses inappropriately for the weather, can be clues.
What Starace wants for the event is for participants to come away with "the acknowledgement that human trafficking is happening — both sex and labor trafficking — right here in New Jersey, because a lot of people don't believe that."
"I would also want them to understand what the red flags are so that they can help to recognize it, and then I would want them to know what resources are out there so that they can let somebody know," she says. "In the community, I think people just need to exercise judgment, and really look at what seems to be going on and not necessarily jump to conclusions, but also, don't be a bystander."
---
LSNJ's PROTECT Project Hotline: 1-844-LSNJ-PROTECT or 1-844-576-5776.
National Human Trafficking Hotline: 1-888-373-7888 or text 233733.
For more information and resources on human trafficking, visit the New Jersey Coalition Against Human Trafficking website, safernj.org, and/or the LSNJLAW website.