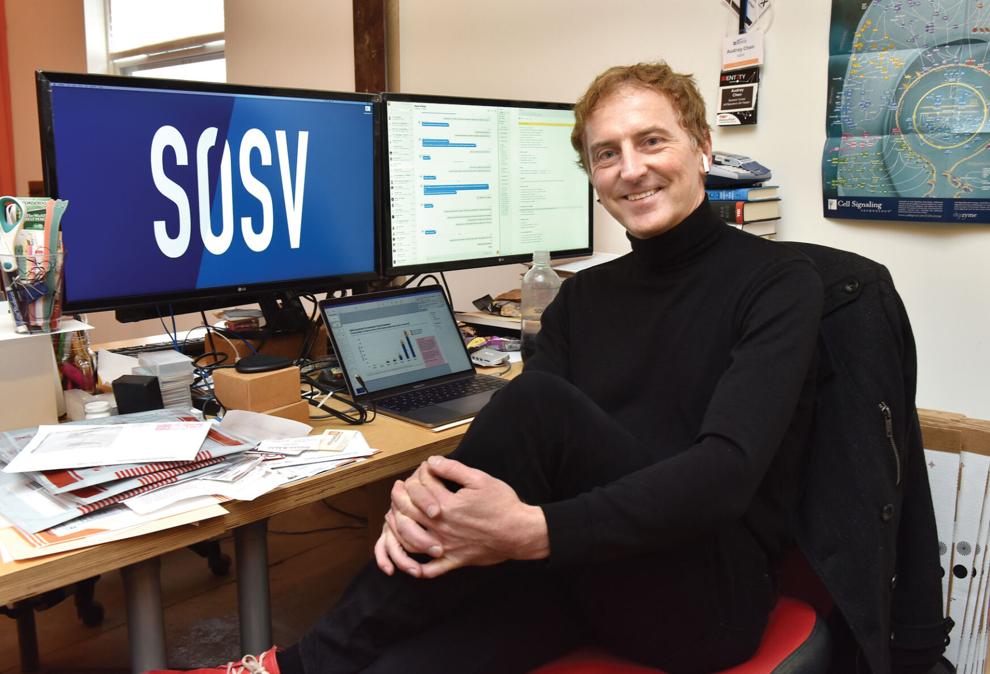 Successful entrepreneurs mingle with aspiring innovators at the Princeton Mercer Regional Chamber of Commerce's Pitch Stop 2021 event on Tuesday, July 13, at 5:30 p.m.
Three area start-ups will present their pitches to a panel of seasoned investors. Networking follows at the event to be held in person at Grounds For Sculpture, 80 Sculptors Way, Hamilton. Cost: $35. For information or to register visit www.princetonmercerchamber.org.
Leading the panel hearing the pitches are Sean O'Sullivan, managing partner of SOSV, and Kelly Ford, a partner at Edison Partners.
O'Sullivan — the subject of the February 14, 2018, cover story in U.S. 1 — is the founder of SOSV, which is a global collection of seven accelerators. Its motto is "venture capital for startups who make the impossible inevitable," and its accelerators cover computer hardware, life sciences, mobile startups, and food-based companies.
In his 2018 interview with U.S. 1 O'Sullivan shared some insights into the makings of successful startups:
Value your customers. The best companies, he said, feel a "debt of gratitude not just to their investors but to the community they serve. They are trying to serve society well, serve customers well through products they are creating."
Be ready to pivot. With limited financial resources to expend on failing ideas, he said, "You have to fire your strategy if it's not working for you. Pivot and find a new one and put all of your energy behind the one that is the new hope."
Don't forget to delegate. Startups fail because "they're led by a leader who is afraid to create a strong team. They want to be the boss. They don't want to share the load, share the equity among a senior group of equally committed people," O'Sullivan said.
Three companies will be hoping to apply O'Sullivan and Ford's expertise to their own ventures at the Pitch Stop event.
One is the food-oriented startup Bag-A-Burger, which has a presence in West Windsor as well as in Tucson, Arizona, and Valencia, California. Its product is a customizable, no refrigeration required, veggie burger. It comes in a bag to which you add water, form patties, and cook the burgers, which are fully vegan and contain only 90 calories per serving. Visit www.bagaburger.com.
Another presenter is Carnegie Center-based VictimsVoice, a startup with a mission to ensure that victims of domestic violence and abuse are able to have their voices heard. The organization, led by CEO Sheri Kurdakul, has created an app designed to assist in evidence collection.
Materials on its website, victimsvoice.app, explain, "VictimsVoice is built for legal admissibility so users can document information that holds up in court, investigators can collect the relevant evidence, and the prosecution can build a stronger case. It's built to meet HIPAA, VAWA, VOCA, and FVPSA regulations, ensuring the most strict privacy and security standards are upheld."
The final presenter is Ricovr, a biotech startup based out of Tigerlabs at 252 Nassau Street. Founded in 2018 by physician Himanshu Bhatia and serial entrepreneur Piyush Sadana, Ricovr has developed Xaliva, a portable saliva-based rapid-results testing device, intended for use in point-of-care diagnostics for diseases like COVID-19 but also for use by law enforcement to detect the present of THC, the psychoactive component of marijuana.