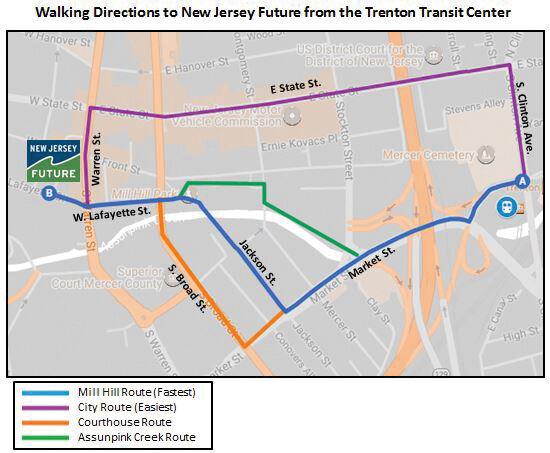 For all of Trenton's well documented troubles, the capital city also has several distinct advantages. One is the presence in the heart of town of a major public transit center, serving Amtrak, NJ Transit, and Riverline passengers — thousands every day. If Amazon had based its recent HQ2 competition solely on proximity to mass transit, Trenton might have made the top 20.
The station is within a 10 to 20-minute walk of every major destination in Trenton. But there is just one problem, as Peter Kasabach, executive director of New Jersey Future, the Trenton-based nonprofit regional planning advocate, understands all too well. It's not pedestrian-friendly.
"The whole area around the train station was designed for cars and not for walkers or people on bikes," says Kasabach, who walks to the station from his home in the Mill Hill neighborhood at least once a week. His 10-minute walk means that Kasabach doesn't have to worry about getting stuck in traffic enroute, or wasting time looking for a parking space at the station. However, the most direct route from his home includes walking part of the way on a dirt path, trekking through an underpass below Route 1 on a narrow sidewalk with trucks zipping past about three feet away, and crossing a busy street mid block. It's more unpleasant when snow and ice cover the ground, he says.
The vision for a pedestrian-friendly transit area, and the steps that must be taken to achieve it, are spelled out in the Trenton Transit Center Strategic Action Blueprint, announced by NJ Future in October after more than a year of planning that also involved the nonprofit civic group Greater Trenton, the New Jersey Economic Development Authority, architects Clarke Caton Hintz, the New Jersey Department of Community Affairs; the city of Trenton, and residents who shared their ideas.
The blueprint calls not just for the obvious amenities for pedestrians and bicyclists, such as safer crosswalks and better lighting, but also a planning approach that would help create a mixed-use space with apartment buildings, houses, retail stores, offices, and restaurants. People would be walking to and from destinations, moving in and out of buildings, not just to and from the train station.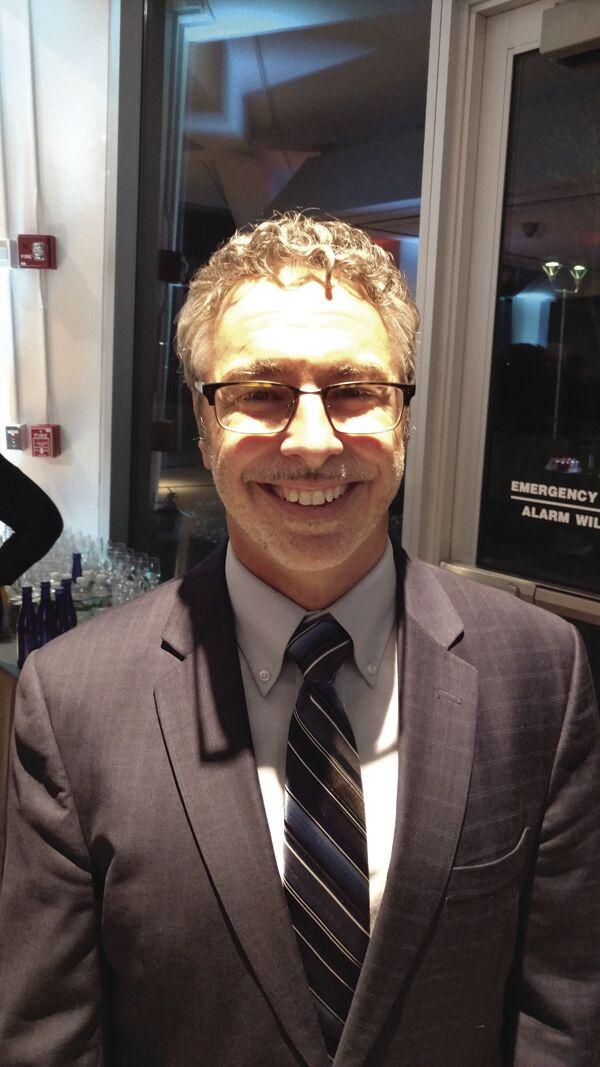 Trees along the streets and parks would be also integrated into the area. But, says Kasabach, just having a green space isn't good enough. Ideally, a park is more than a plot of land set aside from the center of activity. Rather, it is a green space people walk through to get from one destination to another. Think of parks and plazas like Central Park in New York City or Rittenhouse Square in Philadelphia, he says.
Kasabach sees the design process as a cycle. First you create enough amenities and enough pedestrian friendliness so you can attract people. Then, as you attract more people, you can consider things to further enhance walkability, like closing off a street to car traffic and narrowing streets, especially at pedestrian crossings.
Now the city is in a position to take the blueprint through the public planning process and have it adopted. At this stage, he says, the state, county, and city need to coordinate their activities.
Walkability is now a goal of cities and towns throughout the nation. Helping to integrate state and city efforts is Sustainable Jersey, a group that offers certification programs and funding to municipalities working to sustain and enhance quality of life. An affiliate of that group, Sustainable Princeton, will meet Wednesday, December 19, at 7 p.m. at the Princeton Public Library to discuss "Why Is it Too Far to Walk? Building a Climate Friendly Princeton." For more information on this public event visit www.sustainableprinceton.org.
Kasabach, raised in Hamilton, got an early introduction to environmental and social issues. His father worked for the Department of Environmental Protection and was the state geologist. His mother was a teacher and a public policy advocate fighting for progressive societal solutions around race, poverty, and equity. "I'm sure the way I was raised affected my career path," he says.
After earning his bachelor's degree at Penn's Wharton School, he considered a career in real estate development with the main goal of earning a good income. But early on, he realized, "this wasn't what I wanted to do in the way I wanted to do it. I decided I really wanted to be involved in urban revitalization and use the skills that I had developed," he says. He moved back to New Jersey, starting as a VISTA volunteer at the nonprofit group, Isles, and eventually becoming vice president of planning and real estate development. Kasabach worked for the New Jersey Housing and Mortgage Finance Agency as chief of policy and community development before joining New Jersey Future in 2007.
While working at Isles he was attracted to the Mill Hill section with its historic buildings and easy access to downtown business and public transportation. "It was one of the few neighborhoods where I could walk to work and to the train station," he says. Within a year of first moving to Trenton, he became married in a ceremony at Mill Hill Park. Kasabach and his wife, Lisa, who has served on the school and supported various urban initiatives in the city, their two sons have lived in Mill Hill ever since.
One of the key purposes of the transit center report is to bring the stakeholders together, and with their combined efforts, start working on recommendations for the area, he says. The report defines the transit center area as irregularly shaped, bounded loosely by Route 1 to the west, Wall Street to the north, Chestnut Avenue to the east, and Greenwood Avenue to the south.
Among many action steps called for are streetscape improvements on sections of South Clinton Avenue and Market Street intersection between the Route 1 overpass and Raul Wallenberg Avenue; and development of the Salvation Army site, the DEP parking lot, the drop-off area in front of the transit center; the bus shelter, and the Mercer Cemetery, which would include encouraging pedestrian traffic through the space and developing a management and maintenance plan.
The project could start by fixing several key intersections, especially the linkage between Stockton Street and the train station-Route 1 underpass, making that route to the train station much safer and more pedestrian-friendly. "There's been discussion of turning that into an art walk," Kasabach says. "It would be a real gateway to the city."
The complete blueprint is available on the New Jersey Future website: www.njfuture.org.