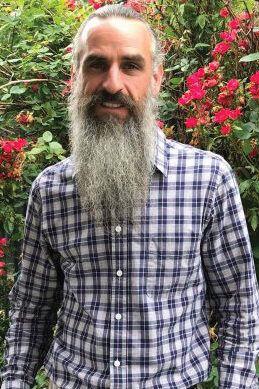 The ground may be frozen, but the Northeast Organic Farming Association of New Jersey — the Lambertville-based group that supports organic food and agriculture in New Jersey — has its eyes on the coming of spring and new growth. The nonprofit hosts its 31st annual winter conference on Saturday and Sunday, January 30 and 31, from 9 a.m. to 5 p.m.
The theme for this year's conference, held in an all-virtual format, is "The Future of New Jersey's Food System." Register online at www.nofanj.org. Cost: $50; $35 for members; $15 for students and veterans.
The two-day event features a full roster of guest speakers representing farms, academia, and policymakers.
The opening keynote on Saturday morning comes from Charles Rosen, the founder of Ironbound Cider and New Ark Farms, which mixes farming and social enterprise.
Rosen, a former lawyer, ad agency owner, and movie producer now runs an apple farm with several important missions. The farm is at once a tribute to New Jersey history — Newark was known for its hard cider production in the 18th and 19th centuries — and also a model of a civically engaged company.
The farm's website states that Ironbound "was founded on the belief that businesses must take responsibility for the impact they have on the social, economic, and ecological well-being of their communities. To that end, we fully embrace the beauty, abundance, and diversity of our state; our obligation to lift up the most underserved members of the community — especially the chronically underemployed; and, our role in environmental repair through our regenerative farming practices."
On Saturday afternoon the focus turns to urban agriculture, with a panel titled "Growing in Urban Jersey." Among the panelists is Justin Allen, the urban agriculture coordinator at Isles, Inc., in Trenton. The nonprofit's urban agriculture work includes support for more than 70 school and community gardens and garden-based education for schools and summer programs.
Isles also operates the Tucker Street Garden, which serves as a training site for gardeners but also produces crops that are sold at affordable prices at Trenton's Greenwood Avenue Farmers' Market.
Allen is a graduate of Bergen Community College and Rutgers with a degree in nutritional science and a certificate in food systems education and administration. He previously worked with the Greater Newark Conservancy and with HealthBarn USA's healthy lifestyle education program.
Other topics of discussion on Saturday include "Preserving and Expanding Crop Diversity," "Indigenous Seeds and Food Sovereignty," and "Sustainable Agriculture Enterprise." Saturday's programming concludes with a closing keynote by New Jersey Senator Cory Booker, the former mayor of Newark.
Sunday's programming includes remarks from David Robinson, a Rutgers climatologist and geographer who has served as the state climatologist for the past 26 years. In that role, he works with communities for whom an understanding of climate is essential — and farmers are primary among those.
Robinson's remarks on "New Jersey's Changing Climate" will be followed by a talk on "Climate Smart Farming" by Jacqueline Ricotta, a NOFA-NJ board member and professor of plant science and public policy at Delaware Valley University.
Other sessions on Sunday include "A Small Farm Future," "The Carbon Farming Solution, Perennial Crops, and Regenerative Agriculture," and "No Till Organic Farming."
The closing keynote will be delivered by farmer and NOFA-NJ president Mike Rassweiler, the founder of North Slope Farm in Lambertville.
Visit the website at www.nofanj.org for a full schedule of speakers and other events.