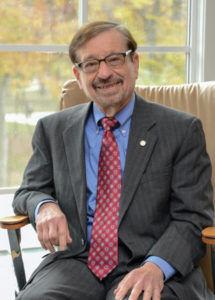 The event billed as the nation's longest-running computer festival has addressed plenty of technological changes in its 45 years. In 2021 it confronts a change in venue, as the annual Trenton Computer Festival moves from its traditional home at The College of New Jersey to an all-virtual format.
The day-long program is free and runs from 10 a.m. to 5 p.m. on Saturday, March 20. All lectures, workshops, and presentations featuring research by current TCNJ students will be held using Zoom. For a complete schedule, descriptions of all talks, and speaker biographies visit www.tcf-nj.org.
The program is organized into 11 tracks featuring a broad range of topics related to computing and technology. Programs conclude at 3:40 p.m. for a keynote talk by Jerry Foster, founder and chief technology officer of the California-based "smart manufacturing" company Plex Systems.
His talk, "How I Learned to Stop Worrying and Love Artificial Intelligence," dovetails with the track one programming specifically on artificial intelligence.
The benefit of a virtual event is that speakers can appear from around the world, but some are locally connected, including Kai Chen of NRG Energy, who leads a session titled "Machine Learning for Music Info Retrieval." The AI track also concludes with a tribute to Trenton Computer Festival founder Sol Libes, who died in 2019, led by festival co-founder and TCNJ electrical engineering professor Al Katz and Don Libes, a computer scientist and Sol's son.
Libes and Katz also have roles in the second track, "Innovation." Katz speaks on "TCF @ 50," discussing the future of computing and what he expects the world to look like for the 50th edition of the TCF in 2025. Katz also reflects on what has changed in the decade since his "TCF @ 40" talk.
Libes gives a talk titled "Ending a Digital Life," which addresses the fact that people dying in this day and age often have extensive digital footprints that need to be cleaned up prior to their death or cleaned up by their heirs.
The third track, IT-PC, includes a bootcamp focused on the WordPress website creation platform, followed by a presentation on "Using AI in Healthcare" by Viswanatha Reddy Allugunti of Monmouth Junction-based IT solutions company Arohak Inc.
The sessions in track four, Social Media & Apps, kick off with an introduction to Mystabar 2, an escape room-type game in which attendees can participates from their phones, laptops, or tablets.
And the track concludes with a presentation by Cecilia Jackson of Forte Consulting, based at 3490 Route 1, on "CRM Technology: Reinvent Skill and Reinvent Your Career." Jackson's firm provides Salesforce implementation and support, and she also directs the Youth Leadership Development Program, which teaches leadership and management skills to school-age children.
Track five is dedicated to "History and Technology" and starts with a talk by West Windsor resident Frank O'Brien, a volunteer with the NASA Jet Propulsion Laboratory, who speaks on "Flying to the Moon: The Apollo Guidance Computer." He discusses three components — a computer, a guidance platform, and an optics system — that had to work together to ensure a successful moon landing. And he explains exactly how one goes about landing on the moon.
Track six is "Education and STEM" and starts with a lecture that shows why New Jersey is an appropriate venue for celebrating all things computer. Jonathan Allen, a volunteer with TCNJ's Sarnoff Collection, gives a talk on "NJ, NYC, and the Birth of Electronics" focusing on the region's contributions to technologies such as amplifiers, transistors, and televisions, and the roles of companies including RCA, Bell Labs, and Weston.
Eva Kaplan, a participant in the Trenton Computer Festival since its founding and the former operator of the "Computers and Kids" summer camp in Hopewell, speaks on "Robots — Beyond Sensors, Actuators & Artificial Intelligence: Emotions" and introduces Pleo, the artificial intelligent dinosaur.
Talks in track seven, "Technology & Robotics," include an introduction to LoRa — short for "long range" — a wireless platform for Internet of Things devices by John DeGood, a lecturer in computer science at TCNJ, as well as "Building Computer Systems for IoT Using Arduino" with Evan Williams, a Princeton-area resident who had a long career in computer software and programming, among others.
Track eight, "Microsoft & Unix+," includes tutorials in CentOS, an offshoot of the Linux platform; the Windows 10 operating system; and Arduino, an open-source electronic prototyping platform.
Barry Burd, a professor of mathematics and computer science at Drew University, gives back-to-back talks as part of track nine, "Software/App Development," on "New Insights in Quantum Computing" and "Develop Apps for iPhone & Android with Flutter."
Track ten is "OOP University," dedicated to object-oriented programming. Lectures included in the track cover the design principles of object-oriented programming and introduce the programming languages Java and Python.
Finally, track eleven is a full-day program for those interested in becoming licensed ham radio operators. A cram course runs from 9 a.m. to 2 p.m., followed by a virtual examination at 3:30 p.m. The course is offered by the David Sarnoff Radio Club, and registration is required in order to take the exam. Visit www.n2re.org.