HomeFront Invites You to Take Action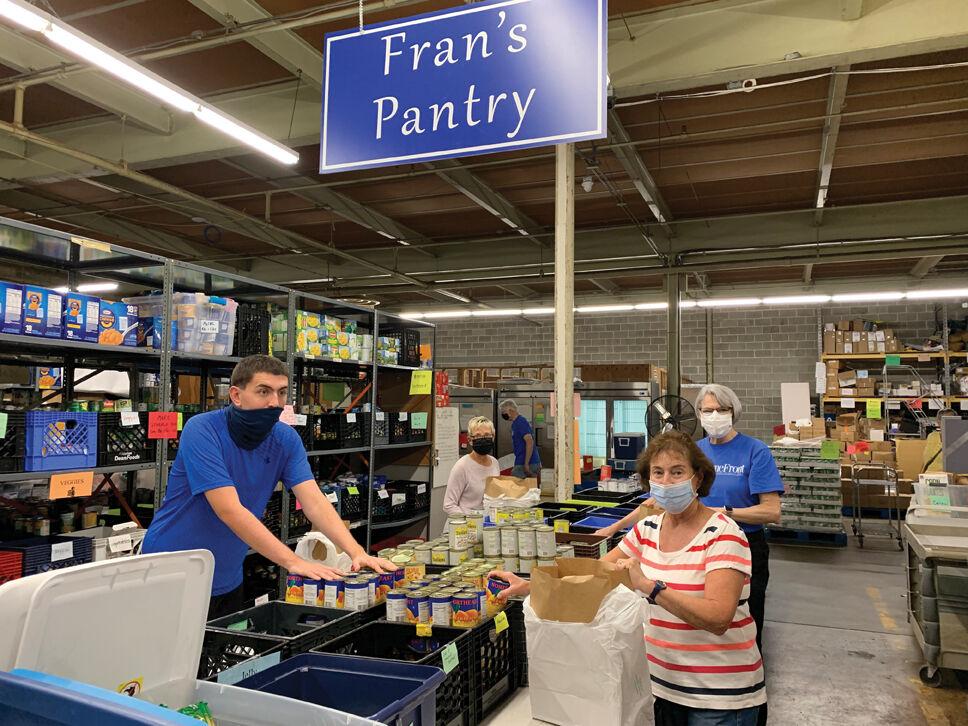 National Hunger & Homelessness Awareness Week is November 13 through 21. HomeFront is offering a range of ways for the community to get involved, get educated, and take action to help locally. 17 percent of Mercer County families will be facing eviction once the moratorium is lifted, presumably on January 1, 2022. There has never been a more important time to observe Hunger and Homelessness Awareness Week.
HomeFront will recognize this important week for the fifth year starting Saturday, November 13, through November 20. The Mercer County nonprofit, active in the community since 1991, provides primarily families with children who are living in the shadow of homelessness emergency and permanent housing, homelessness prevention funds, and an array of wraparound services. The nonprofit also provides each family with a vision of a different future and the tools to help them achieve it.
"These are volatile times for all of us," explains Connie Mercer, HomeFront's founder and CEO, "but especially for the most vulnerable with no resources or extended family to fall back on. Food insecurity for local families has doubled since last year and food prices are steadily climbing. Hunger is three times higher for kids right here in Mercer County than it was in 2019, which is particularly troubling since chronic hunger can have lasting, developmental effects on growing bodies and minds. The many informational events in this week of awareness are a way to shine a light on these problems and help people understand how families fall into crisis and how we can all help keep the problem from growing."
HomeFront's Hunger and Homelessness Awareness Week events will include both in-person and virtual opportunities, including educational sessions with local and national experts in these issues, forums to ask questions and offer ideas, service opportunities, open houses, and guided tours at several HomeFront facilities. There will also be information on how to sign up for life enhancing volunteer opportunities for people of all ages just in time for the holiday season.
HomeFront's National Hunger & Homelessness week events will include:
Saturday, November 13, from 9 a.m. to 3 p.m.: HomeFront's SewingSpace Open House & Tours of 1880 Princeton Avenue.
Monday, November 15, from noon to 1 p.m.: Virtual Welcome to HomeFront Orientation
Wednesday, November 17, from 1 to 3 p.m.: Diaper Resource Center Service Opportunity
Thursday, November 18, at 6 p.m.: Expert Panel discussion
Friday, November 19, from noon to 1:30 p.m.: Virtual Lunch & Learn with HomeFront CEO, Connie Mercer & COO, Sarah Steward
Saturday, November 20, from 10 a.m. to 1 p.m.: Thanksgiving Drive Service Opportunity
Families can learn more about these learning and service opportunities and register for them at www.homefrontnj.org.
To the Editor: Thanks from PSRC
Princeton Senior Resource Center would like to thank all who participated in our virtual Fall Fundraiser on October 16 with Dr. Bernice A. King. PSRC is grateful to all our event sponsors, annual sponsors, donors, participants, and community partners for making PSRC's Fall Fundraiser a success.
It was a thoughtful discussion and transformative evening with Dr. Bernice A. King at both our virtual VIP and Main Event Sessions. Dr. King, the youngest daughter of Dr. Martin Luther King Jr. and Coretta Scott King, spoke dynamically on racial justice, her parents' legacy, and nonviolence.
We thank the community for supporting a new initiative this year, "pay it forward" tickets, which enabled PSRC to widen our tent of participants by inviting special guests from a diverse group of community partners throughout the area and begin a critical discussion around diversity, equity, and inclusion. Partners included, the Witherspoon-Jackson Historical and Cultural Society, Civil Rights Commission, CornerHouse Youth Leadership Program, Send Hunger Packing, Every Child Valued, and student leaders from the Princeton High School and Lawrence High Schools.
Additionally, in celebrating Evergreen Forum's 20th anniversary at the event, PSRC honored twenty years of Evergreen Forum instructors, volunteers, and steering committee members as the 2021 PSRC Volunteer Appreciation Award Recipients. Evergreen Forum provides stimulating daytime study and discussion and promotes lifelong learning for adults. With tremendous gratitude, PSRC acknowledges 20 years of volunteers who helped to grow the program from four classes and forty participants to up to 28 classes and more than 700 students.
PSRC is forever grateful to all our sponsors, donors, and participants who continuously support our community nonprofit where aging adults and their families find support, guidance, education, and social programs to help them navigate life transitions and continue to be active, healthy, and engaged in the community.
Drew A. Dyson, Chief Executive Officer
Joan Girgus, Board President
Lisa Adler, Chief Development Officer
Clarification
Janet Filomeno, an artist currently exhibiting her work in the Arts Council of Princeton's "Talk to Me" exhibit, sent the following clarification to Dan Aubrey's October 13 story, "Fall Arts Bringing Color to Area Venues":
"Thank you for your recent review of our exhibition in US1newspaper-Princeton Info. I have a minor clarification regarding my family life and Sunday dinners while growing up in New Jersey. While these visits were very important to me in my life they did not influence my painting in any way.
"Rather my parents and grandparents heritage from Italy and my exposure to all of the many cultural institutions that NYC has to offer have shaped and influenced who I am as an artist."