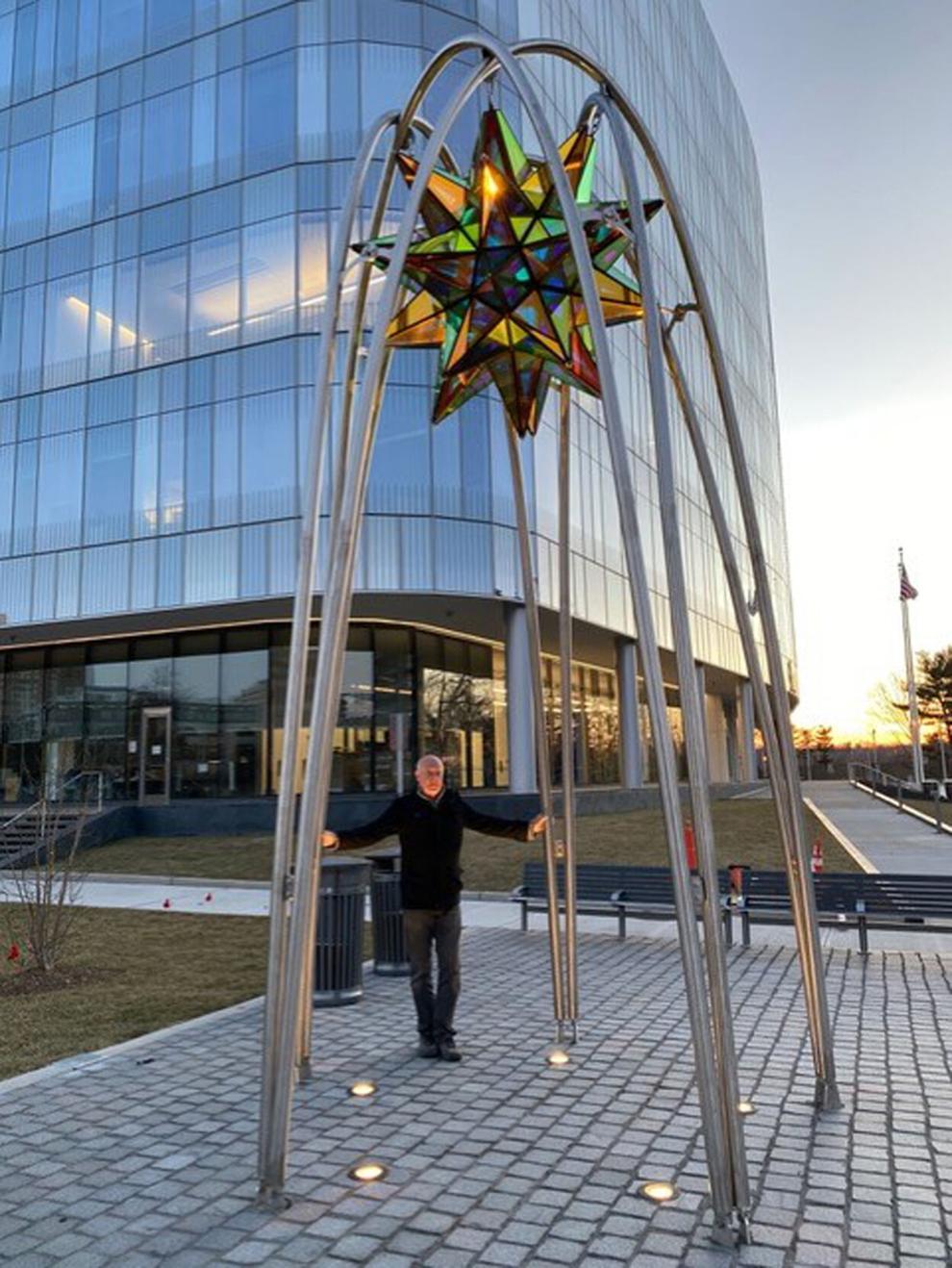 Sculptor Ray King created two new landmark works at two new State of New Jersey buildings: the 20-foot high "StarGate" in front of the New Jersey Department of Taxation on Warren Street and the 25.5 foot "State of the State" at the New Jersey Department of Health on North Willow Street. (See "Public Art Meets Public Health," U.S. 1, May 5.)
Recently sharing his thoughts about his new works, the Stockton, New Jersey, artist, noted the following:
"StarGate" is a free-standing sculpture inspired by Trenton's historic role in the Revolutionary War and its pathway into the future. It represents what can happen when people work together for a common purpose (e pluribus unum). The futuristic design — a series of elegant stainless steel catenary arches that rise out of the ground and connect at the bottom and cross at the top — honors an event in 1789 when George Washington traveled from Philadelphia to New York to be inaugurated as the first president of the United States.
As he entered Trenton, Washington was welcomed by citizens who erected a Triumphal Arch decorated with flowers to greet him on the site of the decisive 2nd Battle of Trenton — on a bridge over the Assunpink Creek — within 1.5 blocks from where the sculpture is located. Instead of flowers, suspended within the arches of "StarGate" is a stellated dodecahedron made from laminated dichroic glass that interacts with light to dynamically reflect and project color and light, evoking wonder and delight in all who encounter it.
In designing "State of the State," I sought to create a bridge between the Department of Health and the surrounding community of all involved — the state of New Jersey itself. It is a quintessentially "New Jersey" artwork, created in the likeness of the state itself. The artwork is based on a stylized, stainless steel map of New Jersey. Within the laser-cut map is a matrix of connections that intersect laminated glass circles that correspond to population centers throughout the state, with larger circles indicating greater density in urban settings, based on recent census data. The artwork's eccentric triangle angles follow the streets intersection on the building's corner site and acts as a "Masthead" of a ship and an iconic symbol for the building and its mission.
The two works join King's other Trenton works, the 2004 "Quantum Ring," a light responsive sculpture comprising a suspended circular ring made of stainless steel and laminate dichroic glass discs.
Philadelphia-born King has produced public art works and exhibited internationally and was a recipient of a Louis C. Tiffany Fellowship to study stained glass making with British master Patrick Reyntiens.
To learn more about "StarGate," go to vimeo.com/508501377.
For more on Ray King, visit www.rayking.nu.