A Proposal for a Pedestrian Thoroughfare on Witherspoon Street
Princeton business owners are ready for a pedestrian thoroughfare and a one lane solution on Witherspoon Street.
Princeton's business community has been hit hard by the COVID-19 pandemic.
We thank the town's leadership for working with us during this difficult year and are especially grateful for the temporary arrangement on Witherspoon Street that has allowed us to keep serving our customers.
For many of us business owners, this summer's outdoor dining experience has been a first. While it was dictated by necessity, we have found that the move from a two-lane street to a single lane street had its problems. This was because it was not governed by an ordinance with regulations for controlling delivery of product, pickup/takeout, and garbage removal.
It resulted in congestion with cars, delivery trucks, etc., and safety issues, which inhibited the public from enjoying a truly convivial al-fresco dining experience.
We would like to see a flexible street that allows access to personal cars, delivery, and service vehicles at set times, but also allows for enjoyable closure at other times, to make a safe outdoor space for people, for meeting, dining, and for community building. The essence of a true pedestrian thoroughfare is a proper ordinance with regulations for the clean and proper use of this street.
A people-friendly street design, augmented with trees, good lighting, and tasteful decoration, would make Witherspoon Street even more beautiful and would make a fitting approach to historic Nassau Hall. Indeed, a low-traffic Witherspoon Street can become a destination for visitors, which benefits local businesses, as has been the happy outcome of similar redesigns in Jersey City and Somerville.
We strongly encourage Princeton council to adopt a people-friendly design for Witherspoon Street.
Frank Armenante
Owner, The Alchemist & Barrister, 28 Witherspoon Street
The House of Cupcakes (34 Witherspoon), Purinsu Ramen (32 Witherspoon), and unoccupied space (36 Witherspoon)
Owned/controlled by Frank Armenante & Peter Mocco
Michele Moriello
Owner, La Mezzaluna and Public Wine Beer & Spirits, 25 & 23 Witherspoon Street
Beth Rota
Owner, Elements & Mistral, 66 Witherspoon Street
Helena May
Owner, 300 Witherspoon Street
Andrew Mangone
Owner, Hinkson's, 28 Spring Street
Aubrey Haines
Owner, 23 Witherspoon Street.
Wendy Merkovitz
Business Owner, 33 Witherspoon Street
Mike Zingaro
Business Owner, Mike's Barber Shop, 33 Witherspoon Street
Hugs for Brady Celebrates Its 10 Year Anniversary
It's been 10 years since Sherrie Wells and husband Michael founded the Hugs for Brady Foundation, which supports children with cancer and their families. Ten years since her son Brady died from non-differentiated acute leukemia, a rare form of leukemia. Ten years of working with kids with cancer and helping their families with staggering medical costs. Ten years of passion and caring.
During that time Hugs for Brady has raised nearly $5 million to support research and individual families struggling financially with the costs of pediatric cancer treatment. From the costs of treatment to clothing, toys, televisions, and gaming units, Hugs for Brady believes that children undergoing treatment must be surrounded only with joy, happiness, and comfort.
Hugs for Brady is celebrating its 10th anniversary of hard work and amazing accomplishments. Go to the website, hugsforbrady.org/10-years. See how you can be part of this essential movement to help kids with cancer and to eradicate childhood cancers. Let's make the next 10 years even more amazing.
Sherrie Wells
Area Kiwanians Salute Joe Teti's 50 Years of Service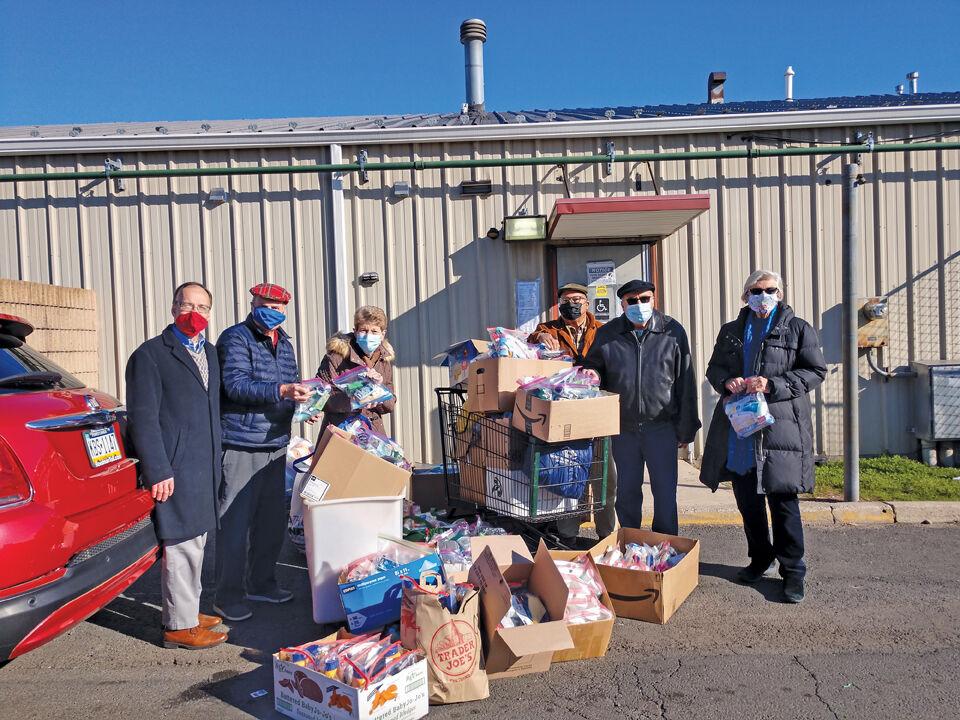 It's a milestone not many of us reach: Fifty years in an organization dedicated to community service. Joseph P. Teti joined the Kiwanis Club of Trenton in 1970 and over the years has earned just about every award a grateful club could bestow. Perhaps most telling, however, is the informal title "Mr. Kiwanis" invariably used to describe Joe and his commitment to Kiwanis and the city it serves.
Joe has served as Kiwanis District governor, multiple terms as club president, and has convinced dozens of others to join him in Kiwanis service (this writer included). How do you say "thank you" to a leader like Joe? With a service project, of course! "A TASK for Teti" invited Kiwanians throughout the area to gather supplies and assemble personal hygiene packages needed by the Trenton Area Soup Kitchen. On December 7, 340 completed packages were delivered to TASK, containing more than 3,400 individual items ranging from toothpaste to shaving cream to soap and washcloths. An additional 100 toothbrushes and 100 tubes of toothpaste as well as 10 hand-made blankets were also donated.
Kiwanis Clubs from as far away as Phillipsburg in Warren County, Freehold Regional in Monmouth County, and Mount Laurel in Burlington County participated in the effort. More local clubs in Ewing, Hamilton, and Bordentown also participated. Trenton Kiwanians contributed and also marshalled the efforts of the other clubs. True to form, Joe and his wife, Gloria, donated a dozen of the packages themselves.
Kiwanis is an international organization with more than 550,000 members who engage in more than 150,000 service projects each year. Joe Teti is proof of the great things each individual Kiwanian can accomplish, one child, one neighbor, and one project at a time — for 50 years and counting.
Michael McCormick
Trenton Kiwanis