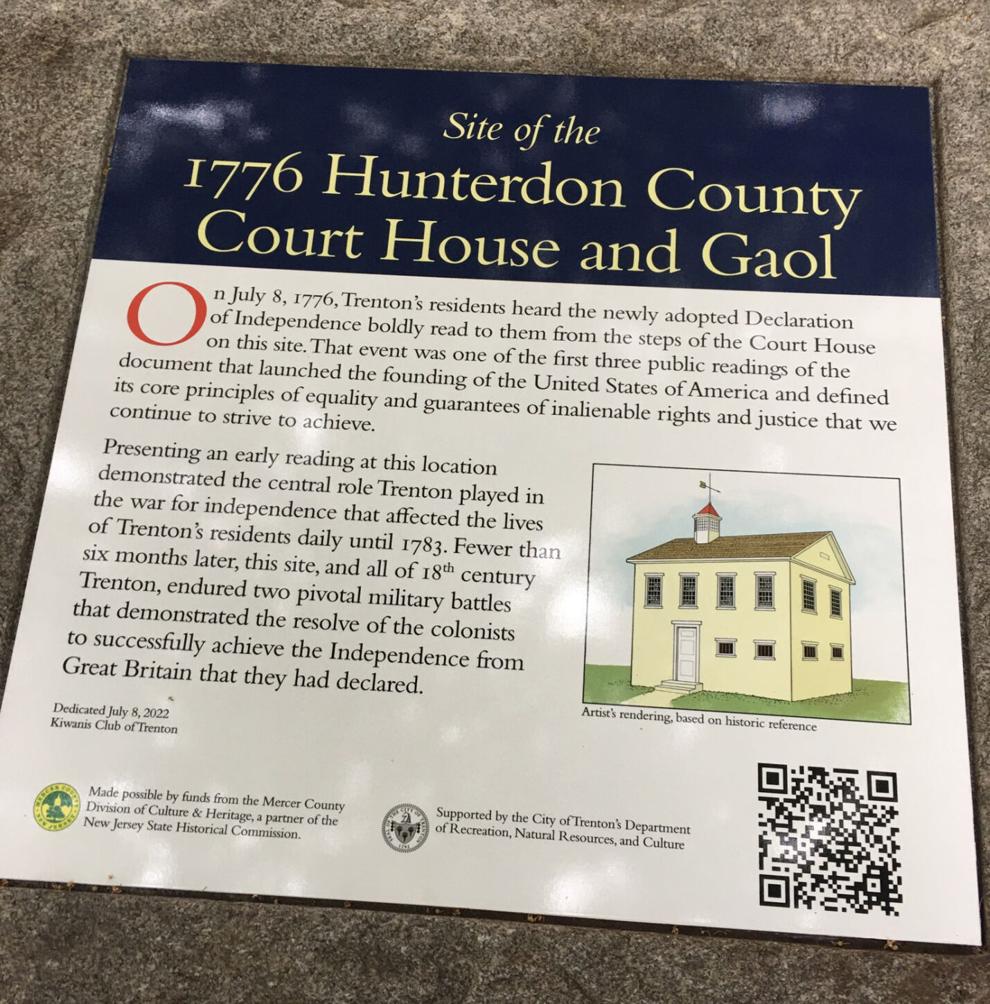 On Monday, July 8, 1776, a group of Trenton residents gathered around the front doors of the Hunterdon County Court House on South Warren Street to hear the Declaration of Independence read aloud for the first time. In addition to Trenton, readings of the nation's founding document were given that day in Philadelphia and in Easton, Pennsylvania.
The old courthouse, and its successor are long gone. Mercer County itself was carved out of parts of Hunterdon, Burlington, Middlesex, and Somerset counties in 1838. Decades ago, a plaque marking the site was installed atop a large granite pedestal. However, the brass plaque was stolen at least 25 years ago and never replaced.
In 2021, the Kiwanis Club of Trenton revived a tradition of reading the Declaration document on the anniversary of its first reading in Trenton. One of the participants, Bernard McMullan, president of the Trenton Council of Civic Associations, noted the missing plaque and invited the Kiwanis Club to collaborate with him to secure funding to replace it. Grants and support were secured from the Mercer County Cultural and Historical Commission and from the Department of Parks, Recreation and Culture of the City of Trenton. Collaborating with members of the Trenton Historical Society and local graphic artist, John Gummere, a new plaque was designed and installed with permission of the Communications Workers of America that had recently purchased the site of the original building. The plaque was formally unveiled as part of the Kiwanis Club's public reading of the Declaration on Friday, July 8.
One new feature of the plaque is a QR-code link to audio recordings of the document being read by contemporary Trentonians in both English and Spanish reflecting the diversity of Trenton. Almost 40 persons participated in the readings that were professionally recorded by New Pod City, LLC and Front Row Seat Productions, LLC.
"It is important that we continue to mark moments and locations of key events in our community's and nation's history. Trenton was the site of many critical moments in the founding of our nation and its hard-fought revolution; its on-going role in national events should be recognized and cherished," notes McMullan, "I hope that this new plaque — and new signage recently unveiled at other sites throughout Trenton — signals a commitment to celebrating our city's pivotal place in history."