Move Forward with Morven
As the world took a time-out with the pandemic, we considered our mission, goals, and ambitions for the future. We convened, remotely, with our members, board, staff, community members, and partners to create an updated strategic plan and adopt a belief and vision statement along with a refined mission statement.
Morven's expanded mission statement:
• Our belief is that history is an anchor to the past and a beacon to the future. Preserving and examining the past is vital for educating good citizens who will build a greater society.
• Our vision is that one day all citizens will know and understand America's history and pursue civic duty actively and responsibly.
• Our mission is to preserve and celebrate Morven's legacy by sharing its authentic stories.
Visit www.morven.org.
News from the Trenton City Museum
The Trenton City Museum at Ellarslie is hosting "Coffee and Conversation on the Veranda" on Saturday, June 5, from 9:30 to 11 a.m.
Hosted by the Volunteer Committee of the Trenton Museum Society, the free informal gathering is designed to bring current or potential members and volunteers together to discuss the recent past events and current plans.
"Thanks to our trustees, and with compliance to City of Trenton and State of New Jersey regulations, we were able to remain open (during the pandemic)," writes TCS president Joan Perkes.
She continues and notes that "masked and timed visits and strict adherence to COVID protocols enabled us to continue" and "present innovative programing, lectures, Trenton history, and art exhibitions.
"A year of exciting programming is ahead of us, and we would like community members to come hear about it, meet the new trustees, pick the committees they would like find out more about and, of course, share ideas with us."
The Trenton City Museum is housed in the historic Ellarslie Mansion in Cadwalader Park and free parking is available. For more information, go to www.ellarslie.org.
Brood X Has Arrived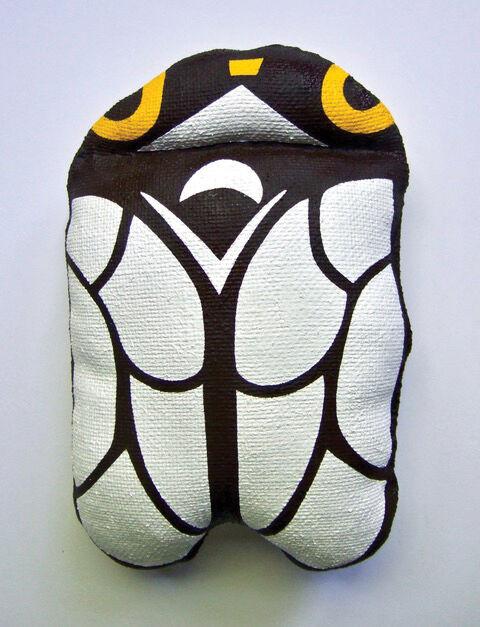 Brood X — the cicadas that emerge from underground once every 17 years with a month-long chorus of mating calls — has arrived in the Princeton region. In honor of their arrival, environmental artist Susan Hoenig sent in the image of the sculpture above along with the following note:
"Seventeen years ago, in 2004, I created this soft sculpture wall-hanging, 7"x 12". I am fascinated by the Cicadas broods emerging from the earth every 17 years. I take Cicada walks in different areas of Princeton to see them. Their life inspires me. My soul is filled with the ecstatic mating calls. I painted the essence of the Cicada in the soft sculpture," pictured.
For more on the unique insects, attend the Friends of Princeton Nursery Lands' Thursday, May 27, free Zoom presentation on the periodical cicadas.
Visit www.fpnl.org for more information.