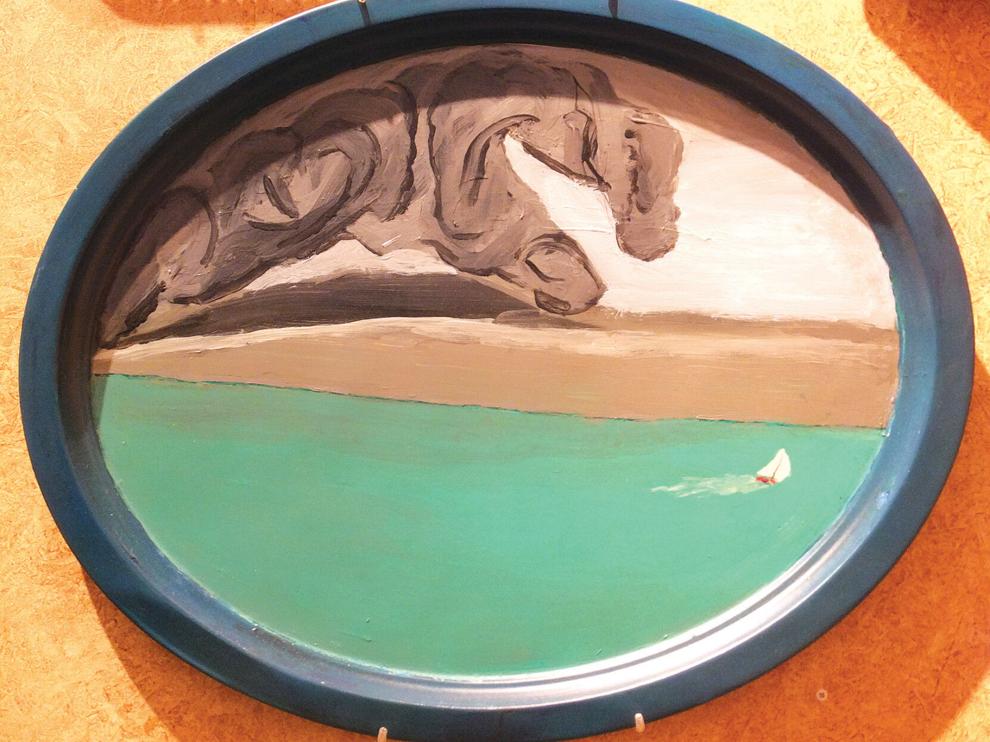 The cover image is a detail of noted regional artist J. Seward Johnson, Jr.'s, "Alone," seen above in its entirety.
An heir to the Johnson & Johnson Company in New Brunswick, Johnson used his family connections and foundations to both pursue his art as well as create two nationally important arts centers in the region: the Johnson Atelier, first in Princeton and later in Hamilton, and Grounds For Sculpture in Hamilton.
An artist known mainly for his hyper-realistic sculptures of everyday people in everyday settings or his colorful larger-than-life recreations of famous Impressionist paintings, Johnson also created a lesser known and personally expressive series of paintings on serving trays — including "Alone."
At the time of Johnson's Grounds For Sculpture retrospective in 2014, the artist told U.S. 1 the series began years before when he had trouble sleeping and thought it would be nice to serve himself something on an image that he liked. That included foreign lands, GFS works of art, his Hopewell Township farm, and farm animals.
Yet, there were also several fanciful or poetic images in which the often-exuberant artist quietly reveals the less public side of himself, including a scene of him holding the hand of his wife, Cecilia, as they fly in the night over the island of Nantucket, a dog named Baxter walking into the sunset, and the above "Alone" — a work whose sailboat with a lone occupant heading out to sea under a mysterious cloud silently speaks of the equally mysterious human journey.