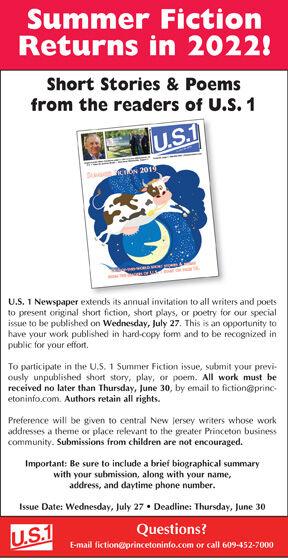 After a two-year hiatus brought about by the COVID-19 pandemic, U.S. 1 is bringing back its traditional summer fiction issue to be published during the last week in July, on Wednesday, July 27.
Poets, playwrights, and writers from the greater Princeton region are encouraged to submit their original, previously unpublished work. See the announcement at right for complete submission details, and email your work to fiction@princetoninfo.com.
Below is an early — and timely — submission from Princeton-based poet Marvin Harold Cheiten, who reflects on the ongoing Russian atrocities in Ukraine in sonnet form.
Russian Rain
Raining death upon the hapless Ukraine,
Sparing not the young, the sick, the old,
Savoring the screams — a grim refrain —
Reveling in misery untold,
Bombing hospitals and even schools,
Watching as the children flee in fear,
Violating all Geneva's rules,
Causing a sweet land to disappear:
That is what the Russians have inflicted
On a peaceful nation they call "brother."
Closing in, the nation's life constricted:
Total independence they now smother.
Freedom in the land's a setting sun,
And Russia's reign has only just begun.