Welcome to what has slowly emerged as a Halloween issue. Our "version of dressing up in a sheet and jumping out of a bush and saying Boo!" happened when we found we had a number of pieces related to spooky and goofy happenings close to home.
In fact, the above quote is from director and actor Orson Welles as he wrapped up his famous 1938 "The War of the Worlds" radio broadcast. His Mercury Theater Company's choice of selecting the Princeton area as the spot where the fictitious battles began and using a breaking news approach to describe it certainly entertained many. But it also sent others into an emotional orbit, as demonstrated by Trenton's city manager's letter of complaint to the Federal Communication Commission demonstrates (see photo at right). The missive earnestly claims that 2,000 panicky telephone calls crippled the city's police department communications and that people were calling from out of state to determine if family members were killed by the Martians. Although it is an old letter, it seemed like a fun thing to run this time of the year.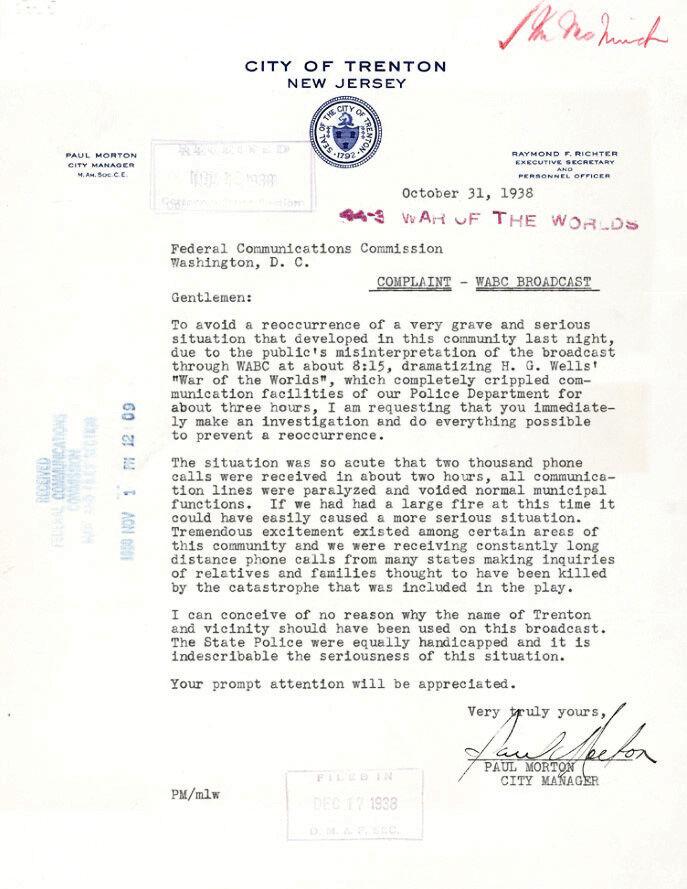 To accent the "War of the Worlds" theme, we naturally thought it proper to include a work of art by Robert Hummel, pictured above. The Plainsboro-based artist has been keeping the memory of the broadcast alive for more than a decade through a series of colorful paintings and prints that feature Martians marauding area locations mentioned in the broadcasts. His website, artistroberthummel.blogspot.com, features artwork, films, and archival materials. Think of it as a digital memorial to a regional invasion that never happened. Readers also can see one of Hummel's workd at the West Windsor Arts Council's Whole World Arts in MarketFair during its "Out of this World" Fashion Shirt Workshop. The free event takes place Saturday, October 30, at noon. Visit westwindsorarts.org.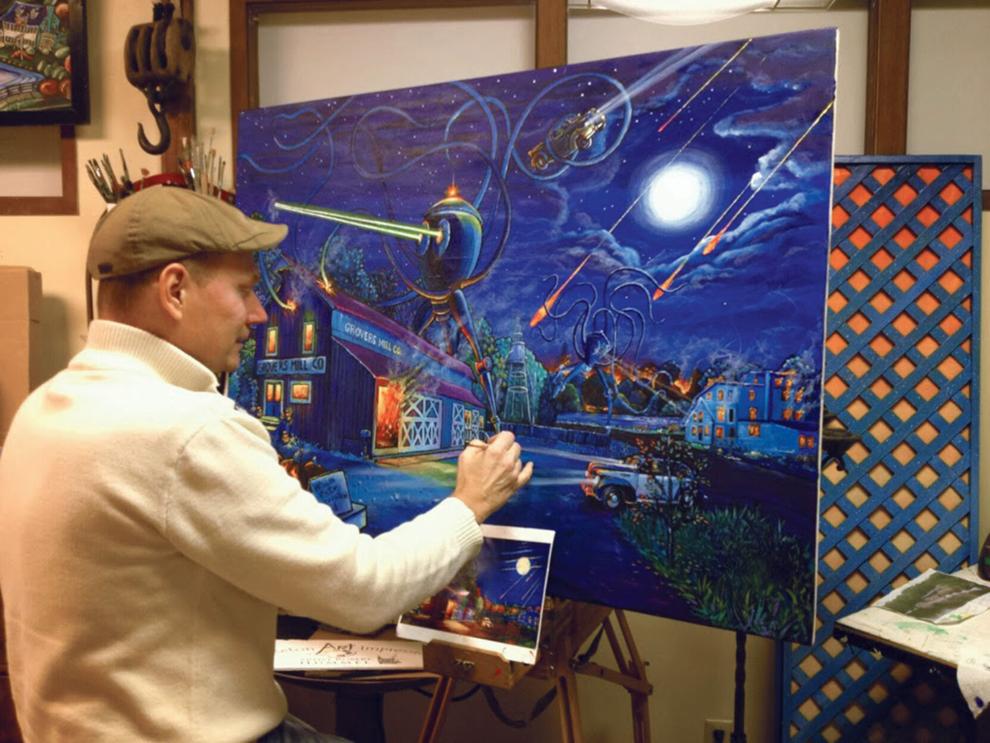 While we were preparing the above for press, regional artist Dan Zimmerman sent a notice that he was exhibiting paintings inspired by myths, fantasies, science fiction, and mid-20th century matinee films. His seasonally spirted exhibit is at Barnes & Noble, also located at MarketFair. A sampling of his pictures appears on page 5.
Then there is story on New Jersey's long enduring Halloween goblin, the Jersey Devil. The tale of a Mrs. Leeds giving birth to a demonic child is something I've grown up with and have written about off and on for years. That includes a lengthy U.S. 1 article focusing on Jersey Devil-inspired art (September 23, 2020). Thanks to a serious 2018 examination of the myth by two Kean University professors, I discovered an interesting regional twist. According to some accounts, the state demon was born in Bordentown. And since the alleged birth occurred pretty much down the street from where I live, I set out to learn more — and share my findings on page 6.
If all the above doesn't make a connection between our region and the spirit of Halloween, the cover sotry on the 30th anniversary of the Chiller Theatre Expo will. Although the three day event is in northern New Jersey, it generates a good deal of traffic from the Princeton/Trenton region. As the article shows, I've been there several times. Yet I've bumped into area writers, musicians, actors, and artists there to gawk and gaze. Beyond the occasion to hobnob with horror film celebrities and purchase memorabilia, the event shows how an old TV program with a campy host introducing Z-grade horror films has affected New Jersey culture. Check out the story on page 10.
And enjoy the issue and a New Jersey kind of Halloween. It's enough to make you say "Boo!"