Editor's note: Peter White, a descendant of one of Trenton's original families, recently sent an email sharing some information on what used to be White's Island, one of the Delaware River islands within Trenton's boundaries and the subject of a July 4, 2017, article in U.S. 1 as well as a prior follow-up note from White on January 8, 2020.
White, a University of North Carolina-Chapel Hill biology professor, has never lived in Trenton and discovered that his family had been early Trenton settlers through a relative who casually mentioned it. Intrigued, he has visited Trenton and engaged regional genealogists to help him research the family — and some forgotten regional history.
With hopes that others may have more information on Trenton's past and islands, we are sharing White's correspondence: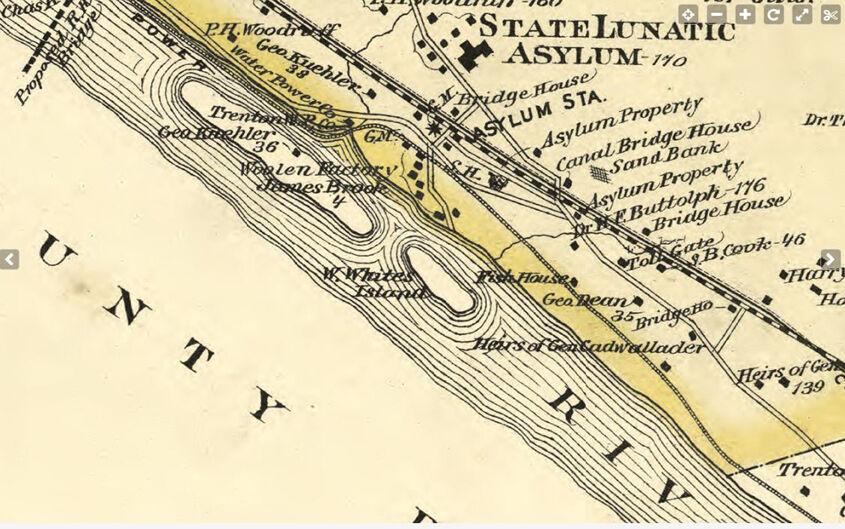 The Bucks County genealogical web site indexes three old maps that show White's Island in 1817, 1831, and 1850. The island is located above Trenton and, on two maps, near rapids in the river. It is opposite Lower Makefield.
But then there is an 1875 map of Ewing Township that shows TWO White's Islands, W. White and Smith White. My White family at that time DID have a William H. White and Andrew Smith White (who went by A. Smith White and Smith White). It appears to me from this map that the Smith Island, which is located upstream, corresponds to White's Island on the other maps, but W. White's island is downstream and nearer Trenton.
A search of newspapers.com showed that William H. White was quoted in the Trenton Evening Times, talking about historic flooding or fisheries at White's Island. In May 1896, page one, "William H. White reports splendid luck in shad fishing at White's Island above the Calhoun street bridge. The tenant on Park Island has also had a number of good catches." This seems to suggest Park Island was always a different island than White's Island and perhaps William H. White was the tenant of both. On May 1, 1897, there is also an article in the Trenton Evening Times that says, about the fisheries, that they extend from White's Island to Cechran Park and then goes on to say "At White's Island, which is practically the same as Park Island, is an old established fishery..." I take "the same" to mean that the fishing luck, not the island, was the same.
I also have to keep in mind that some maps show the owner, rather than necessarily the name of the island.
Any readers with further information for White can reach him by emailing U.S. 1 arts editor Dan Aubrey at dan@princetoninfo.com.