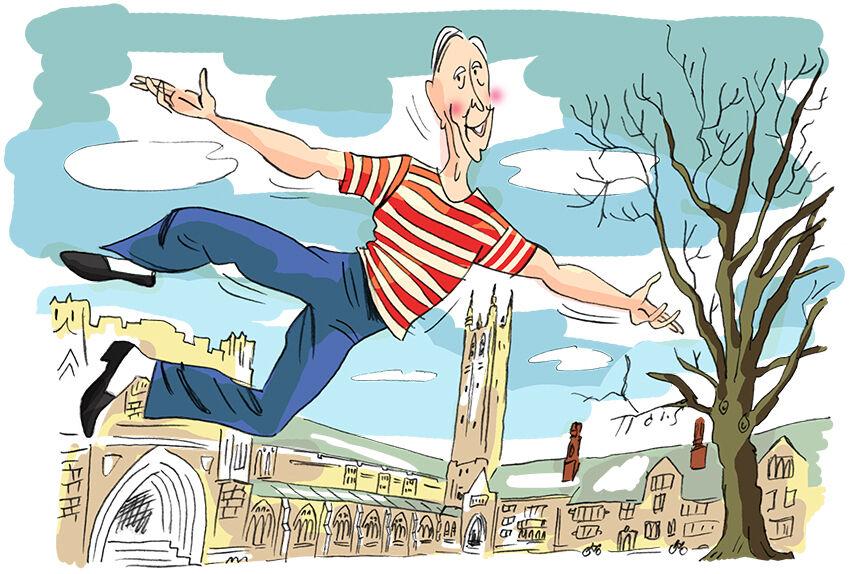 The 85-year-old man stumbles slightly as he walks onstage but recovers just in time. When he reaches the lectern, he carefully buttons his suit coat and then holds his hand over his heart. His white hair shines in the light.
"My life was picture perfect," Roger Berlind begins.
I am sitting in on a panel discussion for students of English literature at Princeton University. The room is packed. The topic was, How do you switch to a new career after your graduate degree? The first three speakers give familiar advice: never give up, research your options, think broadly, write your own biography. A predictable and pleasant meeting. Now comes this fourth speaker who looks like a banker.
"Not long after graduation I went to work on Wall Street," Roger says. "I founded my own brokerage firm that was eventually acquired by American Express. I had it all: a great job, millions in the bank, a beautiful wife, four young children."
"And then," he pauses and says in a low voice, "in a single moment everything changed. An airliner carrying my wife and three of my four children crashed while landing in a storm at Kennedy Airport. They all died. I was standing there with my two-year-old son waiting for them."
"Suddenly," Roger continues, "everything I had worked for seemed pointless. I had no motivation to go to the brokerage and think about investments. There was no more later, only the here and now. I wanted to be with my son. While I cared for him at home, I thought about what was important in my life. What inspired me, what I had to offer the world. I decided to go back to my first love."
That first love was music and theater. "Future job: songwriter," he had written under his picture in his high school yearbook. After college and military service Roger had indeed been trying for a year to make a living as a songwriter. Only when that failed had he entered the world of investment banks.
After his personal tragedy, Berlind decided to go back to the theater and produce Broadway shows. His first musical, "Rex," was a flop, but he did not give up. He co-produced six more shows until his first hit, the 1980 play "Amadeus" about Mozart. Then came "Sophisticated Ladies," "Nine," "Doubt," "City of Angels," "Guys and Dolls," "A Funny Thing Happened on the Way to the Forum." "Copenhagen." "Kiss Me, Kate." One success followed another. He produced the play "Proof," which won a Pulitzer Prize.
He became one of the most successful producers in theater history. More than 100 plays and musicals he produced won a total of 111 Tony Awards, an astonishing 25 for himself. Berlind has his own place in the American Theatre Hall of Fame.
His devotion to talent and the arts was boundless. A graduate of the Class of 1952 at Princeton, he donated $3.5 million to build the Berlind Theater as part of an expansion of McCarter Theater. He has also paid for a chair in the humanities, formerly occupied by author Joyce Carol Oates and currently by the poet Tracy K. Smith. His son, William, is a musician and has entered the same world as his father.
The room falls quiet as Roger finishes his story. "I learned the hard way what in life is important," he says quietly to the students who still have their futures in front of them. "I have only one lesson. Follow your intuition. Do what your heart says."
Roger Berlind died on December 17, 2020, at home in New York City at the age of 90.
Pia de Jong is a Dutch writer who lives in Princeton. She can be contacted at pdejong@ias.edu.