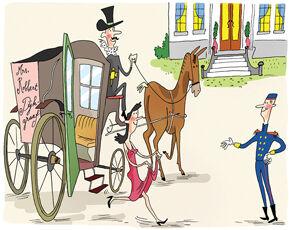 Europeans who come to the United States often think they have a special responsibility to stand up for the lofty values of the Old World, the center of civilization, amid the cultural wastelands of America. Here everyone walks in T-shirts and shorts, chews gum all day, eats only cheeseburgers and doesn't know how to properly handle a knife and fork — right?
Think again. In the U.S. today, it is precisely my fellow Dutchman who runs the risk of coming across as a boorish farmer. Back in the 1960s, the Dutch and other nations figured out that all social rules are arbitrary and optional. In Holland, personal freedom is happiness. Anything goes. Do it your way.
Not so in American social life, though, where rules are still rules. They are often unspoken, but they are rigorously observed, which creates a certain social insecurity. It's as if the proper and conformist 1950s have returned. So beware.
For example, if you are invited to a party at 7 p.m., you are expected to arrive on the appointed hour — not too late and never, but never, too early. Not even a minute. Guests often queue up outside, patiently idling in their cars, before they can all ring the doorbell at the exact right time. My Dutch friends, on the other hand casually arrive an hour early or hour late. I always make allowances for their wide margin of error.
You also are expected to leave exactly on time. Most invitations neatly state the time when the fun ends and "the coaches come to the front." It helps the cause if the host or hostess announces the end of the festivities with a firm tap on the glass, after which everyone gets up and looks for their coats. No one needs to worry if they are overstaying their welcome. It's very normal for the hosts' house to be empty again by 9:30 p.m. The Dutch like to linger until the early hours of the morning, because the later, the cozier.
The dress code here is never optional. If the directions say "black tie" then every man arrives in a tuxedo. If it says "Casual chic" it's a little trickier. A flurry of phone calls usually solves the problem. That takes some getting used to. Especially when you are back in the Netherlands, where nobody seems to take any clothing advice seriously. It is at best a vague suggestion. Are you a fool for being the only one in your evening gown or tuxedo? You can already see this phenomenon in high school. On the day that a sports team plays a home match, all the boys proudly wear a school tie. I see the Dutch teenagers laughing at this "sheepish" behavior.
One way the local golf clubs take away social anxiety is by posting a printed and framed dress code by the front door. No one who is invited there needs to make panicky calls to their friends find out what to wear. It says it right here: "The following attire is unacceptable: short shorts, athletic shorts, cut-offs, tank tops, undershirts, T-shirts, and cargo pants/shorts." Oh, and your baseball cap must be worn "bill forward."
I could go on and on about unspoken but mandatory social codes. The titles given to soldiers, police officers, firefighters, and everyone else in a uniform. The respectful way of addressing (former) politicians — it remains Mister or Madam Governor for life. The formal addressing of letters — Mrs. John Smith, if it's addressed to Mr. Smith's wife. The properly handwritten thank-you notes in black ink on creamy stationery cards.
Sometimes returning to the ordered life in the American 1950s becomes a bit too much for me. I think: Oh, if only I could go back to those chaotic, rude times of the messy Netherlands.
Pia de Jong is a Dutch writer who lives in Princeton. Her memoir, "Saving Charlotte," was published by W.W. Norton in 2017. She can be contacted at pdejong@ias.edu.