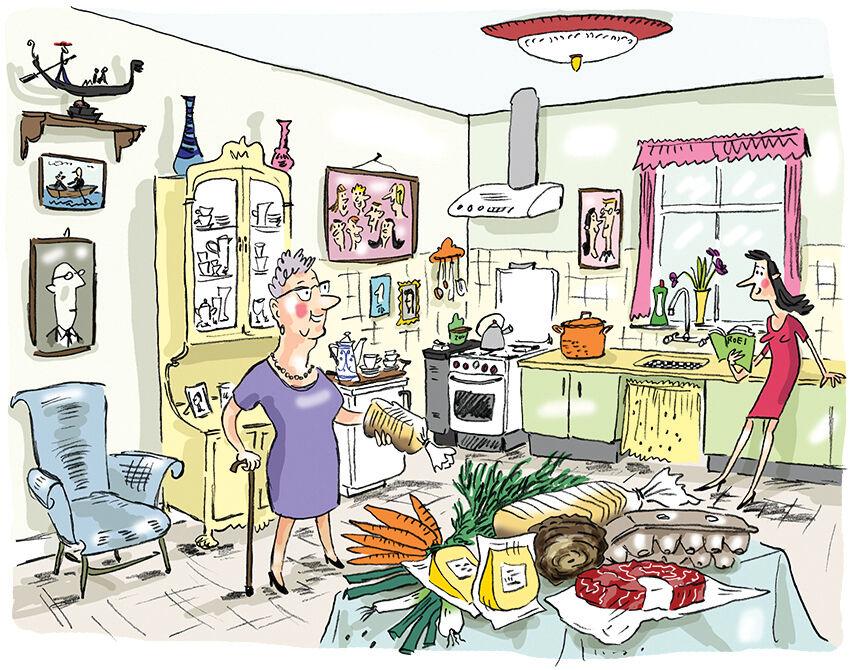 "Mom, I'm coming to see you next week," I say, "and I'll stay over for a night."
"Oh, how wonderful," she says.
My guilt gnaws even harder than usual. I don't see her enough. In addition, if I do, it does not seem especially for her. I've come to help our daughter move. And my week is already quite full of appointments. My mother gets the leftovers of my time.
But complaining is not her style. Moreover, she is not used to seeing me much at all. First I couldn't come often because I was in school, then because I was in love, then busy with work, then I was raising little kids, and now I live far away.
"Shall we go to the supermarket together?" She asks after we have eaten a sandwich. A shopping list is not necessary; she has everything in mind. Since she has been ill it has been difficult for her to walk. She uses the shopping cart as a walker and starts loading it fully. Two loaves of bread. A dozen eggs, a few pieces of cheese. A big package of cooked beef. Large bunches of leeks, onions, celery, carrots.
"So," she says, "I will soon be making a large pot of soup."
My mother goes shopping for us all as usual. For the family that we were. Ever, ever longer and longer ago. My father who came back from work every day at 6 p.m. and looked in the pan at what she had cooked. Her three children in the kitchen hungry from school. The stream of boyfriends and girlfriends, neighborhood children, aunts and nephews who join in.
Today my father has been dead for eight years, my brothers and I have been out of the house for many more years.
At home she divides everything into portions and places them in the freezer. Always two slices of bread together. "I take it out in the evening. Then I have nice fresh bread for breakfast."
She can look forward to a good time, which is a reassuring idea. Then she starts cutting vegetables. The pan of water with the soup meat simmers on the fire. She smiles when I am attracted to the aromas of the past.
"Your bed is made," she says in the evening. "Your blue pajamas are under the pillow."
Everything in the house is as it always was. The bedrooms of my brothers and mine. My bed, the sink with the cold water tap. On the windowsill the star of beads that I made when I was six. In the hall cupboard are photo albums, boxes with slides, and our school reports. The decorative gondola with lights that we bought on holiday in Italy. Vases she received as a gift. Jam jars that she fills with jelly from grapes from the garden.
"Do you want to keep all those rowing magazines?" I ask the next morning. "Of course," she says. "There are pictures of the trips on the water that I made with Dad."
I watch her roaming the house with her cane. "I know exactly where everything is," she says.
I don't doubt her for a minute.
My mother is the chief curator of our family's museum. She carefully monitors our past. Fortunately.
Pia de Jong is a Dutch writer who lives in Princeton. Her memoir, "Saving Charlotte," was published by W.W. Norton in 2017. She can be contacted at pdejong@ias.edu.