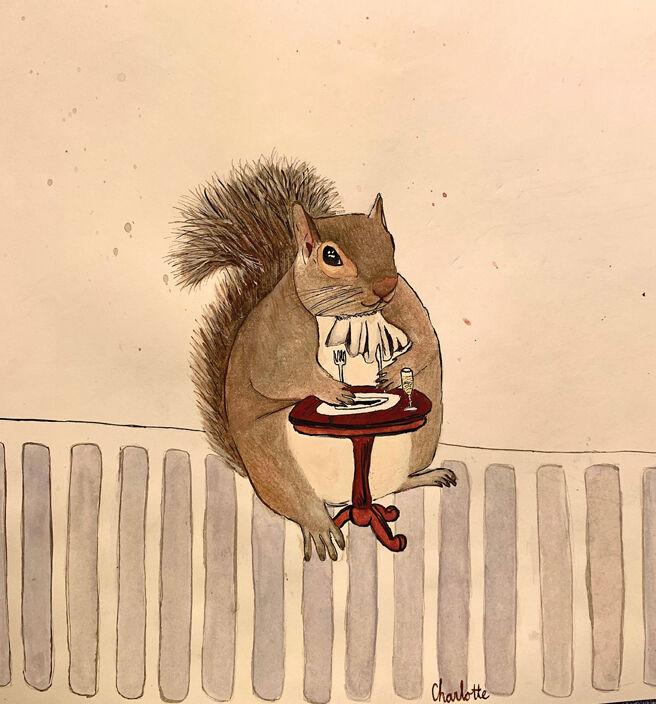 He was sitting on a metal heating grid on the lawn next to the Graduate College. A squirrel. A fat squirrel, I must say. A squirrel on steroids, with a huge pot belly. Not one with the special colors, like the albino in my back yard, or the black and orange ones on the university campus. No, he was just a plain grey squirrel.
It was cold, icy cold. Snowflakes whirled around his grey head, his grey back, his grey tail. He watched me warily as I approached. Hyper-alert. Any other squirrel would have left already, but he considered this his territory. He waited until the last moment, hoping that I would turn around. I felt almost guilty I had to walk past him.
I stood still. He did not move. I never encountered a squirrel sitting so still, I could look him in the eye. When I moved on, he left his heating grid and scampered into the bushes. About five steps farther along, I turned around and saw him going back to his favorite spot.
"Keep warm, grey fellow!" I said and went on my way.
That evening, as it started to snow even harder, I thought of the squirrel on his grid. Obviously, he was not well. Was he able to keep warm during the night? Was he able to find dinner under the snow? Poor thing.
First thing the next morning, I pulled on my snow boots and set out to look for the squirrel. To my surprise, I found a cardboard box on the metal grid, with a little door cut into it. Someone had made him a house! And there he was, happy as a clam, warm and cozy under his roof. He even stayed put when I passed him.
Since the outbreak of the pandemic, walking has become a daily habit. Not long walks, no fancy trails, nothing that requires a rucksack with trail mix and a bottle of water. I just walk from my home to Palmer Square where I sit on a bench. If the weather permits, I may even visit the D&R Canal, where someone built a tree hut. Then I go back, the same route.
But however short, my trail is never boring. The golf course reminds me on some days of a George Inness pastoral landscape, without the cows. Or, on other days, of the grassy, floral landscape of the Teletubbies, the four brightly colored dolls that happily dance between the rabbits and the birds.
The Graduate College can be quiet on weekdays, but on Sundays the tower becomes alive. The carillonneur plays the bells inside to make the heavens sing.
When it snows, the grassy hill on the golf course across the street from the Seminary becomes a paradise for the little ones, who love to sled down the slope. Again and again, while they shriek with laughter. Their parents watching them nervously, while holding their babies warm in slings against their bodies.
I have become attached to my local landmarks.
But what about that squirrel that I encountered halfway along my walk?
The other morning there was another surprise. I saw a half-eaten slice of pumpkin next to his box house. My little grey friend had set up a permanent squirrel campsite on the heating grid. Food delivery included.
Boy, did he look happy.
Pia de Jong is a Dutch writer who lives in Princeton. She can be contacted at pdejong@ias.edu.