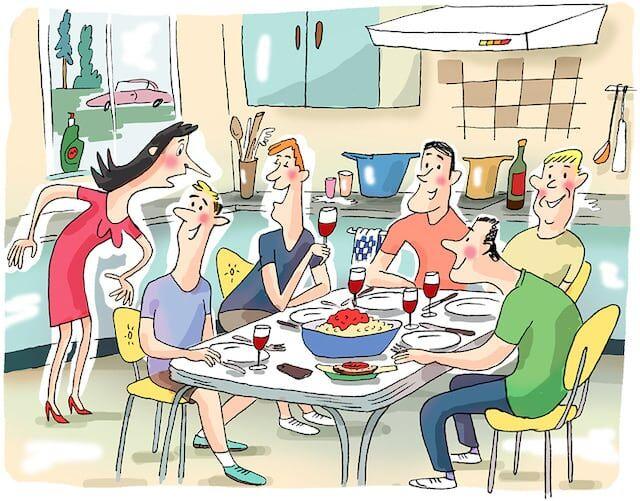 The first time our elder son seemed to understand food was at a McDonald's. During a vacation, we had picked up a hamburger for him. He approached it with caution. First, he began to carefully dismantle it. He removed the pieces of onion, the ketchup, and the slice of pickle, then the wilted lettuce and the meat. The result was a soggy piece of bread with a slice of tomato that must have turned red from embarrassment. Thus was born the delicious "tomato sandwich," still a fixture on our family menus.
As a baby, he was not an easy eater. Longer than I'm willing to admit, he would only let me breast-feed him. Get him used to other tastes, they suggested at the clinic, but that did not work. Grandmothers knew how to do the job with the homemade mush and leftovers we had grown up with. All in vain. The health center even sent an eating expert to our home. She planned to feed him a potato. The whole process would be recorded on video for teaching purposes. He did not take a single bite. The compromising film must still be locked somewhere in the archives.
His preschool friend was the opposite. She greedily devoured the Coquilles Saint-Jacques, the Texel leg of lamb, and Breton oysters that her father, a master chef, presented to her. He found food a more important investment than, say, Lego bricks. "Look," he said, "no child ever plays again with his toys, while the taste of your first truffle always stays with you." But when my son fished the porcini shavings from the risotto, one by one, and then with an upturned nose pushed the rest of the plate away, he was personally insulted.
In addition to the tomato sandwich, thanks to McDonald's, we ate every day the only thing everyone enjoyed: pasta bolognese. This secret slipped out when a doctor at the clinic asked our son what he was eating. "Ah, my mother makes the same thing every day," he complained, to my dismay. I do not know if that is also on film. I was just relieved not to be arrested for child abuse.
But times change, and so do children. They are like a magician's handkerchiefs. Just as you get used to one color, a new one appears. Last week, freshly graduated, our son arrived in America with a number of his friends from the Netherlands. "Don't worry about the food, Mom," he said. "I'll take care of that."
Our son turns out to have become a real foodie, once he was safe from his mother. At breakfast he starts planning dinner. Cookbooks are piled everywhere. He cuts out recipes and watches instructional videos on YouTube. He picks fresh herbs from the garden, accurately measures the inside temperature of the chicken in the oven and gives me instructions on how to press garlic — with one hard blow with the side of your kitchen knife.
He did not learn this from me. As my neighbor says, you should not leave your upbringing to your parents. Today he proudly unveils his piece de resistance, scrupulously prepared according to the original recipe with the freshest ingredients. He proudly lifts the lid, and I see a large pot of steaming pasta bolognese.
Say, nutrition experts, can this moment also be recorded on video?
Pia de Jong is a Dutch writer who lives in Princeton. Her memoir, "Saving Charlotte," was published by W.W. Norton in 2017. She can be contacted at pdejong@ias.edu. She is filling in for Richard K. Rein, who is on his self-proclaimed "customary" summer break.