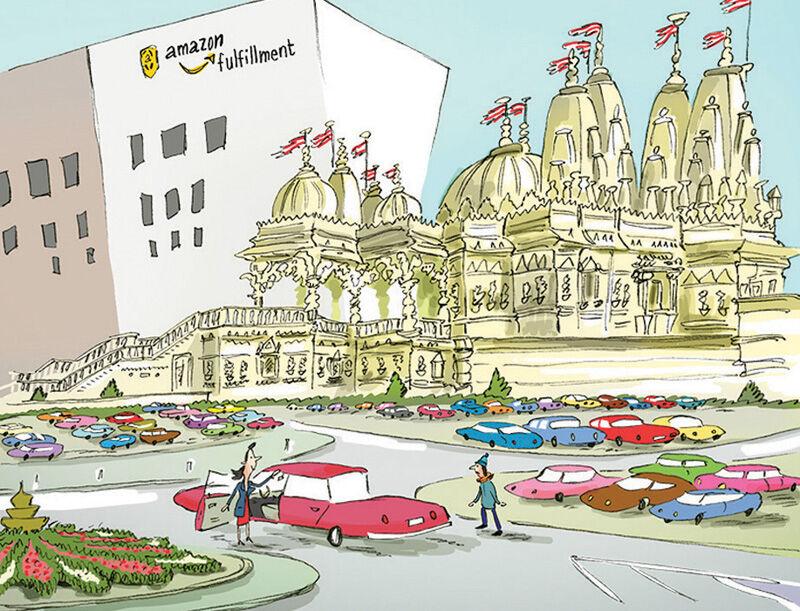 I am driving through the tranquil New Jersey countryside near Robbinsville when a mirage suddenly rises out of the mists in front of me. It is the gigantic Hindu temple BAPS Shri Swaminarayan Mandir. This fairytale building, the largest Hindu temple in the world, is breathtaking in its splendor: sculpted Italian marble, Turkish limestone, almost five million man-hours of carved Indian sculptures. This improbable exotic sight is only a few miles away from the bare and austere Protestant church in the nearby town.
I take off my shoes and walk inside in my socks. People sightseeing seem to float between marble pillars embellished with carved elephants. Worshippers exuberantly pour water over the head of a sculpted child in an idyllic garden. The mood of the whole temple is festive. The elephants are happy, the dancers in the murals are smiling, the golden images of the gods are festooned with flowers. Outside this morning there was frost on the grass. But here the monks, with only saffron robes covering their bony bodies, seem to radiate heat.
"Is anyone ever depressed here?" I ask the man in the gift shop who sells me a book. He looks at me in amazement. No, he has never heard of that. Life is beautiful. What else could be desired? Every morning he renews the red dot on his forehead that protects him from evil. Their spiritual leader, who speaks here on Sundays, shows people the way. Why would not you be happy? There are encouraging texts on the wall and beauty everywhere to contemplate.
I get back into my car and, after just a few miles, turn into a vast parking lot. There I see a woman about 30 years old, running breathlessly on foot. When she sticks out her thumb, I open the door and she flops into the seat next to me. "I am a picker," she explains. "I fill orders in the warehouse, along with the robots." With her hand she discreetly tries to hide her bad teeth.
When we arrive, she takes me inside into another enormous edifice that is even bigger than the St. Peter's of the Hindus. This is the Amazon Fulfillment Center, once the largest building in New Jersey. Fulfillment here is not of the soul, but of boxes and boxes. From this giant warehouse the goods that are bought online are distributed, on peak days almost a thousand per second. There are three thousand full-time workers, a thousand part-time workers, and many robots.
"Do you like your work?" I ask, pretty much the only question I can think of. "It's boring," she says. "And I get very tired of it." For a moment I consider taking her home. But then she hastily goes through a heavily barred door. Through thick, reinforced windows I see her walking past a phalanx of security officers with orange vests. She takes off her coat and puts her bag on a belt. A little while later I see the contents of her bag projected on a screen in front of her. Three men with vests are staring at them.
And there she goes. On her way back to work. Before I leave, I look up and see the mantra of Amazon written on the wall with large bold letters: "Work hard. Have fun. Make history."
Pia de Jong is a Dutch writer who lives in Princeton. Her memoir, "Saving Charlotte," was published by W.W. Norton in 2017. She can be contacted at pdejong@ias.edu. She is filling in for Richard K. Rein, who is on assignment.