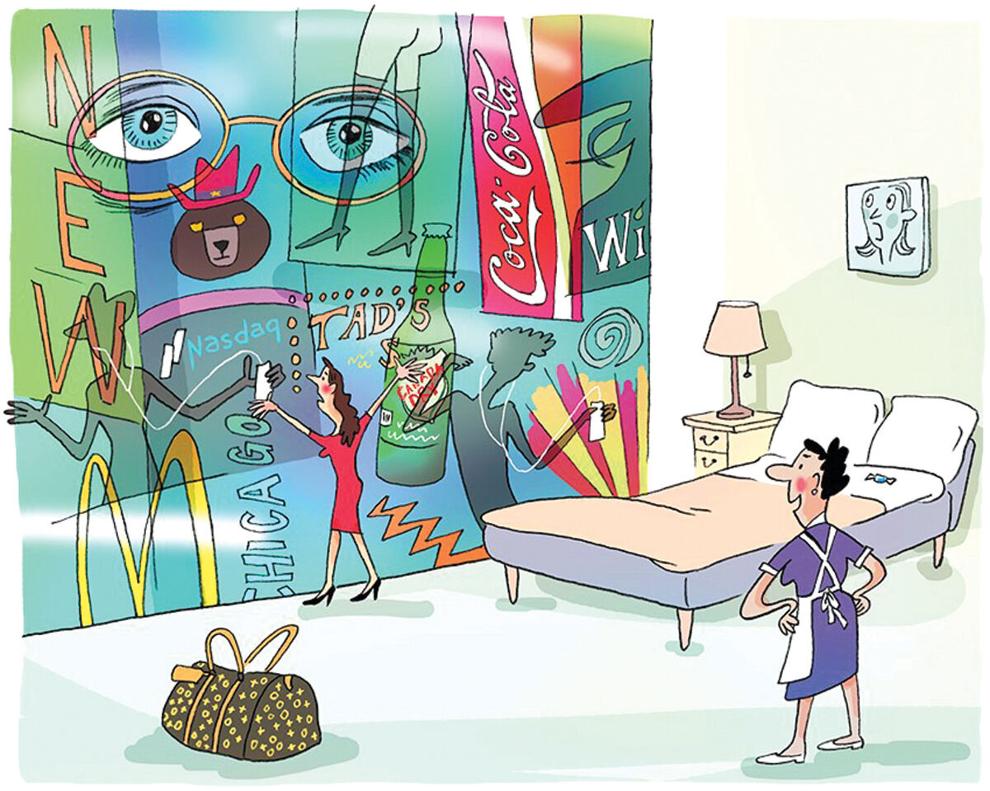 In Times Square, in the middle of Manhattan, I make my way into the huge Marriott Marquis hotel. It's packed with thousands of exuberant people who are away from home. Six women in identical pink dresses push me aside. They are talking excitedly about an upcoming wedding. Behind me, a group wearing nametags is walking to a congressional meeting.
I did not know that hotels this large exist. It has two thousand rooms spread over 48 floors. The lobby is like a market square in a busy city. People stand in line everywhere — for tickets, for shows, for food. It's like a cruise ship that has been set upright.
I step into a glass elevator, which hangs on the outside of a column in the huge atrium. I imagine myself in an old-fashioned science fiction film. "Is this a rocket?" asks a four-year-old boy who clings to his father's trouser leg.
While we ascend, I get views of different worlds. A cross-section of life in this metropolis. A woman addresses a crowded room in front of a screen displaying graphs. An orchestra plays in a ballroom — I hear a patch of jazz music. An auctioneer sells paintings with a long pointer. In the gym, people climb stairs without ever arriving anywhere. This must be an affliction if you suffer from FOMO, fear of missing out.
I get out on the 39th floor. When I pull open the curtains on my windows, my head spins. The outer wall is sheer glass. A disaster for people like me with fear of heights. I press my hand on the window and gently push it. Condensation forms around my fingers.
Far below me in Times Square, it's pre-theater rush hour. The sharp sounds of the police sirens and constantly roaring ambulances unnerve me. In the past, at school, the teacher said a quick prayer when a siren sounded. I continue to pray here.
Colorful ads projected on sides of buildings around me flicker in their bright colors. Girls with endless legs try to seduce me with their sexy boots. Handsome boys dance with the newest earbuds. The constantly changing images make me dizzy, like a dream, and after a while I get a headache.
Suddenly a huge eye appears among the advertisements, many stories big. A blue iris with a black pupil stares at me hypnotically. I am reminded of the billboard with the two big eyes in "The Great Gatsby." According to one of the novel's characters, they are the judgmental gaze of an all-seeing God.
Then a soft knock on my door startles me. A cleaning lady comes in. She apologizes, but we get into conversation. Her name is Sylvia, a resolute mother of four children. She shakes my pillow and puts down a mint. "I have been working here for 13 years," she says, while unsolicited she gives me a glass of water for my aspirin. "Always here, on the 39th floor. Rooms 11 to 27. Always the same rooms in the same corridor. I love this place. So wonderfully quiet. I am here every day."
How is this possible? In the middle of the busiest place of the busiest city in the world, Sylvia has found her island of tranquility. An eye in the center of the hurricane.
Pia de Jong is a Dutch writer who lives in Princeton. Her memoir, "Saving Charlotte," was published by W.W. Norton in 2017. She can be contacted at pdejong@ias.edu.