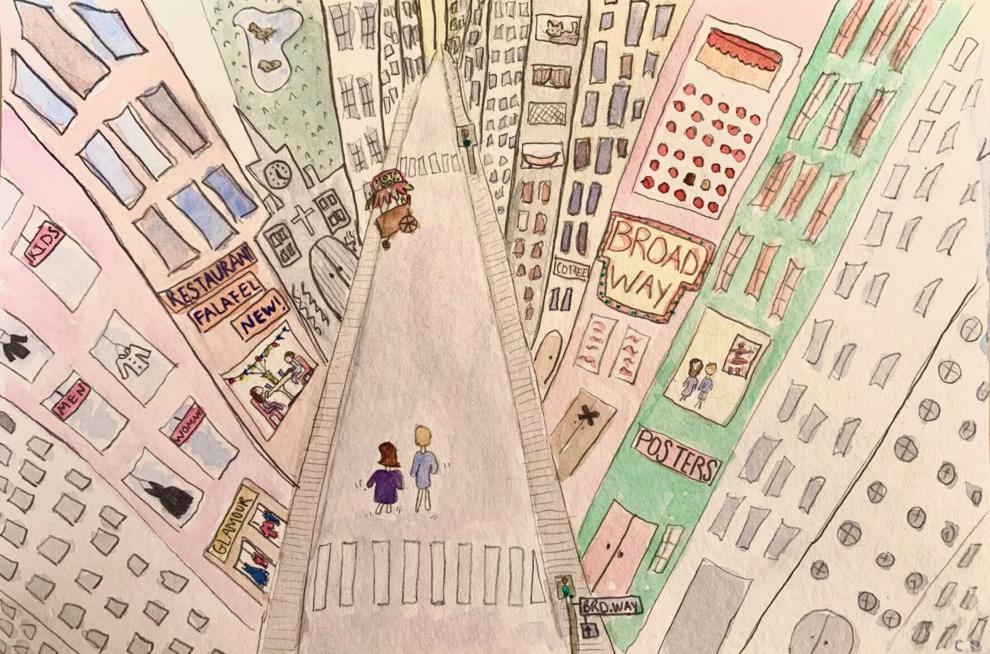 Living within striking range of New York City was one of the perks when we left Amsterdam and moved to Princeton. Not that there is anything wrong with this lovely, neat suburb. People greet each other when they walk their dogs. No messy garbage, piled up high. The parks and woods never cease to soothe us like a relaxing bath.
But as former city slickers, we need the city feel. Every once in a while, we have to be in the midst of the buzz. To be around people who are bumping into us on the sidewalks, to be dazzled by the store windows, to see the lights of the neon signs for the Broadway shows, and wander into the museums. Even the honking of the rushing cabs has its appeal.
Covid stopped us for almost a year from crossing the Hudson, but now it was time for a dose of Gotham. We parked in our usual garage in Midtown and started walking. NYC was strangely quiet. Not like Princeton, but definitely not its usual confident, brassy self.
The place where we used to drink a cup of coffee was closed. And what good coffee they had, we told each other. The restaurant where they served Reubens and the best burgers was out of business. "Remember we celebrated your birthday there once," my husband reminded me.
We stood in front of Lincoln Center and talked about the music we heard performed, the operas we enjoyed. The little store, where we once bought a dance poster that still hangs in the house.
We passed Brooks Brothers, now bankrupt, where my husband bought a nice shirt after I spilled chocolate milk on it before a meeting.
We looked for a restroom and walked into the glamorous Shops at Columbus Circle. On the top floor was a bar, where we once met, after we both had a day with meetings in town. It was as romantic as our first date.
The store windows were decorated with mannequins standing in fancy dresses at elegant parties, posing with their arms out. No one peeked inside. Everyone walked by in comfy clothes. We all wear sweats these days. My heels and dresses have not left my closet since March.
That afternoon we walked through the archaeology of our past life. Something that is not there anymore, but here and there some reminders evoke memories.
Maybe it is worthwhile to do that. Cherishing the old memories before making new ones.
We heard the laughter of children skating on the rink. It was pretty, like a Dutch 17th-century Old Masters painting.
A little further I got the answer to the question Holden Caulfield asks in "The Catcher in the Rye": Where do the ducks go in the winter? Well, the ducks are happily swimming, because part of the Central Park pond is prevented from freezing.
There was no familiar restaurant to sit down and order that quiche again. No new restaurant to browse the menu and ask about the specials. But around lunchtime, we were enticed by the hot dog cart parked on the street. The seller was warming his hands at a small heater inside.
We shoved the snow off a nearby bench, unwrapped the tin foil, and took a big bite. It was so good, so smelly, so rich, and so nice to sit together on that bench. We felt like teenagers all over again.
It's still a hellulva town.
Pia de Jong is a Dutch writer who lives in Princeton. She can be contacted at pdejong@ias.edu.