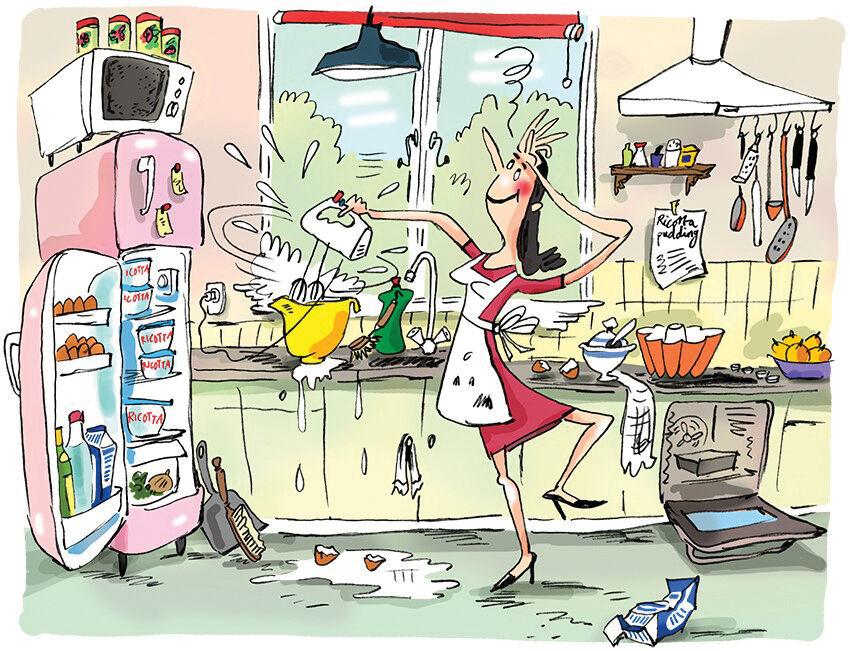 "Mom, this is about you!" my son writes. He sends me an article from The New York Times, "My Mother's Best (and Only) Recipe: Baked Apples" by Dorie Greenspan. He attaches a photo of my patented ricotta pudding with his terse comment: "Your baked apples."
Greenspan is a culinary journalist. Someone counted her recipes and it came to three thousand. They come from everywhere, but certainly not from her mother, whom she never saw wearing an apron. All summer she tried to remember a dish from her mother. Nothing occurred to her. Until halfway through a spiral staircase in Paris, she remembered her mother's apples from the oven.
There are people who love to cook. They are mysteries to me. In my student kitchen, I got no further than to throw courgettes, mushrooms, and onions in the pan and sprinkle some salt over them. And of course cheese, always cheese. Responses were never enthusiastic.
"Leave me now," my dearest said the first time I prepared a meal for him. That immediately became the last time. I didn't really mind. Like Mother Greenspan, my favorite saying about dinner time was, "Let's go to the pizzeria," or "Let's get Chinese."
But my ricotta pudding is my pride. I once saw it in an Italian magazine and it looked so sumptuous, I had to taste it. And therefore also make it. And my children really enjoyed it. Well, they knew to testify to that.
"Mom, what are you going to do?" my elder son asks when I start breaking eggs. "Not that dessert again, is it?" He can't imagine anything else, given my disinterest in cooking. For him it is fascinating. He reads recipes, line by line, as if making discoveries in exciting short stories.
"Have you read the article completely?" He asks the next day. "Until the end?" He clearly hints at something significant, and I read the article carefully again.
Before she gives the recipe, Greenspan wonders what baking those apples actually meant for her mother. Whether she liked the peeling, taking out the core and basting the whole thing? Was she proud? She is no longer alive, and there is no family member to request it.
Although I do not intend to die soon, here is the answer to my son:
I love every part of my ricotta pudding. I get nervous when I separate the whites from the yellow egg yolks, and am relieved when things go well. I am as happy as a child when the slippery protein under my eyes turns into a giant cloud. So much effect with so little effort! I completely clean the bowl with the syrupy mixture of yolks, sugar, and almonds while sniffing the odors from the oven. And although you shake your head with so little imagination, it makes me intensely happy to know that it lasts until the very last bite. I believe deeply in my heart that with this pudding I am making up for all the meals that I have never cooked for you.
Ricotta Pudding a la Pia
2 eggs, yolks and whites separated
3 tablespoons sugar plus a teaspoon of vanilla sugar
Grated zest and juice of half a lemon
270 grams of ricotta
3 tablespoons shaved almonds
400 grams of raspberries
Mix the yolks with the sugar, lemon juice and zest, and the ricotta. Beat the egg whites with the vanilla sugar. Mix together and place the berries on top. Put in an oven pre-heated to 400 for 20 minutes. Eat warm or cold, and add lots of whipped cream.
Pia de Jong is a Dutch writer who lives in Princeton. Her memoir, "Saving Charlotte," was published by W.W. Norton in 2017. She can be contacted at pdejong@ias.edu.