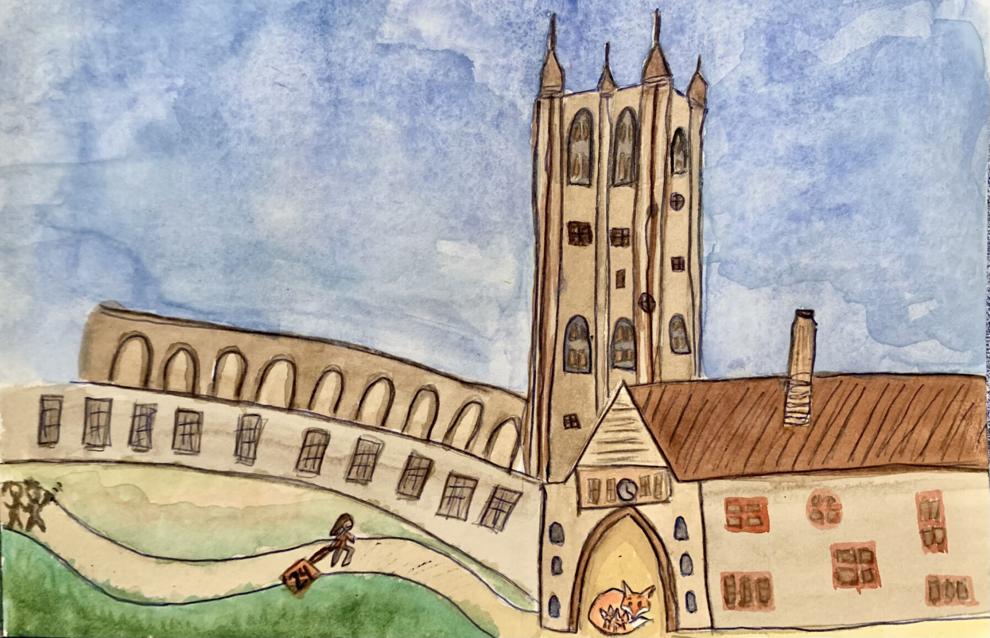 Suddenly they are back, like a migratory species. While waiting outside Small World for my espresso, I see a young woman being dropped off by her mom. The mom a bit frazzled from the drive, her hair plastered to her forehead. The girl wears a Princeton sweatshirt that I imagine she had gotten as a present when she learned she was accepted. She is unselfconsciously pretty, as 18-year-olds are.
She reminds me of a leaf that has sprouted overnight. Bright, curious. Somewhat anxious. She opens the car door to let the air in and immediately is immersed in the vibrant atmosphere of Witherspoon Street. The hellos and goodbyes from people juggling their lattes. "Drive safely." "Where are you rooming?" "Call me!"
The mom and daughter hold each other. The girl cries quietly. After a little while, the mom shushes her out the car, knowing that postponing any longer will only make it harder. The girl walks a few unsteady steps and, without looking back, disappears to her future.
I feel wistful for both of them — yet, still, I smile. This is how it is supposed to be. It hurts to move on. The pain is at the growing edge.
I cross the street to campus. Students all over are chatting loudly with long-lost roommates, dragging suitcases, and carrying small refrigerators that will keep their beer cold in the years to come. The air is electric again, vibrating with laughter.
I had walked over to the empty campus every day since the start of the pandemic in March. It had become a different place, eerie at night. Strangely quiet in the early morning hours.
In April I saw my first fox trotting in front of Nassau Hall. Excited, I sent pictures to my family in Amsterdam. I had no idea that over the months of quarantine I would encounter whole families of them. Mom and dad foxes with lots of cute baby foxes that just sauntered over and fearlessly sat down next to me. They acted like it was their place.
In June I saw a coyote, playing close to a deer family. The campus had become like the peaceable paradise, before Adam and Eve plucked that apple. I could have brought a donkey, why not? Midsummer, humans were outnumbered, by far. I was the intruder. September came and went, without students. At Christmas, the campus was still empty.
But at last, the student have returned, and the animals hide themselves again.
Even Labyrinth Bookstore seems back in its groove. The windows shine, the walls look brighter, as if they too are happy to welcome students again inside.
A bit later, I see the wistful mom again. Still sitting in her car, like she needed time to take in this moment. This milestone that has played in her mind since her daughter was born.
"Enjoy every moment," they say when you welcome your newborn. "It is over before you know it." But somehow you are never prepared for that day.
Walking home, I keep thinking about the girl. I hope to run into her in a couple of weeks, happily chatting with her friends in her bright new life.
Pia de Jong is a Dutch writer who lives in Princeton. She can be contacted at pdejong@ias.edu.