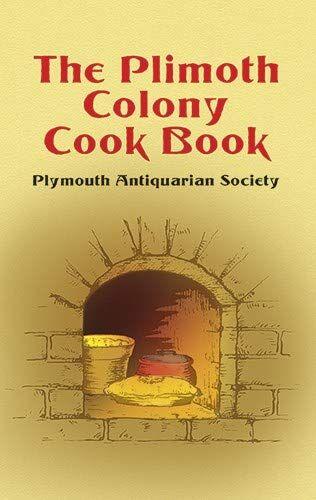 Fleeing, antidotes have been key factors in personal survival during our COVID era. Escape literature can be history: Paris on the Brink (Mary McAuliffe on lives of the creative in the City of Light during roaring Twenties and battering '30s).
It can be nature: "Walden."
Surprisingly for me, November turns me to "The Plimoth Colony Cookbook," first published in 1957 by the Plymouth (Massachusetts) Antiquarian Society. I'm always inordinately curious about what was truly eaten, on that significant feast, which turns out to have unfolded 400 years ago, at harvest-time.
The first harvest, 1621, is described in this collation of memories and recipes, in the original spellings of Governor William Bradford, of Plimoth Plantation, Boston, (1856):
"They began now to gather in ye small harvest they had, and to fitte up their homes and dwellings against winter, being all well recovered in health and strength, and had all things in good plenty... All the summer, there was no wante. And now began to come in store of fruits, as winter approached, of which this place did abound when they came first... And besids water foule, there was a great store of wild Turkies, of which they tooke many, besids venison, &c. Besids they had a peck a meale a weeke to a person; or now, since harvest, Indians come to the proportion. Which made many afterwards write so largly of their plenty hear to their friends in England, which were not fained, but true reports."
We bought this revelatory little volume in modern-day Plymouth, to explain to toddling daughters what really happened so very long ago, even then, amongst those who landed in Plymouth, and those who miraculously welcomed them:
"The brave little band of Pilgrims who landed at Plymouth back in 1620 almost perished in the long hard winter because of inadequate supplies and no knowledge of how to conquer the wilderness in the New World. They found unexpected assistance ... when an armed Indian, Samoset, walked into their council meeting and amazed them by saying in English, "Welcome!" Samoset, an Abenaki Indian, had heard of the landing of the English party. He helped them by acting as ambassador between the Pilgrims and Massasoit, the Wampanoag chief. Later, two other English-speaking Indians appeared — Tisquantum, usually called Squanto, and Hobamok. Each in his way was a tower of strength in the early struggles of the Pilgrims ... They taught them the lore of the forest, methods of fishing and hunting, and first introduced them to the growing of corn, which they planted along with their supplies of wheat and rye seed."
"At the first harvest in the fall of 1621, Indians and Pilgrims joined for a harvest feast and celebration, with the Indian and Pilgrim hunters supplying deer, duck, and geese. Although the feast was in October, it was the forerunner of our own Thanksgiving celebration, first proclaimed by President Lincoln in 1863 for the last Thursday in November."
As a former food stylist in Manhattan, — before the term I deplore, "Foodie" — my curiosity concerning actual aspects of this feast seems nearly limitless. I have to admit, reading these simple but authentic recipes does not always serve to expand my appetite, though it does meet my curiosity demands: "To bake red deer: parboil it and sauce it with vinegar."
"Clean and truss your coot. Boil for 4 hours in a large kettle into which you have put a clean brick. Then, throw out the coot and serve the brick! [sic] Coot is shot in the fall from a dory off-shore; a cold stormy dawn is the best time."
My favorite, and I have made this for Thanksgiving feasts, is Indian Pudding: "Take the morning's milk and throw into it as much cornmeal as you can hold in your hand. Let the molasses drip in as you sing 'Nearer My God to Thee.' But sing two verses in cold weather." The part nobody believes is that it has to bake at 300 degrees or lower, for at least two hours and maybe more. It was a big mistake to serve this to my Swiss relatives.
This unique cookbook quotes William S. Russell (1846), in his "Guide to Plymouth." He ascribes this to have come from "the lips of an old lady at the advanced age of ninety-six, composed about 1630":
If fresh meat is wanting to fill up our dish,
We have carrots and turnips whenever we wish.
For pottage and puddings and custards and pies
Our pumpkins and parsnips are common supplies.
We have pumpkins at morning and pumpkins at noon,
If 'twere not for pumpkins we should be undone."
I'm not sure if my "Foodie" friends and I have ever encountered poetry in a cookbook. This one is filed under "VEGETABLES."
Sweets are rare in the 1600s. Someone named Joutel, in 1687, explains, "There being no sugar cane in that country, those trees (maples) [sic] supplied that liquor, which being boiled up and evaporated turned to a kind of sugar somewhat brownish but very good."
The Antiquarian Society devotes pages in this cookbook to annual celebrations beyond Thanksgiving, hearkening to the Pilgrim era. They are proud to own the "Harlow Old Fort House," built in 1677 by Sergeant William Harlow. "It is believed to have been framed with timber from the original Pilgrim Fort." In the time of "The Plimoth Colony Cookbook," the Society proudly describes ceremonies in which "hostesses spin, weave, dye yarn, make soap and candles, and cook in the great brick fireplace."
The Society exults in the annual summer Pilgrim Breakfast served at "Harlow House": "Tables are set in the house and under the trees in the garden. Girls in Pilgrim costumes serve beans and fish cakes for this traditional meal."
This is where Yours Truly parts company with history. Potatoes, salt, fish are boiled together until potatoes done. This is then mashed and mixed with eggs, to be dropped in hot fat. We've read so many recipes for New England baked beans, but I've never otherwise encountered, "...cook until beans can be pierced with a pin." Instructions are to bake in a slow oven for six hours.
I confess, Werner and I tended to take the easy way out — eating with our girls over the years at Boston's Durgin Park (famous for its Indian Pudding, and the Ur-site for baked beans); and feasting, not only on New England oysters, at the Union Oyster House. The waiters usually told us how many oysters Daniel Webster used to consume there, along with, of all things, cognac. We would ask for President Kennedy's favorite booth. We always began with their clam chowder, no matter what other Pilgrim-echoing specialties these two gastronomic/historic shrines offered their pilgrims.
Co-founder of Princeton's Cool Women Poets, Carolyn Foote Edelmann has photographed and written on nature/travel/history for The Times of Trenton, U.S. 1 Newspaper, The Packet Publications, and Jersey Sierran and New Jersey Countryside magazines.
Her roles at D&R Greenway Land Trust include publicity, community relations, managing Willing Hands; as well as serving as curator of the Olivia Rainbow Children's Art Gallery.