"Three years and expanding," says Christopher Beyer, pointing to a freshly opened hole in the wall of his Ewing-based American Highlander shop.
The additional space is for custom fittings and additional inventory.
"The main focus is the kilt," he says about his unusual product and business that managed to survive the pandemic — just as kilts have survived through time.
"Scottish highland kilts," Beyer continues about his offerings in one of the few kilt shops in the state and the only one easily accessible from both New York City and Philadelphia, "When you buy a kilt in Scotland, it's pure wool and handmade. But not everyone wants a $350 kilt. So we have blended wool."
To illustrate the difference, he compares the kilts to single malt and blended Scotch whisky and says, "Some people want to wear their kilt to a pub or a rugby match, and that when we came in with the kilts for $150. Because of the highland games' tests of strength and fitness, you don't want to have an expensive kilt to throw things around."
Pointing to the kilt he's wearing, he says, over the sounds of the expansion-related sawing and hammering, "The one I'm wearing is a polyester blend because it's summer."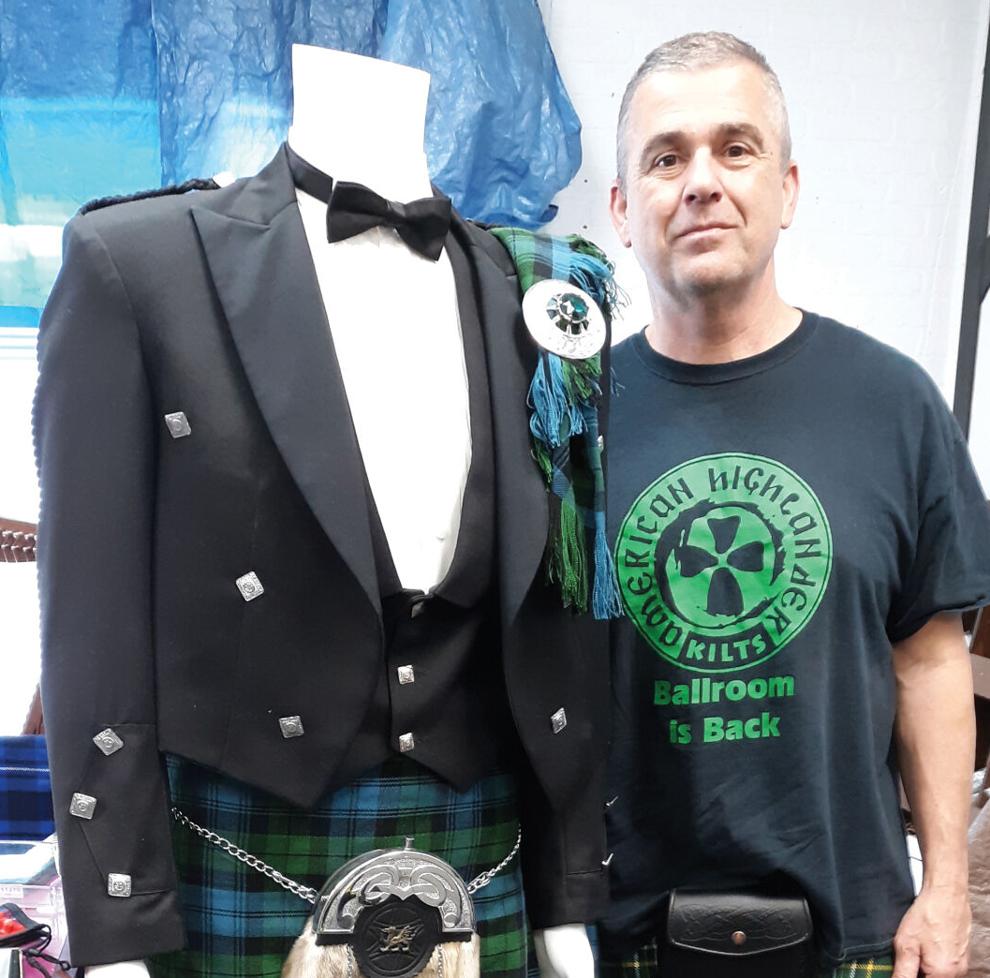 Fittingly located on Scotch Road — something he calls a "happy accident" — in the Glen Roc Shopping Center, Beyer says he supplies "kilts for men, women, and children, but mostly men. Most of the time, it is purchased for a family event or people getting in touch with their family roots."
Taking its name from an old Nordic term for "bundling," the kilt is based on ancient Celtic and Scottish garb that eventually emerged into a formulaic and identifiable type of clothing that was functional, fashionable, and expressive of a cultural identity — especially in opposition of British domination.
Noting that people are more open to different dressing options today than they were in the past, he reflects on his first experience wearing a kilt. That was 20 years ago when a friend introduced him to the garment at a Celtic-themed festival. "We were the only two people wearing kilts. Things are different in 2021."
That includes dressing for weddings. "We probably do 60 or so weddings from January to June, from September to December, 30. We supply everything," meaning kilts, footwear, vests, jackets, and so on.
He says costs range from about $500 to $2,000 and breaks it down.
"The $2,000 cost is on the high end. That is a wedding outfit of a pure wool handmade clan tartan kilt with matching flashes, a custom-tailored jacket and vest with white shirt and black tie, and our premium shoes, socks, sporran (man purse), kilt pin, and sgian dubh (knife). The price for that outfit is between $1,500 and $2,000.
"Our kilt packages for weddings, for purchase not for rent, start at $499 for the same full outfit as above but the kilt is wool blend instead of pure wool and the jacket is off-the-rack, and the other items are of a good quality but not the most premium.
"We also offer bagpipers for weddings as we have contracted with a local pipe band. The bagpiper packages start at $500 for two pipers and a drummer in full piper regalia at the ceremony and during the arrival and departure of the guests at the church. The packages go up to $1,500 if they are looking for pipers to play during the reception and at the end of the reception as well."
Beyer says in addition to customers heading down the aisle, he attracts "people attending renaissance fairs and LARP [live action role-playing] activities. And rugby players, they seem to gravitate towards kilts."
"You don't have to be Scottish or Irish to wear a kilt," he continues, listing customers inspired by celebrities such as Kanye West and Asap Rocky, people from India, and Eastern Europeans, who, he says, are interested in Celtic cultures.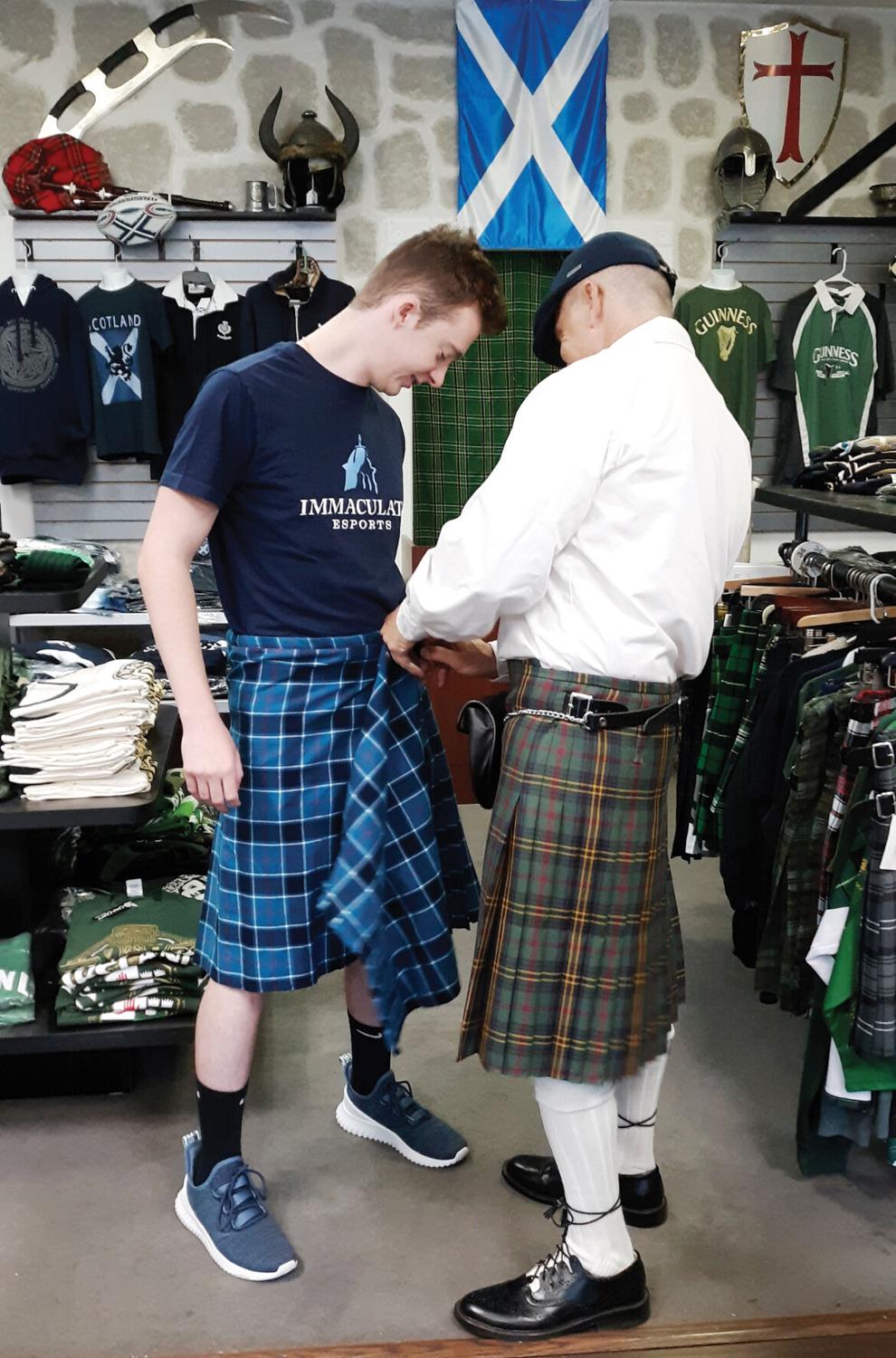 Regarding the idea that certain designs or tartans — a word denoting plaid on a special fabric — have a specific or exclusive meaning, Beyer says, "There are a lot of open tartans that anyone can wear. You can't do it wrong."
Some may reference a family, but others may reference a region, like the counties in Ireland, where the British-squelched kilt was resurrected during the Irish Renaissance — its saffron color harkens back to antiquity.
Others plaids or designs designate social groups, such as military division members and fire and law enforcement personnel.
Then there are those who gravitate toward an American innovation, the plain solid-color utility kilt.
Designing some kilts himself yet having them built in the British Isles, Beyer says, "I've sent (products) to Scotland and Scandinavia. Most of our business is the U.S. But people find us all over the world. People contact us from Australia, where I thought they would have their own."
Continuing on his clientele, he says, "People drive here from Washington, D.C. and Boston. They'll drive three hours because it is difficult to get a place that does custom made.
"It's tough to buy a kilt off the rack without trying it on. That's why it is good to have a retail store. We sell online, but I prefer to have people try them on. If someone is within a few hours, I talk them into coming here."
Beyer says he got interested in the potential of a kilt-related business after that one day 20 years ago.
"When I wore that quilt 20 years ago, I was working in IT at the time, and I started dabbling in (selling kilts) and thinking it might be a business opportunity.
"I kept thinking I could do this. I am of Irish and Scottish decent; I like the kilts; I like my history. I figured I could give it a try. Why not? This is America. (In 2018) I rented a place and started going out to renaissance fairs, highland games, and Irish and music festival and handing out my cards."
Admitting that it was a risky business move, Beyer says his wife was concerned and "thought I should have stayed doing IT. But this has been nagging at me when I wore my first kilt."
He adds that since there is a large Scottish and Irish contingent in the Pennsylvania/Philadelphia region, New Jersey, and New York City, it was "time to give it whirl."
Although born in Georgia and having lived in other regions when his chemical engineer father was transferred, Beyer knows his audience from living in New Jersey for the past for 40 years and graduating from Rutgers University in 1987 with a degree in journalism.
Living in Pennington with his wife and two children, the once staff member for McCarter Theater's marketing department credits his mother and his Irish-born grandparents for the Celtic connection.
"My father was German, my mother was Irish," he says. "(She) was a stay-at-home mom who then went to college and received a PhD in Irish studies from Columbia. She sang Irish songs, played Irish music, put Jameson on our teeth when we teething, and taught us about Yeats and Irish Poetry."
With a linage with names such as Lee, Kelleher, and Leahy, Beyer literally wears his Celtic heritage and says, "I wear a kilt every day. I try not to wear pants. They're more practical than pants. There are a lot of advantages. Whoever put seams at the crotch of the pants wasn't thinking about men. It makes you have to decide which side to favor."
After providing a few historical facts — pants didn't exist for thousands of years and World War I Scottish soldiers in kilts had easier times relieving themselves in battle and not getting weighed down with muddy pant legs — he brings it down to essentials. "It's more comfortable. You don't have fabric rubbing against you. It's cooler."
But what about "the" controversy? One best summed up in Britain's Daily Telegraph newspaper line, "The time-honored practice of wearing nothing beneath the kilt has been condemned."
There the director of the Scottish Tartans Authority declared that the practice of "going commando" was "childish and unhygienic," "flies in the face of decency," and that 'you only have to ask for hire specialists about the problems they have cleaning their kilts. We have heard quite a few hygiene horror stories."
That salvo prompted another from a representative from the Scottish Kilt Makers' Association: "The tradition of no underwear being worn was a stipulation of Scottish military regulation. To say it is unhygienic is wrong. The freedom of movement is healthy. We always tell customers to wear nothing under the kilt if everything is in good working order."
As for Beyer, "There is no controversy. Ninety percent of the people coming into my shop wear kilts regimentally," a reference to the military habit of no undies — and linked to historic addition of a kilt pin during the Victorian era to, in the words of one kilt scholar, "stop the kilt apron flapping about too much and showing more of the wearer's anatomy than the Queen liked." Another euphemism is to go "the full Scotsman."
Yet, Beyer concedes, "If you're renting a kilt, put on underwear. If you own a kilt, own it the way you want. It's the way god wanted you to wear it. The comfort level is infinitely better. And if you feel good, you look a lot better.
"One of things we say here is that we are really selling freedom. In the 60s, women resisted the patriarchal system by burning their bras. So . . . I'm on the side of regimental or commando."
But there is a downside, "If you're wearing a kilt sometimes people are either intimidated or scared of you and don't know how to deal with you. If I go to the store with my kilt on, I feel eyes on me.
Then, neutralizing any thoughts of problems he says, "When it is cold, it's not a disadvantage, heat rises. Women wear dresses in the winter and walk around. They're not cold.
"And when I go to the beach I bring one of my cotton kilts with me. It becomes a changing area. When others are in their wet bathing suits I'm comfortable. Rugby players also use kilts for a changing area."
Then coming in for the sale, he adds, "What I noticed is that women like a man in a kilt. If a guy is single and wears a kilt, it's like an icebreaker. It is easy to start a conversation. Women want to know about a kilt. If I were single, I'd be wearing kilts. That's probably the number one reason for men to wear the kilt. They work on that base level."
Beyer has a point fleshed out in an essay by Metropolitan Museum of Art Fashion curator Andrew Bolton who says "the kilt has come to represent a ready access to Highland male sexuality. For non-Scotsmen, it provides the means of asserting a self-consciously yet unambiguously masculine persona.
"Contemporary designers have drawn heavily on the kilt's hyper-masculine connotations in their attempts to appeal to the young fashion-conscious male."
Bolton says the growing popularity of kilt-wearing can be attributed to films such as "Rob Roy" and "Braveheart" and the popular Highlander series featuring a "Warrior hero embodying timeless, masculine values. This image has been reinforced in the arena of sport, most obviously through the Highland Games, now broadcast around the world."
He also adds that "the kilt has now become a standard item in the masculinized gay wardrobe."
Assessing his current business climate, Beyer says, "Retail clothing is always strange. You have to have a large inventory. If you want to try a new tartan, you have to have all the sizes. You need a big inventory. It's one of the reasons we're expanding.
"With COVID, there's been lockdowns all over Ireland and Scotland. So shipping has been delayed. So we have to scramble."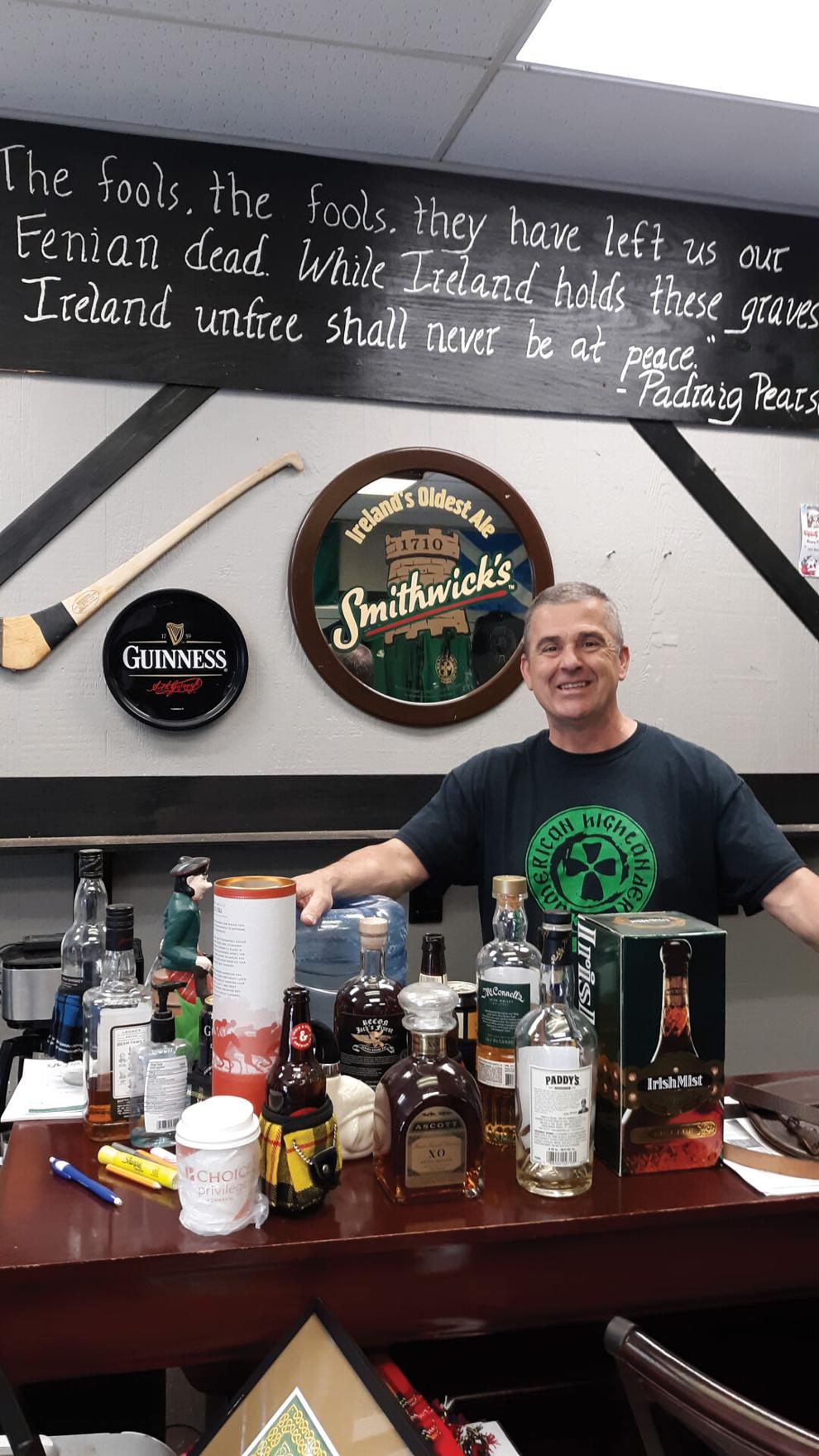 Sharing a strategy, he says, standing near the shop's bar and sign from Tir na nOg Irish Pub in Trenton, "We know (brick and mortar) retail is a dying thing, so we have to create a destination. Men don't like to shop — and that's our biggest customer, so we have Irish coffee on a Saturday mornings and let people try on some kilts."
He says as soon as COVID restrictions are eased, he plans to return to Celtic music performances inside and outside the store and the October Highland Games he ran in 2018 and 2019 at Liberty Lakes in Bordentown. He also is talking about a fall Kilt Run.
But again he's focusing on his in-shop sales — including the Kilt Package. The $150 package includes a kilt, sporran, and kilt pin and is an item that women have ordered for their husbands or partners. "That's our No. 1 seller. All we need from a woman is a man's pants size and height and weight and we'll be able to fit him."
"Most of our customers are men, but they come in with wives, girlfriends, and boyfriends," he says. "Women do drive the sales. If your significant other doesn't like it, I'll have a tougher time selling you one. If they do, my job is pretty much done."
Then, offering a recipe for a satisfied kilt seller, he says, "Nothing makes us happier than to see someone in a kilt in the wild — like in a supermarket."
American Highlander Kilts, Glen Roc Shopping Center, 186 Scotch Road, Ewing. Open 10 a.m. to 4 p.m. Mondays through Fridays, 10 a.m. to 3 p.m. Saturdays. Closed Sundays. 732-279-6530 or www.americanhighlander.com.
Under the Kilt
In order to learn more about the origins of the kilt, its use, and how the Scottish see other cultures using their traditions, I contacted the National Museum in Scotland with several questions.
The following responses are from Dr. Rosie Waine, William Grant Foundation Research Fellow at National Museums Scotland:
What is the earliest record of kilts being worn?
There is some debate about this, but most Highland dress historians would agree that the kilt was well established in Scotland by the 17th century.
How were they originally used?
The kilt has been through numerous iterations. Its adoption by the military as part of Scottish regimental uniform in the mid-18th century brought a level of standardization to the garb that had not previously existed. However, it retained a presence in civilian culture, even after the Act of Proscription banned the wearing of Highland dress in Scotland in 1747 in the wake of the Jacobite Risings.
The early "great kilt" was an unstructured, loose, and highly adaptable garment. Most often referred to as the 'belted plaid', it usually consisted of two rectangular pieces of tartan cloth sewn together selvedge to selvedge, which was then folded and belted about the body to create a kilted skirt. One might go bare legged beneath the kilt or combine it with trews (tartan pants). The pleats would be hand-folded by the wearer and held in place by the cinching of a belt. The excess fabric might be thrown across the shoulder and secured with a brooch, or else left to hang. During the 18th century, the tailored "little kilt" or "philibeg" gradually came into popular use and began to supplant the belted plaid. This much skimpier garment was similar to the modern kilt, in that there was little excess fabric to contend with and that the pleats were sewn down at the rear to create a streamlined appearance.
What is the current social significance of men wearing kilts in Scotland?
The kilt is worn by many people in Scotland for a whole host of reasons. It continues to be used in the arenas of military dress and professional piping, but is also worn in ceremonial life events, like weddings. While some think the kilt is entirely formal — especially when worn as part of a full Highland dress costume — it is also worn as part of everyday fashion.
What thoughts do you have on kilts growing in popularity outside of the British Isles?
It's good to see the kilt growing in popularly outside of Scotland — it's a versatile, attractive garment with a great history. The only way for living traditions like kilt-wearing to continue is for new generations and communities to take up the mantle and make it their own.
And what would you want American readers to know about kilts that often gets missed?
The history of the kilt extends further back than Queen Victoria's romanticisation of the Scottish Highlands and the explosion of Balmoral kitsch in the 1850s. Also, while there may be a strong tradition of clan tartans in Scotland dating back to the early 19th century, there are no hard and fast rules about the "correct" pattern to wear.