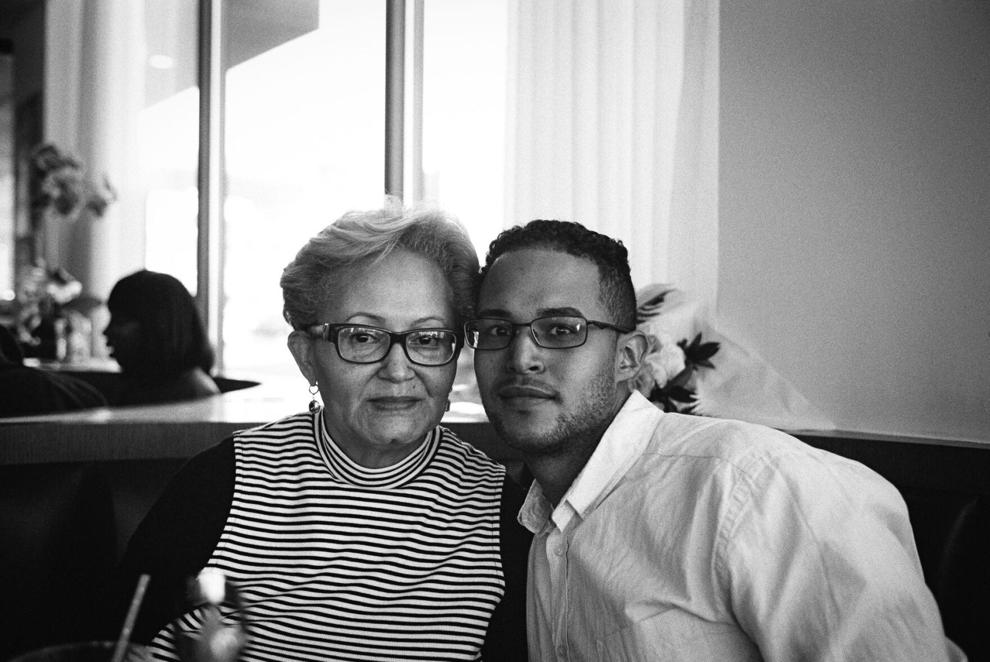 Ask photographer Edwin Torres about the individual that his Artworks Trenton exhibition "Towers: Holding on" honors, he instantly replies, "My mother, Nitza, was one of the strongest women I've ever seen in the world. She lived a life where she's encountered a lot of blockages and succeeded."
The show opens with a reception on Saturday, February 5, and continues through February 26.
Speaking from the dining room table in the 19th-century home Mill Hill Home he shares with his soon-to-be-wife Joanne Sidoti, the 33-year-old photographer and visual content director for the State of New Jersey Governor's Office adds, "Every time I think of how fortunate I am and where I am at is because of her. She's the person who was a woman who could take (people) out of the environment and put them in a place where they could success. Mother was very loving and caring. She was central to the family. So was my grandmother, her mother."
According to the exhibition statement written by Joanne, a state communications writer, Nitza Magalay Gara died in April, 2020, a time "too early to know the risks of undergoing an elective surgery or convalescing in a rehab facility in New York where COVID-19 would go on to take many thousands of lives."
And "like many across the world," it was a time when Torres "learned what so often is only gained through grief: family is safety, stability, purpose."
He also learned that it was the time to capture "honest moments" of his "strong, full of life, flawed, but admirable" Bronx family's unfolding story of "courage, migration, loss, joy, pain, perseverance, and triumph."
Torres describes himself as being "born and raised Catholic and Democrat in a Puerto Rican family in the South Bronx, New York City. My culture is a mix of Black, Spanish, and indigenous Caribbean. My family came to New York in the late 1980s to pursue the dream as native-born Latino citizens. We have also lived through generations of racism and poverty with our African-American brothers and sisters in the years of the burning Bronx and after."
"She got me through a lot," Torres says about his mother's efforts to follow the above-mentioned dream. "I'm the only one who got sent me to private school. My parents split up; I stayed with mom, and went to an all-boys Catholic school. She pushed me and said, 'You better get good grades.'"
She realized her expectations when Torres received a Posse Foundation scholarship to attend Colby College in Maine. He says when he was notified while taking the bus home from high school, and he immediately called his mother, a home care worker who had "sacrificed herself through the years."
While Torres majored in American studies, a photography class led to a career as a freelance photographer for the New York Times, Atlantic, and ProPublica; writer and photographer for GroundTruth; photographer for New York City Mayor Bill de Blasio; and now, the State of New Jersey.
It also led to his participation in the Bronx Artist Documentary Project and the current exhibition.
"I was just starting out, and my professor told me to photograph my family," says Torres. "I took a couple of portraits. They weren't the best, but they were indicative of my family. My professor was intrigued and urged me to continue. I didn't know it was an ongoing project."
The project also unlocked something in him. "It forced me to look at the story within rather than just outside. It forced me to look at my life and the struggles of family life. (My family members) didn't want to see me taking photographs, but it was important for me. I felt my role of being a photographer made me more involved with the family. It made me confront truths and the reality of things."
Photography had become so important that after college he quit a job as a full-time employee for an insurance company to pursue it. A first stop was taking an intensive, week-long photo workshop with veteran photojournalist Maggie Steber who, according to her website, focuses on "humanitarian, cultural, and social stories."
Torres says that he used the workshop to focus on a specific group of family members and developed a work pattern that allowed him to find "the nuances of life. The mundane and dramatic moments" range from his mother making pastels to a family member suffering a heart attack to his sister giving birth.
The Artworks exhibition is structured in two ways. One is chronological and starts with Torres' early work at Colby. The other divides the work into six thematic or chapter-like units.
At one point, viewers will encounter images in two towers-like photo collages — a play on the word "torres" being "towers" in English — where viewers encounter several of the exhibition's "characters." They include Torres' New York City firefighter brother, care worker sister, sanitation worker father, grandmother, and, of course, his mother.
Other sections deal with matters of life and death and conclude with what he calls "new life and new beginnings."
In a way, Torres has been living a new beginning since he came to Trenton at the start of the Murphy administration in 2018.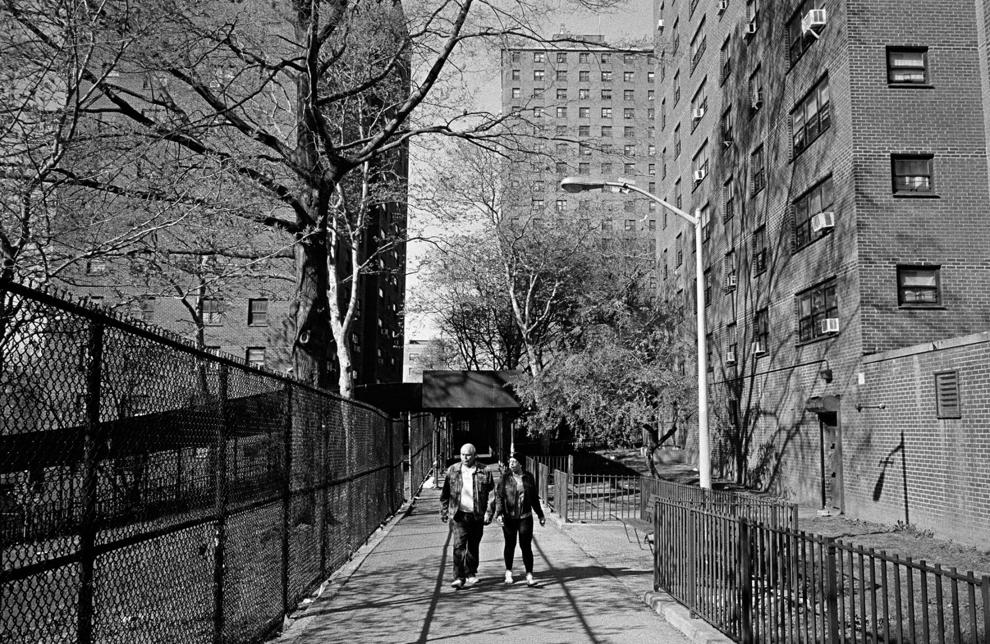 "I was working in the city as a photojournalist and got a job working for de Blasio right after his inauguration. There was an opportunity to come work in New Jersey. It was new start and new administration.
"I was nervous until I came to Trenton. I came here from the Bronx to see if it would work out. And Trenton has the same feeling as the Bronx. People love saying they're from the Bronx. People love saying they're from Trenton. There is a sense of underdog city that has lots to offer. I wanted to move to a city where it I could have an impact, build a community."
He also started his own family when he became aware of Joanne while working for the governor's office and got more acquainted with her when they were assigned to work together on a project. They had planned to marry in late 2021, but the sudden spike of COVID cases forced them to wait until spring. Nevertheless, her name on the exhibition introduction statement is noted as Joanne Torres.
Recalling the project for the Bronx Documentary Center, Torres says he learned the importance volunteering in the community and "helping people make a difference through the art and through photography and video."
That led to his first community photography ventures, the 2020 Roebling Loft Gallery "Trent-Towne Project."
While that collection of black-and-white Trenton images was shuttered by the pandemic before it attracted its audience, the show succeeded in a personal way. "(It) was essentially my introduction to the city. What better way to learn about the city than to take photos, shake hands, and invite people to a show? I was exploring and getting to know the city, back when we used to be social."
Torres' "used to" also includes serving as the Roebling Loft Gallery curator and networking with a number of noted city photographers. Nevertheless, he has stayed active in Trenton the art scene as an advisor to Trenton Arts Endowment, a grant giving fund launched by Trenton stakeholders and administered through the Princeton Area Community Foundation.
He is also keeping his focus on Trenton. "I'm constantly fascinated about the new wave of residents in the city, particularly the Spanish, Hispanic population and their work and where they come from. The different and new cultures in Trenton are fascinating. There's a new wave of immigrants. I've been interested in their stories, especially the stories of their work ethic. Others don't realize how hard they work. If you walk around Trenton in the early morning, you see a lot of people with ladders and trucks."
Like a lot of Nitzas living their dreams.
"Towers: Holding On" by Edwin J. Torres, Artworks, 19 Everett Alley and South Stockton Street, Trenton. Through Saturday, February 26. Opening reception Saturday, February 5, 6 to 8 p.m. Free. www.artworkstrenton.org.