Those growing weary of watching Halloween films at home can get up close with horror by hitting the road over the Halloween weekend and attending the 30th Chiller Theatre Expo in Parsippany.
The weekend-long event's main attraction is an assembly of actors, directors, and writers stationed at tables where they meet attendees and — for a fee — sign autographs or pictures or sometimes pose with visitors.
While the emphasis is on those working on feature films of the ghostly and grisly variety, the event is spiced up with professionals known for their roles in vintage TV shows, comedy film series, porno films, and professional wrestling.
Other weekend activities include panel discussions, musical performances, film showings, and a vendors' hall where all sorts of horror film and entertainment memorabilia, toys, and just plain schlock are available.
The event takes its name from the Chiller Theatre television show launched on WPIX (Channel 11) in New York City during the early 1960s and continuing into the 1980s.
Since a syndicated version of the show was also broadcast for years from Philadelphia, a good number of New Jerseyans were so exposed to it that it has become part of the region's cultural DNA.
The Saturday staple — shown some places at night and others during the afternoon — presented a mix of horror films. Occasionally, there were some classics, but mainly it was lower level fare that broadcasters could rent at bargain basement prices.
And while most of the films were forgettable, what was not was the show's campy video logo: a six-fingered animated human hand reaching from a decimated landscape. The visual was accompanied by a sound track of eerie music, human grumbling and screams, and then a menacing voice intoning the show's name. If you haven't experienced it, check it out on YouTube at www.youtube.com/watch?v=ok6uzndOmPA.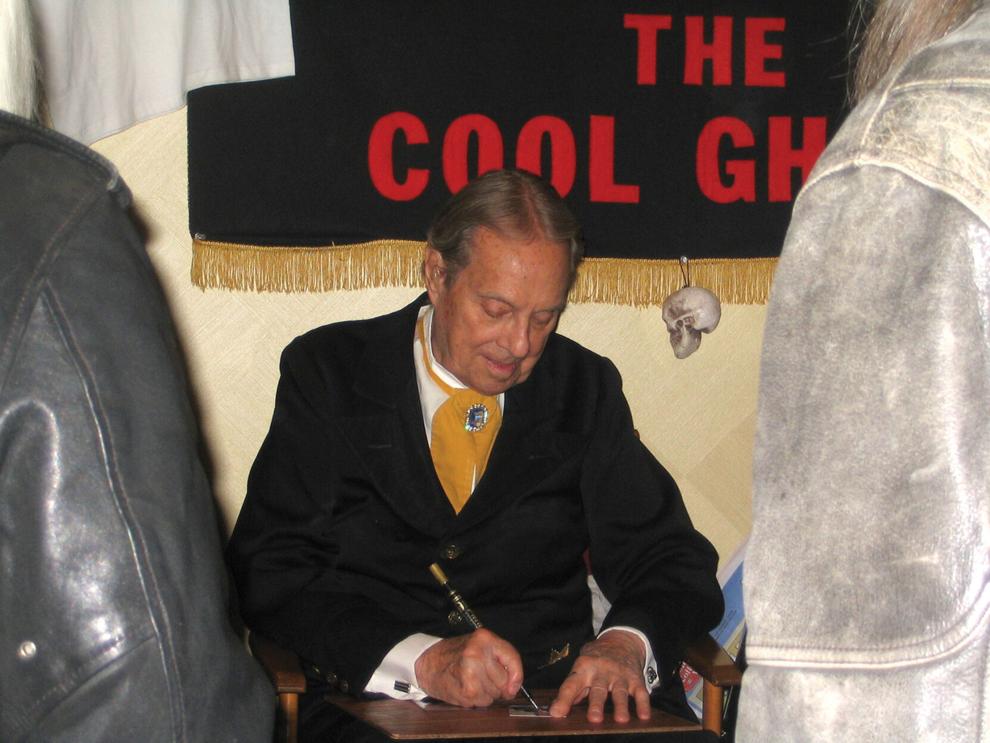 The expo is also connected to one of its first guests and eventual figurehead, TV horror show host Zacherley.
The popular television personality is considered the pioneer of hosting a horror film show by dressing up as a creepy creature. His persona of an emaciated undertaker was the first of its kind and inspired a series of television host knockoffs still showing up on local TV stations around the nation.
He also got a boost from his nickname, "The Cool Ghoul," given to him by the era's coolest guy on the airwaves, Dick Clark of the rock 'n' roll dance show, "American Bandstand," originally broadcast from Philadelphia.
Zacherley was actually John Zacherle. His routine was originally created in the 1950s for a late Saturday night TV show called "Shock Theatre," originally produced in Philadelphia. During those days, Zacherle's character used the name Roland, but when he eventually took the show to New York City he changed it to a variation of his own.
As indestructible as the monsters he introduced, Zacherle kept finding ways to keep his ghoulish persona alive after "Shock Theatre" was cancelled. He made personal appearances, became a dance show host, and, voila, hosted "Chiller Theatre."
So it was natural that in the late 1990s the figure synonymous with horror films in the New York and North Jersey area would eventually find himself involved in a North Jersey horror expo called "Chiller Theatre" and remain part of it until his death at age 98 in 2016.
A Chiller website page shared Zacherle's initial connection to the twice-a-year New Jersey event as follows:
"The original Chiller Theatre convention was first held in an old movie theater in Rutherford, N.J. In the basement of the old theatre was a modern movie theatre. Zacherle gave his first Chiller Theatre appearance telling stories and answering questions. We thought they had lighting down there, but they didn't! A mechanic friend of ours ran to his work truck and found an electrician's light on a 40 foot cord. This was the only lighting available ... a 75 watt light bulb. As Zach stood in front of the packed 700 seat movie theatre, in the dark depths of the front of the stage, he ad-libbed and turned the light into a working prop and started his magic. Under the low eerie light, in an otherwise totally dark movie house, Zach gave one of his funniest and best seminars ever! (And) Zacherle the Cool Ghoul sang live on the first night of the convention, backed up by 60's garage band, The Creeping Pumpkins."
As someone who saw his first horror movie on "Shock Theatre," was a regular viewer of "Chiller Theatre" (although Zacherley didn't host the syndicated shows I viewed), and a several time Chiller Theater Expo attendee, I'll do some of my own sharing — especially since my request to interview the expo's producer, Kevin Clement, went nowhere.
My first encounter with the creepy Roland (pronounced Rooow-land) was a late night black-and-white broadcast viewed on a wood-cased television the size of a dishwasher. I was just a tyke and should have been in bed, but I was staying with my cousins in their apartment over their family's Philadelphia bar, and all the adults were downstairs.
While I had little idea of what Roland was saying or doing, I knew I was in strange territory when a film opened on a strange fairytale-like landscape that mesmerized me with its sharp angled buildings and bold shadows.
Although I fell asleep and never knew what the story was about, its images lingered in my memory and seemed to have an impact on future viewing — watching how the production elements helped tell the story. Years later I discovered the film was the 1939 Universal film "The Son of Frankenstein."
During other visits to the family bar, I insisted on staying up late to see "Shock Theater," until Zacherle took his show to New York. But to me he just vanished into the new world of television broadcasting.
He also vanished from my memory until I was in my late teens and working with a group of guys from northern New Jersey. One day they began chatting about horror films show and they began talking Zacherley.
Having no idea that he and Roland were the same person, I said there was a similar character in Philadelphia and that he was entertaining. The response is what I now realize was typical: They told me I didn't know what I was talking about. Zacherley was better because he was in New York. And the guy I saw copied Zach's shtick. Go figure.
Once again, Zacherley, Roland, and John Zacherle were rightfully placed on a back shelf in my memory until about 25 years later when someone blew the dust off.
I was working as the producing director for a small nonprofit professional theater and a young technician was sporting a fun horror movie-themed T-shirt. When I referred to it, she said she had gotten it earlier in the year at an expo in East Rutherford. She also said she met some actors who appeared in several well-known horror films.
I was intrigued, investigated, and discovered that its newest installment was scheduled to occur in just a few weeks. I decided to attend.
The spot was the Hilton Hotel in the Meadowlands. The mixture of the towering empty stadium in the midst of marshlands, the hum of traffic and the glow of headlights streaming along the surrounding highways, the pale white of the parking lot lights, and the gray glass and metal hotel glowing in the night set the mood by suggesting a scene from futuristic film from the 1950s.
I soon found myself joining a line of fellow pilgrims. And while most seemed to be square dads (like me) with their kids, hip couples checking out the celebrities, and people stopping in work attire, others were dressed to the outer limits: space suits, devil masks, monk robes, black leather and fishnet stockings, and anything one could wear while driving or without getting arrested.
This dress-to-distress attitude was obviously welcomed by a Chiller representative known as Animal. Sporting a fur vest and leggings, a black chest band sporting a club and swords, and an eye patch, Animal lived up to his name by snarling and growling at the patrons.
As if entering one of Dante's rings of hell, I was suddenly swept into a stream of people heading up the escalator where maps shared details about what was waiting ahead.
Okay, I thought as I glanced over the information, I had never thought about meeting Linda Lovelace, the performer in the notorious porno film "Deep Throat," but that was an option. But so was the chance to come into the orbit of stars suddenly sharing the same earthly space as me: "Kung Fu" TV show star and noted film actor David Carradine; the cast of the TV show "Lost in Space"; and Conrad Brooks, who was featured in Ed Wood's notoriously panned "Plan 9 From Outer Space" and was there signing cans of his brand of coffee, "Plain Nine from Outer Space."
Feeling as if I had been hit on the head and conjuring visions of years of watching way too many TV shows and movies, I began making my way through the expo and in a daze found myself chatting with the daughter of horror icon Boris Karloff, saying hello to the actor who played "The Creature From the Black Lagoon," and encountering "Lost in Space's" resident bad guy, Dr. Smith — aka Jonathan Harris — who entertained the throng with one of his famous mouth twisting robot insults: "You clanking clod clod-like collection of condensers."
I also began to muse on the event and how the entertainment industry had become so important to the sense of being of its makers and consumers — including me.
Among the former, there were several aged Playboy Magazine models hawking autographed photos glowing with nude images of their former selves; over-the-hill wrestlers acting tough; and the above-mentioned Brooks, who pressured me to buy a can of his coffee — offering me a "deal I couldn't refuse" but astonished that I did.
Then there were the consumers who waited in long lines to get their photo taken with "Exorcist" star Linda Blair or get an autograph from the actor who played Chekov in "Star Trek."
At first, I snickered, but when I saw how excited some people were to talk to the people who informed their fantasies and take away a picture, I connected. After all, wasn't I just also trying to connect with the stuff of dreams that had become part of my life?
Over the years, I continued to attend. Sometimes I went alone, sometimes with my son, and sometimes with other men hitting middle age and looking to reconnect with their past and check out the sights.
Among some of the more zany memories include meeting prize skater turned knee-breaker Tonya Harding, seeing Richard "Jaws" Kiel put a friend in a headlock, witnessing Mini Me and the angry Seinfeld dwarf being transported by a rolling garment rack through a crowd, and introducing my son to Pee Wee Herman and Soupy Sales.
Yet there were also some interesting cultural connections, such as talking about theater with Kevin McCarthy, an actor who not only starred in the 1956 film "Invasion of the Body Snatchers," played an important role in the 1951 film version of "Death of a Salesman," and performed on New York and London stages.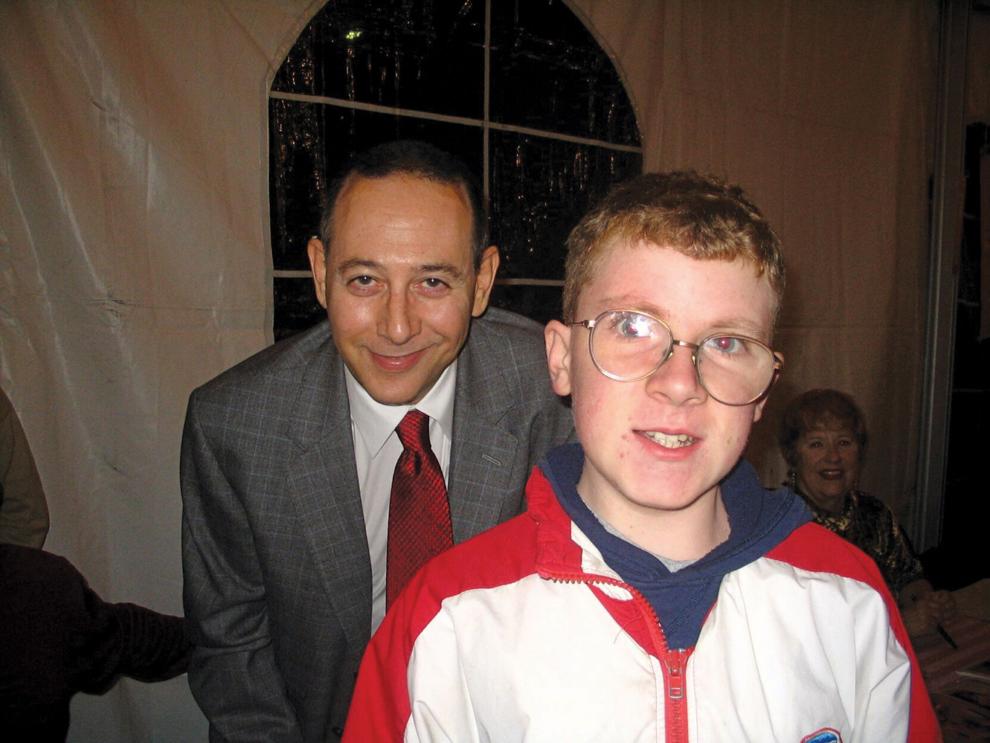 I also had the opportunity to talk with Geoffery Holder, the choreographer and original director of Broadway's "The Wiz," there for his spooky role in a James Bond film; actor and dancer Russ Tamblyn, who starred in the film version of "West Side Story" and featured in the critically acclaimed horror film "The Haunting of Hill House"; Lois Neal, the original Lois Lane in the Superman television series; and 1960s horror icon Barbara Steele.
Then there was my one-on-one encounter with Zacherley.
The night was winding down and most of the attendees had left when I encountered the cool ghoul quietly packing up.
He said hello and chatted about the night and the crowd. When I said I remembered him as Roland on Philadelphia television and that he introduced me to horror movies, he lit up and we began chatting about the past.
That's when I asked, "You've seen hundreds of horror films. Which do you consider among the best?"
Without a pause, he said, "The Son of Frankenstein" and credited his response to the film's attention to design to capture and sustain a mood.
I smiled and thought of that kid seeing his first scary movie and getting an artistic experience in a frighteningly unusual way.
Chiller Theatre Expo, Hilton Parsippany, 1 Hilton Court, Parsippany-Troy Hills. Friday through Sunday, October 29 through 31, $35. www.chillertheatre.com.