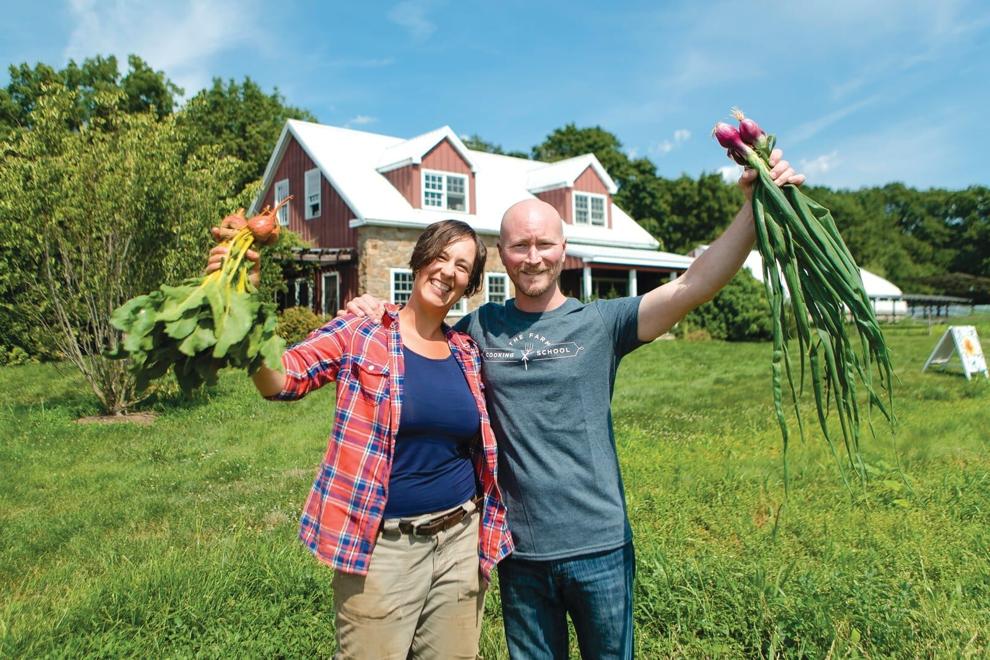 Tucked away on a country road in Hopewell Township not far from the Delaware River is a remarkable place where you can buy organic produce grown right on the grounds, as well as prepared food made with those ingredients. Where you can take cooking classes from professional chefs to learn everything from knife skills to how to cook Chinese dumplings. Where you can meditate in an herb garden and learn how to make your own herbal medicine. Where kids from the city come to learn about agriculture and the environment. A place where you can even host a gala fundraiser or get married.
This phenomenon on Pleasant Valley Road goes by several names — Roots To River Farm, the Farm Cooking School, Locust Light Farm, and the Barn at Gravity Hill. If you haven't heard about all the things that are going on there yet, chances are you will soon.
David Earling and Maria Nicolo founded Gravity Hill Farm in 2005 and operated it as a community farm and market for 10 years. They built a folksy-yet-modern market center, and had a 1740s-era barn from South Jersey taken down beam by beam and reassembled on the property.
After spending a decade in the farming life, Earling and Nicolo began thinking about an exit strategy. They wanted to continue to nurture the agricultural education programs they had built. But they wanted to find someone else who could put their fields, market, and equipment to use.
That's how they met Malaika Spencer, a farmer who already leased some land up in Solebury, Pennsylvania, for her venture, Roots to River Farm. Spencer was looking for acreage to expand her operations. As it happened, she also knew someone who knew just how to use the market building: chef and author Ian Knauer, then her fiancé, now her husband, who was looking for a new venue for the cooking school he ran with his partner, Shelley Wiseman.
In 2017 Spencer took over the farming and market operations on the property, bringing the Roots to River shingle to Hopewell while continuing to work 30 or so acres back in Solebury. She offers seasonal CSA (Community-Supported Agriculture) programs to shareholders featuring produce from both sites.
Knauer and Wiseman came in and established the Farm Cooking School, building a teaching kitchen in the market where since last year they have been offering a wide variety of cooking classes. They also launched a farm-to-table dinner series featuring Roots to River produce and locally sourced meats and seafood.
Spencer also had a relationship with herbalist Amanda Midkiff, founder of Locust Light Farm in Bucks County, who had worked with her on various farms and was looking for a home for her herb garden and apothecary shop. When Spencer and Knauer set up their new operations at Gravity Hill Farm, Midkiff did too, on a separate lease. Produce and products from all three businesses, as well as Blossom Hill Flowers of Solebury and other local vendors, are available at the farm market every Saturday and Sunday and Thursday evenings in summer.
Earling and Nicolo, meanwhile, haven't gone anywhere. They continue to run the Barn at Gravity Hill as a space for hosting anything from private events to corporate retreats to yoga classes. They also regularly host area schoolchildren for educational farm tours and summer camps.
In short, a lot has changed at Gravity Hill Farm in the last few years, and people have been slowly catching up to it all. As anyone who has visited the market, taken a cooking class, or meditated in the herb garden recently can tell you, the word has clearly gotten out.
Spencer, 30, grew up in Yardley, Pennsylvania. Her mother, Marna Matthews, is retired after a career as an elementary school teacher. Her late father, Guy Spencer, a native of Kenya, was for many years a sports journalist, working around the world.
Spencer attended all Quaker schools growing up — Newtown Friends School in Pennsylvania, followed by Princeton Friends, and finally Westtown School in West Chester, Pennsylvania, where she boarded as a high school student. She says it was at Westtown School that she became interested in farming and the environment. The school offered an organic farming project that students could do for physical education class credit. Students harvested food grown in the gardens for use in the school cafeteria.
While she was in high school, she worked at the Bent Spoon, the ice cream shop in Princeton that takes pride in using fresh, local ingredients to make its products. She says the Bent Spoon is the place where she started making a connection between local food and good food.
Spencer also went "WWOOFing" in Costa Rica and Mexico, exchanging work on farms for room and board. "It's a fun way when you're a young person to travel around and be in a place and contribute to farms," she says.
WWOOF originally stood for "Working Weekends on Organic Farms," but the scope has grown over the years as more countries and more farms have gotten involved. WWOOF now stands for Worldwide Opportunities on Organic Farms and is a loose organization of entities in more than 60 countries. The wwoof.net website describes WWOOF as "linking people who are passionate about healthy food, healthy living, and a healthy planet."
She majored in sustainable agriculture at Hampshire College in Massachusetts. On the campus farm she completed a number of projects and "just totally fell in love with it all," she says.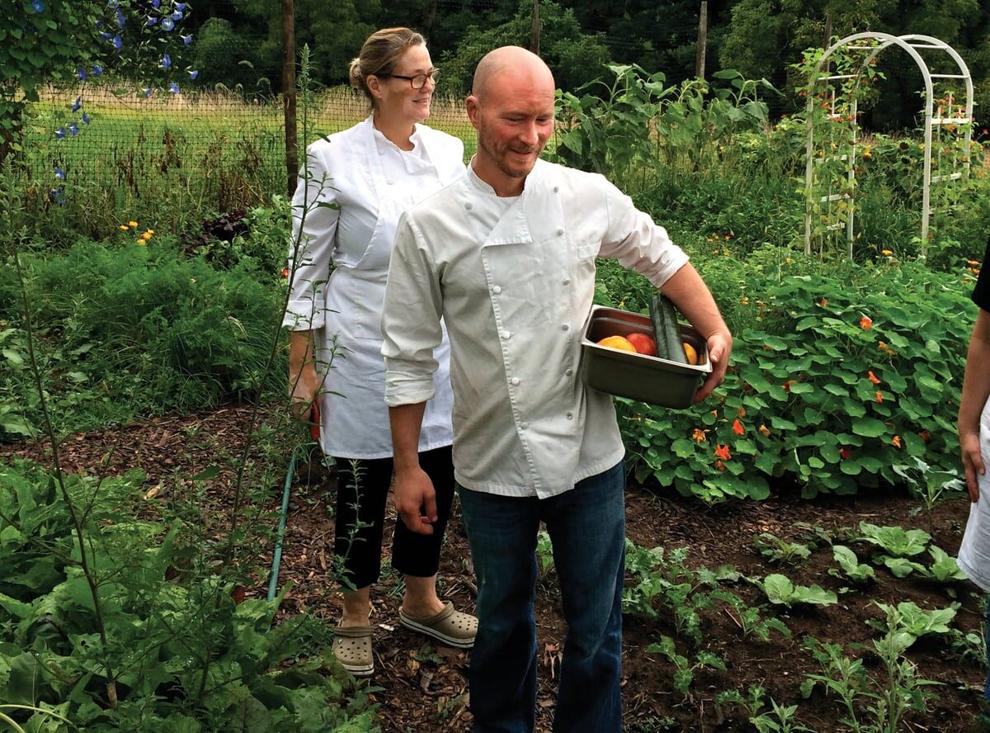 The first farm where she did a full-season internship was actually Gravity Hill Farm. After that she did an internship at a sheep dairy farm in Vermont called Peaked Mountain Farm. "There I learned that I did not want to be a dairy farmer," she says. "Although I really loved making cheese." She also spent a summer at the community-supported garden at Genesis Farm in Blairstown and spent a winter working on farms in Ecuador. "It was basically just me trying to find as many different farms as I could, to find out what I liked and what made the most sense for me and my future."
After graduating from college she bartered some land on a little farm in the Poconos called Journey's End Farm. The farm had a dairy and maple syrup operation and also ran a summer camp. In exchange for labor Spencer was given two acres that she farmed by hand with one helper. She describes the experience as her "farming on training wheels."
"I was able to use their equipment and I had no financial risk. I could figure out what I liked doing and how I liked doing it," she says. At Journey's End she started up a CSA program and also sold her vegetables at three farmers markets. After two years she was ready to return to the Bucks County area and find land to farm closer to where she grew up.
She ended up leasing land in Solebury, Pennsylvania, from some friends she had met during the years of her farming apprenticeship. They were setting up a flower-growing operation, Blossom Hill Flowers, and weren't going to need all of their land. They offered 13 to Spencer. She accepted, and Roots to River Farm was born. It was January, 2014.
Spencer needed to start planting in March. So the first months of that year were a crash course in farm administration. "There were all of these things that needed to happen before I could even start farming," she says. "Like I needed a website before I could get CSA members, but I needed CSA members before I could do anything because I needed more money. So I needed the name of the farm before I even knew what I was doing."
She had no experience dealing with insurance or payroll management, and though she had years of farmwork experience under her belt, she had never had to build anything. But the first thing she had to do to was to build a greenhouse. "It was a very steep curve, learning how to put up endwalls on a greenhouse and how to keep a structure level and all the stuff that hadn't been part of (my experience) working on farms. I just jumped into it."
"Once we had seeds in the ground, and once I had a tractor I knew how to use — that was when I felt comfortable," she says. "But it was all that other stuff — how to manage a loan, what to use it for, continue to learn how to manage people and find employees — it was a crazy whole year. But also incredibly satisfying once we had produce, once we started going to markets. It was the thing I had wanted to do and it was coming to fruition."
One key member of her staff that first year was Midkiff. Spencer met Midkiff when they both worked at Genesis Farm in 2010. Later Midkiff worked for Spencer for three years helping to get Roots to River Farm off the ground while she was simultaneously cultivating her own interest in herbal medicine. Midkiff founded Locust Light Farm in 2015, based first in Bucks County, and since last year alongside Roots to River Farm at Gravity Hill.
"When we moved here (to Hopewell), it became this perfect opportunity because we love working together and her project so wonderfully complements what we're doing," Spencer says. "To have an herbalist who's so familiar with vegetables — she can be talking to people about herbal medicine and food medicine and what that means for all of us. It is very cool to have."
Spencer didn't yet know Knauer that first year in Solebury, although he lived just down the road. They met when a neighbor introduced them. "He hadn't started the cooking school yet but was looking for spaces," Spencer says. "He was doing pop-up dinners and his neighbor across the street said, 'Oh my God, there's a farm right down the road and you love farms, let's go.'"
Spencer remembers being impressed when Knauer spotted some late-season peppers on her farm and asked if he could use them before they were destroyed by the season's first frost. "He was like, 'Oh, can I use these peppers right before frost, and can we have a dinner in your greenhouse' and I was like, 'there's no electricity' and he's like 'that's fine.' It was great to meet someone who's excited and willing to work in the farm environment," she says.
Knauer also endeared himself to Spencer by becoming a winter CSA member. "Very brave people became winter CSA members our first year," she says. "We were a new farm. We had no way to wash the vegetables in the winter because our pipes would freeze. It was rough stuff. Delicious, but you had to get through a layer of dirt and really be into that experience."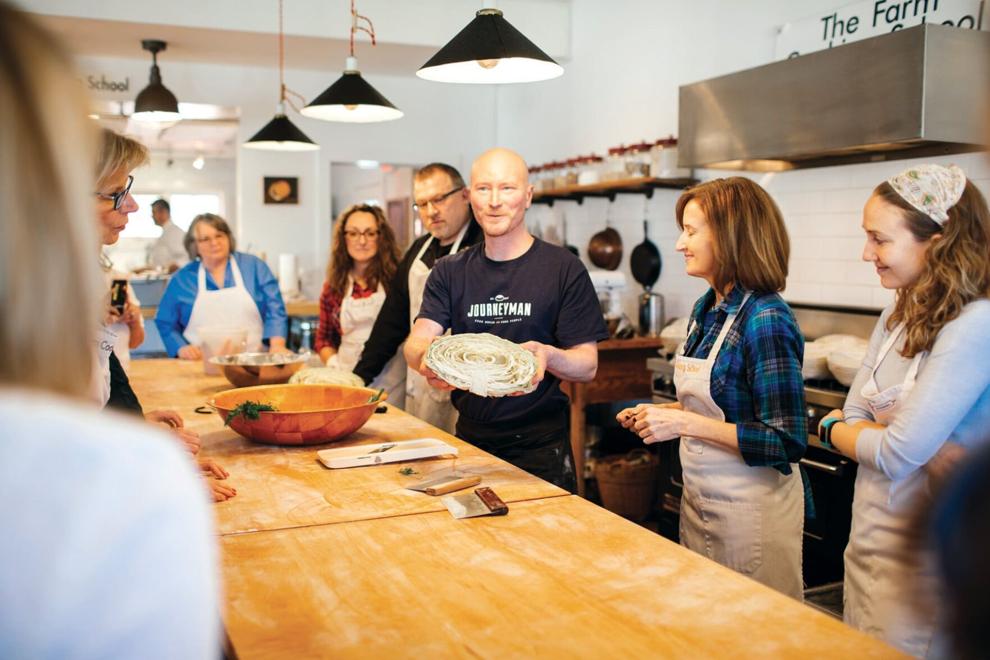 Like many organic farms in the area, Roots to River focuses primarily on vegetable crops. The farm does grow melons, a relatively low-maintenance crop, for CSA members. There are orchards on both properties, but she leaves those to her landlords. "Because I don't own the land, having long-term perennial crops seems like a risk. (Fruit is) also a whole other set of skills."
Spencer depends upon a dedicated staff to keep things running smoothly. She finds them on websites that are designed to connecting farmers with relatively inexpensive labor. She is able to provide living quarters for some staff on the farm, which is something she wasn't able to do when she had only the Solebury site.
"It's generally people who are looking to learn how to farm," she says. "We do pay people, but it's not necessarily enough for rent in this area, which is high. Having this space is really great because we can attract people from farther away who are looking for a specific experience."
Sometimes staff stay on for just a season, and sometimes they stick around for years. She says at least one intern usually stays on for a second year, and in winter though they can't afford to employ anyone full time, because of the winter CSA they are able to keep a couple people on part time. She uses her own experiences to help shape the internship program. "I feel like I have worked on enough farms to understand what made a good internship and a good experience, and what I didn't like as much," she says. "Just like anyone would do with any job."
This being Spencer's second year farming two separate properties, she feels like she has a better handle on what that means for the business. "I now know that potatoes grow really well on this property, and they were not growing well on the other property, so that's very exciting," she says."
But she is also excited to get to work on engaging the community on all the things that are being offered at Gravity Hill Farm. "Now that we're here, I want people to feel like it's accessible and engaging," she says. "For everyone to be taking cooking classes and coming to the market and taking workshops with Amanda and seeing that that's all here in one space." One way the farm has nurtured that community engagement is through their farm fests, held once a season. Garden Fest was held on Mother's Day in May, and Tomato Fest is set for Saturday, August 11.
Spencer says her long-term goal is to continue to develop the farm as a center for people who are looking for a healthy food experience. Central to this is the onsite farmers market, which is open in summer on Saturdays and Sundays from 10 a.m. to 4 p.m. and Thursdays from 3:30 to 7 p.m.
"The nice thing about the market is that not only can we host our produce and food from the cooking school and the herbs, but we're also hosting other local meat vendors — Beechtree Farm from Hopewell and Goat Hill Farm from right down the road," she says. "And sometimes we have local coffee roasters and local mushrooms. All of that is an important part not just to get consumers here but also other farms to access this space."
Ian Knauer, 41, grew up in Allentown, Pennsylvania. His mother, Cindy, was a lifelong educator, now retired, and his father, Robert, still works as a lawyer in Allentown. Knauer went to Hofstra University, where he studied international business. He worked in New York as a stockbroker for less than two years — long enough to know that he didn't want to make it his career. "And I would cook, because that's what brought me sanity," he says. "I realized that I needed to do something that I love for a living, and how much money I make matters a whole lot less than that sort of satisfaction."
He thought about going to culinary school. He had no desire to work in a restaurant; that lifestyle held no interest for him. He was fortunate to have met Ruth Reichl when she was the New York Times food critic, and after she became editor-in-chief of the erstwhile Gourmet Magazine, she hired Knauer to work part-time as a recipe tester. "The pitch was that I hadn't been to culinary school, just like her readers, so I would make the same mistakes that her readers made, and in fact that ended up being completely true," he says.
Gourmet would use his experiences to make recipes clearer prior to publication. He did that for three years until he outgrew the job. Instead of letting him go, Gourmet made him a recipe developer. He worked in that role at Gourmet until Conde Nast, its publisher, closed the magazine in 2009.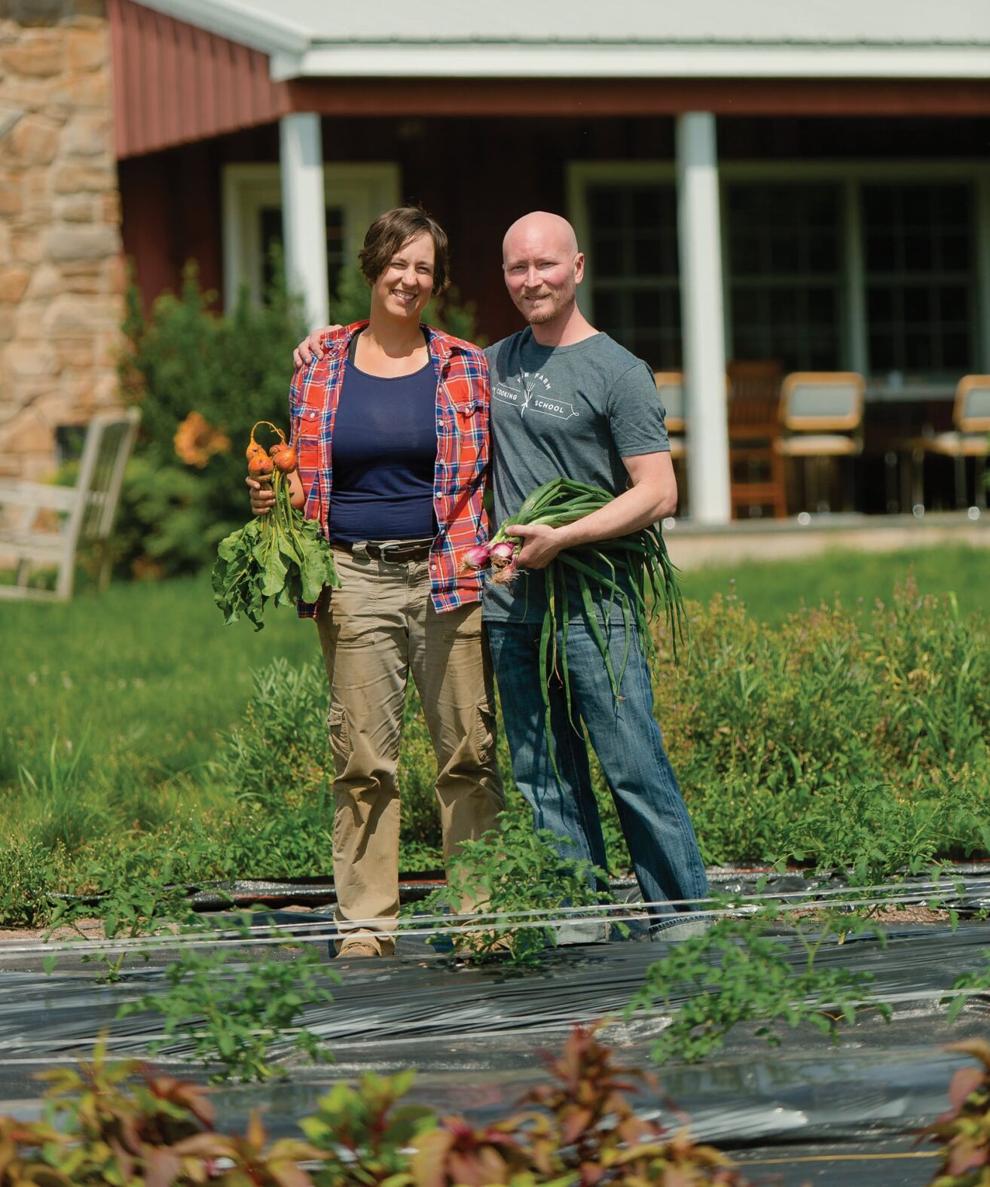 When Knauer (pronounce the K) was young, his grandfather had a farm down in Chester County that is still in the family today. Knauer would spend weekends on the farm doing chores like mowing the lawn or harvesting potatoes. "As a kid I just hated it," he says. "I'd have rather been playing Duck Hunt (on Nintendo)."
But as an adult, living in New York and working with food, he realized that he missed that connection to the land. He started visiting the farm more and more often on weekends, sometimes bringing friends. "It became a place where people liked to be, instead of just chores," he says.
After Gourmet, Knauer moved back to Pennsylvania and wrote a cookbook called "The Farm: Rustic Recipes for a Year of Incredible Food," which was published in 2012. He met with executives of WGBH, a public television station in Boston, about turning the book into a TV show. "They said, 'That sounds great. Come back with a show and we'll air it,'" he says. "Which is kind of like saying, "If you grow a foot taller, we can date.'"
But he had some friends with TV production experience, and he enlisted them to help him shoot a pilot episode. "We sent it to PBS and they said, 'Yeah, like we said, come back with 12 more episodes and you've got a show.' So we took a summer and we filmed a television show."
Knauer went around visiting farms, planting food, harvesting it, and cooking with it. He and his friends edited together a series with original music written for the show. Nobody got paid.
"We went back to PBS, this time WHYY (out of Philadelphia), and they said, 'This is fantastic, thanks for the content!' And they aired it. Then they aired it nationally, then they put it on their syndicated network (called Create)," he says. "It just got this really big national audience because people are interested; they want to know where their food comes from." The show is available today on Amazon (free to Prime members).
After the show first aired, Knauer would hear from viewers who had enjoyed it and would ask: where was his restaurant? "And I would say, 'I never wanted a restaurant!'" he laughs. But he still wanted to work with food.
He realized that because he had spent most of his professional cooking life in a learning environment, he felt most comfortable in such a setting. "There had always been a sense of learning for me, and that's really something that I enjoy, because there's so much to know with food," he says. "Opening a school seemed like a logical step and gave me an opportunity to continue to build that sort of place where we really think about food and are very intentional about it and also experimental with it."
He had kept in touch with many of his Gourmet colleagues after it was shut down, including Shelley Wiseman. Wiseman had heard that he was thinking about opening a cooking school and came down from New York to visit. The pair ended up hosting a pop-up dinner together. "At that point, she said, 'Well if you don't want to partner (with me), you should say so now, because otherwise I'm going to quit my job and move here and help you build this thing," he says. "And that's exactly what she did."
First they opened their cooking school on the grounds of Tullamore Farms in Stockton. "There's an old farmhouse there that's heavy on charm, and not so heavy on functionality," Knauer says. Roots to River Farm provided most of their vegetables.
They stuck it out there for two and a half years, until the opportunity in Hopewell came up. Not only was there the additional land that Spencer needed for farming, there was also the large market building, which had a certified commercial kitchen and deluxe brick oven outdoors. "When this opportunity came up, it made even more sense because (the cooking school) could really utilize the commercial kitchen in ways that I wasn't going to be able to, and really create value out of this space," Spencer says.
When they took over, the market building was mostly a large bare room. The commercial kitchen, situated in one corner, was a high quality workspace, but too small for classes to use. So Knauer and Wiseman built a wide-open learning kitchen next to it. There are 16 chopping blocks, which means each class at the Farm Cooking School has room for 16 students who can spend an average of two hours per class learning, cooking, and eating what they've cooked. At the same time they can be using the certified kitchen for pickling and preserving and preparing soups and pizzas for the market.
The Farm Cooking School offers a wide range of classes on everything from pie and donuts to burgers and seasonal pasta to Indian and Thai cuisine to vegetarian fare from around the world. Knauer and Wiseman teach many of the classes themselves, but they have also tapped into a network of area residents who are experts in particular fields, such as baker Jodi Schad and James Beard Award-winning cookbook author Maricel Presilla.
The school uses Roots to River Farm produce as often as possible in the classes, though they don't just cook veggies at the school. For seafood classes they bring in fresh sustainable seafood and use the vegetables for accompaniments to the main dishes. In the butchering class offered at the school, they will break down an entire animal from a local farm in the course of a class, then teach students how to cook it. Once a year Knauer does a pig-roasting class, where they break down and cook an entire heirloom pig.
They offer classes in which students learn basic cooking skills and techniques including knife skills, searing, braising, roasting, poaching, and grilling. Students can take these technique classes as one-offs or together in a package called Culinary Boot Camp. "The goal is, if you take all of those classes, you don't need recipes anymore," Knauer says. "You have enough technique that you can open your fridge and start cooking. Of course not everybody has the time or wherewithal to commit to take six weeks of classes. So if they want to learn how to make a perfect poached egg, they can just learn how to do that."
They also offer cooking camps in the summer for both kids and adults, which are more intensive than individual classes. The adult camp includes morning classes that end in lunch and an afternoon activity and evening class that ends in dinner, either at the school or at the restaurant of a chef who has a relationship with the farm, such as Juniper Hill in Annandale, whose chef, Josh DeChellis, is one of the professionals who has taught classes at the school.
"He's a great teacher and has a really incredible pedigree as a chef," Knauer says. "He was a chef in New York for many years. And his ethos is aligned with ours. He sources from local farms and does really high quality food by supporting the local agriculture industry."
Classes typically cost $95 for a two-hour session. Camps and some classes cost more; for all schedule and pricing information, go to www.thefarmcookingschool.com.
Knauer says classes are geared for students of any experience level. "We have professional chefs who come here who want to bone up on a skill that they're not sure about. Mostly we have home cooks who like to cook at home and want to get better," he says. "Once in a while we'll have someone who's really starting from scratch. Especially when it comes to the technique classes, we break it down to the point where, if you know knife skills, you're going to improve because we're focusing on the details, and if you're starting with a clean slate, there's nowhere to go but up."
The only thing that isn't hands-on at the Farm Cooking School is the farm-to-table dinners, which are offered once a month throughout the year and often sell out. For those, guests get to sit, watch, and eat as the chefs cook five or six-course meals utilizing local ingredients. Reservations are required for these meals, which cost $95 (BYOB). 'That makes us the most expensive BYO dinner around, which means it has to be the best food around," Knauer says. "For the most part I think we do a pretty good job of that. We sell out, so we're doing something right." The next farm-to-table dinner is scheduled for Saturday, August 18.
The Farm Cooking School does book private events such as birthday parties and teambuilding sessions, for which it has tiered pricing plans. Knauer says most of the time a hands-on cooking-class is part of the event. Though they don't have enough capacity to do weddings, he points out that the Barn at Gravity Hill, which can fit 80 people, is designed to host bigger events like that. In fact, the barn is where Spencer and Knauer tied the knot themselves in March. They live in Point Pleasant, Pennsylvania, with their dog, Duma.
Looking toward the future, Knauer says he wants to continue to expand their network of instructors so they can continue to offer a variety of interesting classes for their students. He is putting together instructional videos to post on YouTube, such as a butchering series that they have been filming as classes have happened, and they are also pitching a television show to studios and networks based on everything that happens at the farm. He is talking to traditional networks but also the likes of Facebook and Youtube and Netflix and Hulu. "It's not hard to see that's the future of television," he says.
Knauer credits Earling and Nicolo with setting up great infrastructure on the grounds. "They did it in a way that's not only functional but is also as sustainable as it can be," he says. They use solar panels for energy and geothermal systems for heating and cooling. "It makes as little impact on the environment as possible which is really one of the broader points of what we all do here," he says.
Many independent farms have cropped up (if you will) in recent years, as more and more people have become conscious of the U.S. food system and the strain that corporate agriculture puts on the planet. For someone like Spencer, who took interest in sustainability from a young age, farming is a first career. For people like Earling and Nicolo, and an increasing number of people both young and old these days, farming is seen as an attractive opportunity for a second act.
Based on what she has seen, Spencer has some advice for people considering the life of a farmer. "I would say no matter how old you are, or how much knowledge you have about some things, go work on a farm," she says. "Volunteer for one day a week if that's what you can manage, or be an intern. That will immediately tell you if that's what you want to do or not, and it will also put you years ahead of where you would be if you were starting out without anything. And you'll get paid. Not much, but doing that without the risk is the most important thing you can do."
Spencer remembers a woman who was at Genesis Farm when she was there. "She had been in advertising her whole life, and she was totally sick of it. She fell in love with cooking and wanted to start a farm, and so she was an intern for two years in her late 40s," she says. "And now she has a farm in northern Jersey."
As to whether independent farmers can make a living, she says there is no definitive answer. "I'm not going to automatically say yes. I wouldn't say that I'm making the living that I want to make yet," she says. "The profit margin is low no matter what. But there are people who are really making it work. And we are in process of seeing whether we can do that."
She also says there are creative ways for farmers to boost the bottom line or defray costs. She knows of some farmers who have partnered with nonprofits, and some who have partnered with landowners who pay them a salary to work the land. "There's lots of ways to make a living in farming. But not every farm is going to make it," she says.
Roots to River Farm, 67 Pleasant Valley Road, Hopewell. Market open Saturdays and Sundays, 10 a.m. to 4 p.m., and Thursdays in summer,3:30 to 7 p.m. www.rootstoriverfarm.com.
Also on the grounds: Farm Cooking School, www.thefarmcookingschool.com; the Barn at Gravity Hill, www.thebarnatgravityhill.com; and Locust Light Farm, www.locustlightfarm.com.
Tomato Fest, Saturday, August 11, 10 a.m. to 4 p.m. Live music, salsa competition, workshops, wood-fired food and picnicking, cooking demonstrations, plant sales. Admission is free, as is onsite parking. Fees charged for some workshops and demonstrations. The rain date is August 12. www.facebook.com/RootsToRiverFarmFest.
Also scheduled are a Homestead Fest on Saturday, October 6, and a Winter Fest Saturday, December 15.