This holiday gift-giving season we have a bumper crop of cool seasonal tech to explore, across a broad range of products. So we'll take a look at new developments in these various product categories, exploring how companies are packaging new tech and new ideas into their product lines.
The focus here is on portability (so you can easily take these products with you), and wireless connectivity (so you're not tethered and don't have to fuss with finding and connecting the right cable).
The well-known engineering aphorism says that of the three traits — better, faster, cheaper — you can only pick two because of the inevitable trade-offs involved. But the rapid and relentless advance of technology has proved this wrong, and once again we can see that products are getting ever smaller, better, faster, and cheaper.
We'll look at smart home fixtures, portable audio from speakers to headsets, and video cameras for monitoring and security — from front door visitors to back yard critters.
Another exciting development is STEM / STEAM toys for kids (Science, Technology, Engineering, Art, and Math), to encourage hands-on learning and interest through physical involvement with tech.
And we'll add a couple of bonus ideas: personal drone cameras and universal translators.
Making Rudolph Proud
Wi-Fi Power and Bulbs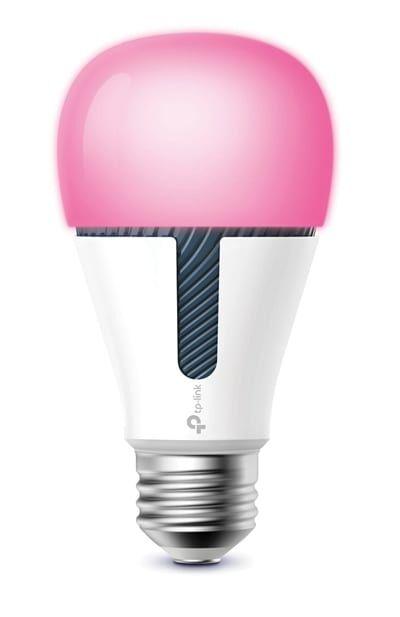 Smart home companies like TP-Link make products that you can use to control and manage your home, including Wi-Fi plugs, light bulbs, light switches, and smart cameras — plus the networking routers and Wi-Fi extenders to communicate with these devices. And these smart devices can be controlled and scheduled from smartphone apps, or by voice using digital assistants like Amazon Alexa and Google Assistant.
While this year's crop of smart home devices does not feature exotic new technology, it is another striking example of how technology continues to advance with smaller, better, and cheaper products.
For example, this year's TP-Link Kasa Smart Light Bulb line includes new dimmable (adjust brightness), tunable (soft to bright light), and multicolor bulbs that have improved in all three of these ways.
The new TP-Link Kasa Multicolor Smart Light Bulb is dimmable, tunable, and can adjust the color. The big difference is the further compaction of the Wi-Fi and color tuning electronics, thinning the shape so that it's even closer to the volume of a traditional light bulb. It's available for around $39, compared to $42 for the previous model last year.
Similarly, the TP-Link Kasa Smart Plugs allow you to remotely control anything that you plug into them, for example to turn the holiday decorations on and off. The new TP-Link Kasa Smart Plug Mini also has dropped in price, now at around $26 compared to $34 last year. But the real fun is the new TP-Link Kasa Smart Wi-Fi Power Strip, which crams six smart outlets plus three USB charging ports onto a power strip for only around $79. It's a tad long at 14.2 inches, but you get full control of all the outlets — you can power them on and off independently, or all together as a group.
Do You Hear What I Hear?
Wireless Speakers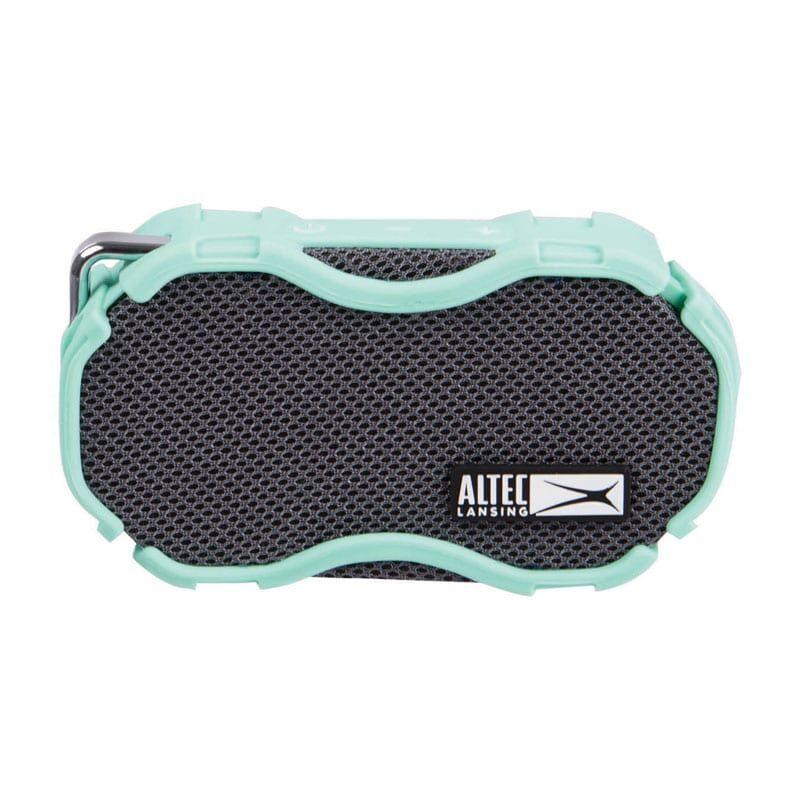 The excitement in audio recently has been in Wi-Fi speakers for smart homes that can be controlled by voice commands. But Bluetooth wireless speakers still are very useful — especially as personal, portable speakers that can move from room to room, indoors to outdoors, and come along when you are on the go.
This year's focus seems to be on making these speakers more rugged — and not only waterproof, but even able to float. The Altec Lansing line of portable speakers also integrate with voice assistants, and some support extended range up to 100 feet for the Bluetooth connection.
For personal use, at your desk or in a hotel room, you can start with a mini speaker like the Altec Lansing Baby Boom (around $29), a compact, rugged speaker that is smaller than your hand (around 4 x 2 x 1 inches, and a quarter pound). It even has a carabineer clip to attach to your backpack.
It puts out plenty of sound, and you can pair two of them as stereo speakers, with a 30-foot wireless range. It also works as a hands-free speakerphone for your smartphone. The Baby Boom has six hours of battery life, is waterproof, and floats.
For more volume and separate bass, step up to a slightly larger speaker like the Altec Lansing Mini LifeJacket Jolt ($79). It's not quite pocket size, at around 6.25 x 2.5 x 2.25 inches. It has an extended 100 foot wireless range, and you can pair up to 50 speakers at once for a really big house party.
The Mini LifeJacket Jolt also has a dedicated button to activate Apple Siri or Google Assistant, and has a USB port so that it can be used as a charger for your smartphone. It has 16 hours of battery life, and is waterproof and floats for pool parties.
The Altec Lansing Versa line of smart speakers supports both Wi-Fi (for at home) and Bluetooth (for on the go), and is integrated with Amazon Alexa for tap-to-talk voice control.
The Altec Lansing VersA 2 Go model is still relatively compact (around 4 x 4 x 2 inches), and delivers impressive sound with a 100-foot wireless range. It's also waterproof and has eight hours of battery life.
These also have speakers on both sides to fill a space better by pumping out sound in all directions.
Wireless Earbuds
Beyond wireless portable speakers, the best way to hear music is to put the speakers directly in your ears, with wireless earbuds. With today's technology, you can minimize all the necessary electronics into the two small earbuds, so there are no wires — not between the two earpieces, and not to the audio player.
The issue here is that the small earbuds need to be small and light enough to fit comfortably in your ear, but also need to hold a large enough battery to last for at least a few hours. Plus, the earbuds are so small that it's tricky to keep them safe and accounted for.
One nice solution, used with the Altec-Lansing True EVO Wireless Earbuds (around $99), is to include a carrying case that also has a battery to charge the earbuds while they're being stored.
The True EVO earbuds have a four-hour battery life and can add four additional charges from the case. The case can be charged either by USB or through Qi wireless charging.
The other issue with earbuds is the hostile environment that builds up in your ears when you move around and exercise. The True EVO earbuds are designed to be rugged, especially for sports, and are sweatproof and waterproof.
Wireless Headsets
The tiny size of wireless earbuds does require tradeoffs, including shorter battery life. Wireless headsets with a bit more room can have the capacity to provide extended listening times and additional audio processing. This is particularly useful for extended wear, in the office and for travel.
For example, Plantronics has a wide range of products, both single-ear earpieces used mostly for phone calls, and stereo earbuds and headsets for listening to music. These come in a variety of styles — in the ear, over the ear, over the head, and behind the head.
In particular, the Plantronics Backbeat wireless headsets feature extended listening times (eight-plus hours), voice assistant integration (Apple Siri or Hey Google), and have built-in active noise-canceling (ANC). This provides clearer audio in high- and low-noise environments, especially by filtering out low frequency noises like AC, fans, motors, and buzzing electronics. The noise-canceling level can be controlled from the Backbeat app, along with selecting balanced or bright EQ modes.
For longer use in earbuds the Plantronics BackBeat GO 410 Earbuds (around $129) add a flexible neckband that sits behind your head, with cables running up to the two earbuds. Having the neckband provides extended use — up to eight hours listening with ANC and ten hours without. And it allows the use of additional electronics, especially the active noise-canceling and voice assistant integration.
The design also allows you to insert and remove the earbuds easily. When you remove them, they snap together magnetically to hang out of the way, which also turns off ANC and disconnects Bluetooth to save power. Unlatching them automatically re-connects Bluetooth and will answer an incoming call.
The power cable also is cleverly dual-use — the USB charging tip pops off to convert the cable into a standard 3.5 mm audio connector, so you can still use the earbuds with a wired connection even if the battery is dead.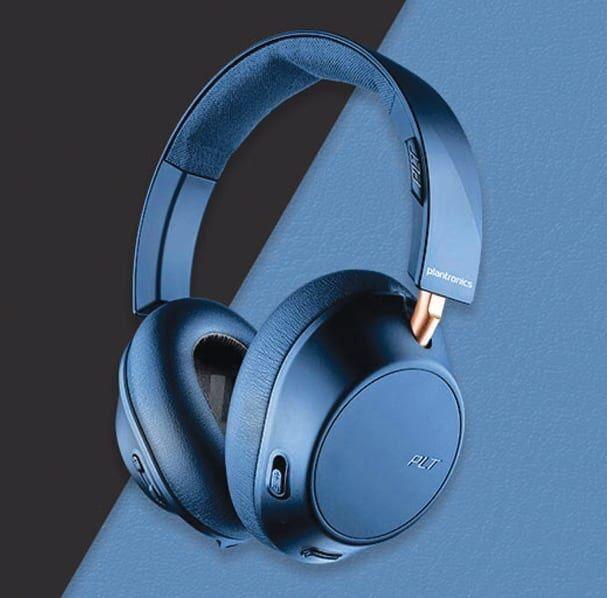 Of course the best way to isolate yourself on a long plane trip is to use over-the-ear headphones with earpieces that physically cover your ears. For example the Plantronics BackBeat GO 810 Headphones ($149) are designed for commuters and travelers, with up to 22 hours of listening time with ANC and 28 without. These have a slim over-the-ear design with memory-foam padding, weigh only seven ounces, and fold flat for travel.
They support an extended range Bluetooth connection of up to a 164 feet with compatible devices. You also can connect to two devices simultaneously and stream from either one. The earpieces have room for multiple playback controls, including volume, skip tracks, and take calls, plus setting controls including EQ presets, ANC on/off, and activate voice assistants.
He Knows If You've Been Bad or Good . . .
Wireless Video Cameras
Video cameras are becoming quite popular for do-it-yourself home security and monitoring, with smart home products like the Ring Doorbell cameras and the Blink Indoor and Outdoor. These are designed to monitor an area, send an alert if they detect activity, and post an associated video clip online.
These smart cameras are small and inexpensive, and so depend on the web for storage. As a result, they tend to capture relatively short clips, limit the amount of stored video, and/or charge a monthly fee for storing clips for longer than a short period. They're also not designed for extended live viewing.
But these security cameras are great for their purpose, and you can spend lots of time on YouTube watching clips of people who were caught acting badly at front doors — trying to break in, stealing packages, and hogging all the Halloween candy.
Another approach, taken by D-Link, is to build the intelligence and the storage into the camera, still with online cloud storage as an option. The camera detects activity, records clips to a local SD card, sends alerts to your smartphone, and optionally uploads the video to the cloud. And you can monitor them live, watching continuously for extended periods (and also record while watching).
The associated mydlink app also provides a broad range of configuration options, including remote viewing with zoom, split-screen to monitor multiple cameras, detection sensitivity (sound and/or motion), selecting zones within the view to monitor, alert types, and the use of night vision lighting with infrared (IR) LEDs.
With this flexibility you can use one of these cameras indoors to keep an eye on a room or larger area for pets or kids. And you can use one to monitor your house or a vacation home while you are away. You also can put a camera in an upstairs window to monitor the front or back yard. You then can watch the view live to keep an eye out for a package delivery, or set up multiple detection zones to alert when an unexpected visitor pulls in the driveway or walks up to the house.
The base D-Link Mini HD Wi-Fi Camera (around $59, two for $99) is a small cylindrical camera (3.6 inches tall) designed for indoor use, which records only to the cloud. It captures high-definition video with a 120-degree field of view. It will alert on sound or motion, and the night vision LEDs illuminate up to 16 feet in complete darkness.
The D-Link HD Wi-Fi Camera ($59) is an adjustable camera with similar specs, but it stores video locally, plus optionally to the cloud. It also has a speaker to allow two-way conversations. It's designed as a camera puck on an adjustable base and is only 3.6 inches high.
The D-Link Full HD Wi-Fi Camera ($79) steps up to higher-res full HD video also with a wider 130-degree field of view. It stands a bit taller, at 4.3 inches.
Finally, there's the D-Link Full HD Pan & Tilt Wi-Fi Camera ($99). This is a full HD camera with a 114-degree field of view. It adds the ability to move the camera to see a wider area — you can use the app remotely to pan side to side to see behind (170 degrees to each side), and tilt up and down (up 90 degrees to look straight up and down 20 degrees). It's 5.26 inches high and 4.58 inches deep.
D-Link does provide storage plans for its cloud storage option, which allow for multiple cameras. You can store video for free for 24 hours with up to three cameras. You can extend this to seven days for $2.49 a month or $24.99 a year, and go up to 30 days with 10 cameras for $9.99 a month or $99.99 a year.
Wireless Trail Cameras
Another specific application for video cameras beyond the home is trail cameras. These are specifically designed for mounting outside for extended periods to monitor an area for activity (as simple as strapping to a tree).
These can be used as a wildlife camera to capture critters on the trail. And they can be used as a security camera for unobtrusive capture of people or cars in a general area, using invisible lighting. In our area, trail cams also can be useful for watching your backyard to understand what is demolishing your plants at night.
While trail cameras are now available for $100 or less, they also are adding interesting and useful features that increase the price. Typically, current products detect game and other activity using a passive IR (PIR) sensor, triggering on a combination of heat and motion, to a distance of up to around 100 feet. They use night vision IR LEDs, not to constantly illuminate the area like smart cameras, but as a flash after activity is detected to light up the scene when recording. The flash can be "low-glow" (faint but visible red) or "no-glow" (invisible).
When triggered trail cameras can shoot a sequence of photos, a video clip, or sometimes both simultaneously. Higher-end models capture higher resolution images, fire more quickly after the trigger, and shoot at a faster rate.
These products also can automatically adjust for day/night conditions and temperature, and offer a variety of configuration options, including the capture resolution and rate, the detection sensitivity, and day vs. night vs. time-lapse shooting.
Trail cameras are typically packaged as durable and weatherproof plastic boxes, roughly 10 x 7 x 4 inches, often in unobtrusive camouflage designs. These are designed for leaving out in the field for extended periods, so they can have a battery life of six months to a year, albeit powered with an array of up to 12 AA batteries. They also can be compatible with a solar power accessory.
As stand-alone devices, trail cameras are designed to record to local SD card storage. You can go out in the field to swap cards, or retrieve the camera and plug it into a computer to access the image files through the USB port.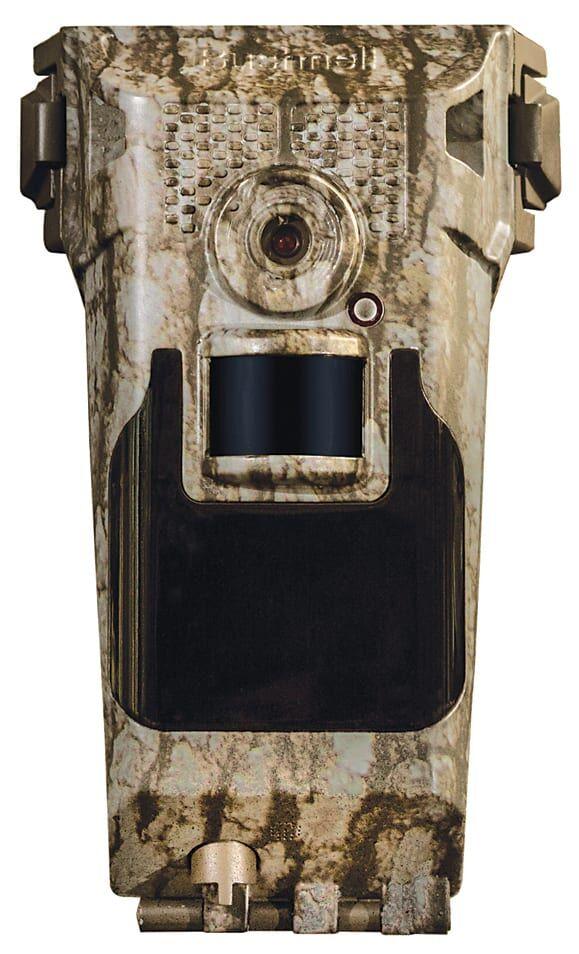 But this is changing. One new development in trail cameras is cellular models, which include a cell connection so you can check the status of a remote unit and receive immediate alerts and associated image thumbnails. Some also include Wi-Fi and Bluetooth connectivity, so, for example, you can check for overnight activity in the back yard and transfer video clips without needing to go outside and open up the unit.
As an example of new advanced cellular products, the Bushnell Impulse Cellular Trail Camera ($299) is due to ship right about now. It has AT&T or Verizon models with advanced 4G LTE cellular connections, so you can send images to a smartphone, via email, or to the Web or Facebook. And it supports Wi-Fi and Bluetooth without requiring a cellular plan.
The Impulse shoots 20 megapixel HD images, and true full HD video. It has hybrid capture (simultaneous photos and videos), and can tag the images with overlay annotations including date/time and temperature, plus record associated weather, wind, and moon data from the cellular connection. The no-glow flash uses 48 black LEDs to illuminate up to 100 feet. It runs for up to six months on 12 AA batteries.
The Bushnell cellular data plan offers flat monthly rates for different numbers of images. You can start at $6.99 a month to just configure and monitor the camera over cellular, but with no images. Or sign up for low-res thumbnail images for $9.99 a month for 1,500 images to $15.99 for 15,000 images. Then you can add additional downloads of high-res images for $0.99 each, 10 for $7.99, or 25 for $16.99.
Flying Selfie Camera
Speaking of cameras, don't you hate it when you're out in a group and want to take a selfie — but your arm isn't long enough to get everybody in the picture? Wouldn't it be great if you could pull a flying camera out of your pocket, toss it in the air, and then position it higher and at a wider angle for the perfect photo?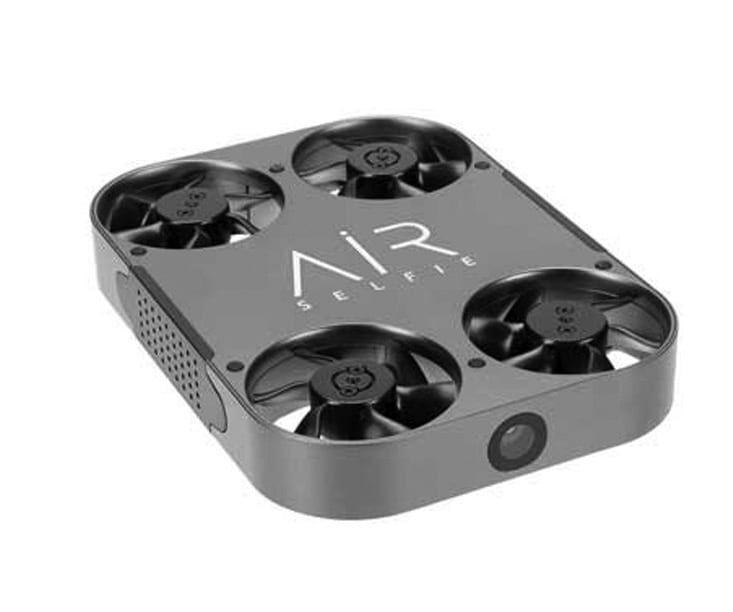 Your dreams may have been answered with the AirSelfie2 Portable HD Flying Camera ($199). This is a small drone that is palm-sized and only 2.8 ounces. You pilot it from your smartphone over a direct Wi-Fi connection, and it transmits live video of the view so you can shoot photos and capture video clips. It has a reasonable 12 megapixel camera with 81 degree field of view, and shoots high-res full HD video.
This second edition of the AirSelfie includes two imperfect but key features from higher-end drones: auto stabilization, so it can hover in place without you needing to constantly adjust the controls, and auto tracking, so it can lock the camera on your face and keep you in the view even as you move around.
The AirSelfie2 flies for around five minutes on a charge. There also is a PowerBank accessory that can recharge the unit 20 times in the field for a total flight time of 75 minutes (bundled with the AirSelfie2 for $249). The Wi-Fi connection should work to a distance of 65 feet, but a distance of closer to 20 feet is recommended.
The AirSelfie2 can be used outside, but it is so light that it's really only practical in controlled conditions without wind. It uses bottom-facing camera and sonar to control its motion, so the company suggests that it works best in a well-lit environment, over flat and multicolored surfaces, and without sound-absorbing surfaces (like rugs). Even so, it seems to readily handle flying over furniture and other obstacles of different heights and textures.
Universal Language Translators
As a final example of technology getting better and coming to fruition for use in our daily life, here are two very different approaches to the idea of a universal translator — something to help you get by in a foreign language without the time and expense of learning that language.
The universal translator has been a staple of science fiction (if nothing else, to avoid a huge slowdown in the plot while learning to communicate with each new alien species). And universal communication has been a dream of humankind since the Tower of Babel. With continuing advances in speech recognition, especially driven by voice assistants, and similar advances in automated translation, we've now reached practical voice translation for around 70 human languages, if not for alien planets. Yes, this is not universal translation, but it's quite impressive, considering that we are still 250-some years before Star Trek.
You can get a heck of a translator for free by downloading the Google Translate App for Android or Apple iOS. The app builds on the Google Translate website, originally introduced in 2006, which provides text translations. It can now translate between 103 languages and serves more than 200 million people a day. It can automatically detect the language that you are using as you are typing — with live spelling corrections — and then immediately starts translating into your selected language. For some languages, you also can click to hear the original or translated text spoken aloud.
The website can translate up to 500 characters at a time. While this automated translation cannot really capture the deeper meaning in longer passages, it can be useful to extract at least the gist of the meaning, and it is very successful at translating straightforward phrases and sentences.
The app, available since 2010, provides instant two-way conversational voice translations, plus an array of related features. You first select the two languages to translate between, and then can type, speak, or use photos of text to perform translations. The app will translate between any of the 103 languages currently supported. Or you can use your finger to draw letters or characters (for 93 languages).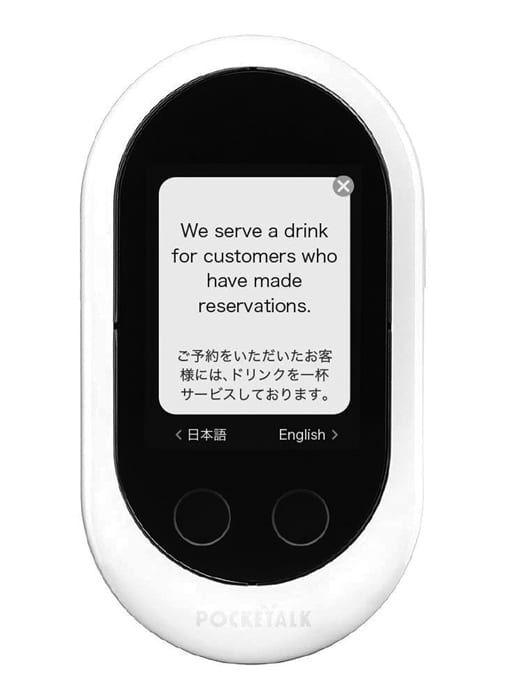 In comparison the Pocketalk Voice Translator is a portable instant two-way voice translator. It currently supports voice input in 74 languages and voice output in all but around 20. It's small and rounded and definitely pocket-sized, at 4.3 x 2.4 x 0.6 inches and 3.5 ounces.
The interface is very simple on the small 2.5 inch touchscreen. It is focused on holding conversations — first select the two languages to be used, then press the associated (physical) talk button to speak. Then you can hand the device to your interlocutor, who can hear and read the translation, and then press the button for the other language to speak its response.
The Pocketalk does require an Internet connection to perform translations. (It's basically a customized Android-based smartphone.) The full Pocketalk with built-in mobile data ($299) comes with a global SIM card that works in more than 100 countries. There's no additional monthly fee — the price includes a two-year unlimited mobile data plan. You can add another two years of data for $100.
The Pocketalk Add Your Own Mobile Data model ($249) comes without the SIM card, so you can add your own. The Pocketalk also supports Wi-Fi for translations (even without cellular), and Bluetooth for connection to external speakers.
So how well do these work? We tested the Pocketalk and Google Translate side by side translating phrases back and forth between English and languages including French, Spanish, and simplified Chinese, plus bits of Russian, German, and even West African Hausa. In general, both systems provided the same (or really close) translations, and they tended to make the same mistakes when words were not enunciated clearly.
Pocketalk is a dedicated device, with extended battery life up to eight hours of talking. It's small and easy to use, without needing to swim through a plethora of options — just click the button and start talking. Perhaps the biggest benefit is that it's sharable — you will not be in the position of deciding whether to hand your personal smartphone and the personal information it holds to a stranger in the street.
So, looking to the future, while these products will not be able to help translate the native language when the Martians land, they should be very useful for at least basic back and forth conversations, no matter which of our planet's radio broadcasts the Martians have been studying.
They're Gonna Build a Toyland All Around the Christmas Tree
STEM Learning Toys for Smart Kids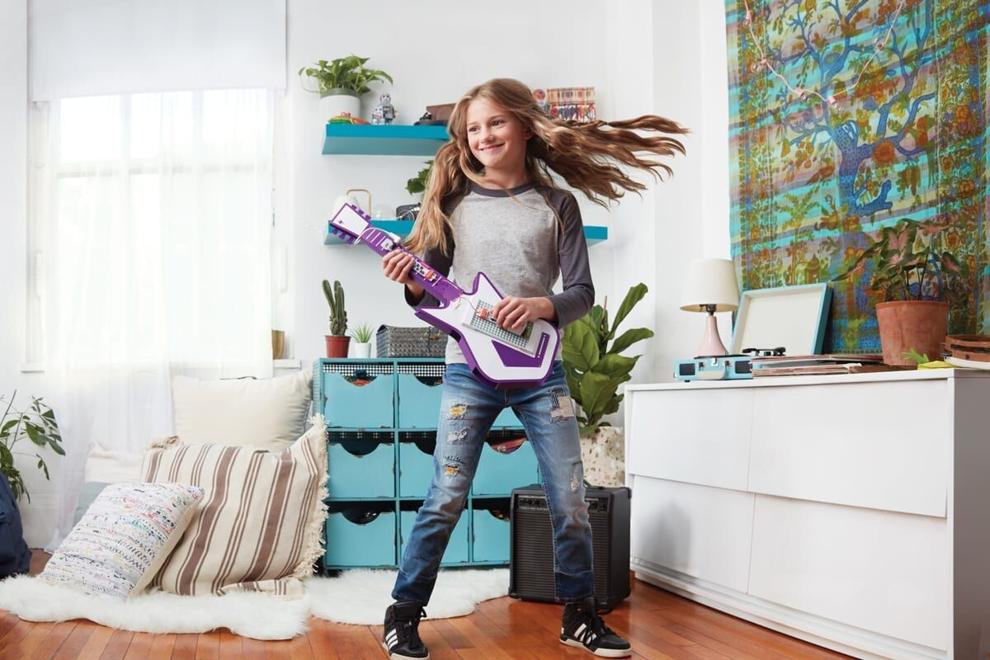 There's a big push to encourage science and technology education (STEM), which is also extended to STEAM by adding the "A" for Art. This push has helped to drive innovation in educational toys that can serve as a gateway to STEM, helping kids to learn by doing and engage with tangible physical objects, while still having fun. Two such products, the littleBits electronic building blocks and the Ozobot creative robot, have significantly stepped up their offerings, and they are seeing success — for example, littleBits reports that up to 40 percent of kids using its kits are girls, four times the industry average.
The littleBits electronic building blocks, first released in 2014, allow kids to engage with electronic circuits by embedding a collection of electronic modules into "Bits" — small circuit boards that simply snap together magnetically. There are some 70 different bits now available, along with 10 themed inventor kits. The individual bits are priced starting at $7.95 and $9.95 for basic bits, around $17 to $25 for more complex bits (temperature sensor or servomotor), and up to $39 and $49 for specialty bits (MIDI or MP3 music). These are designed for ages 8 and up.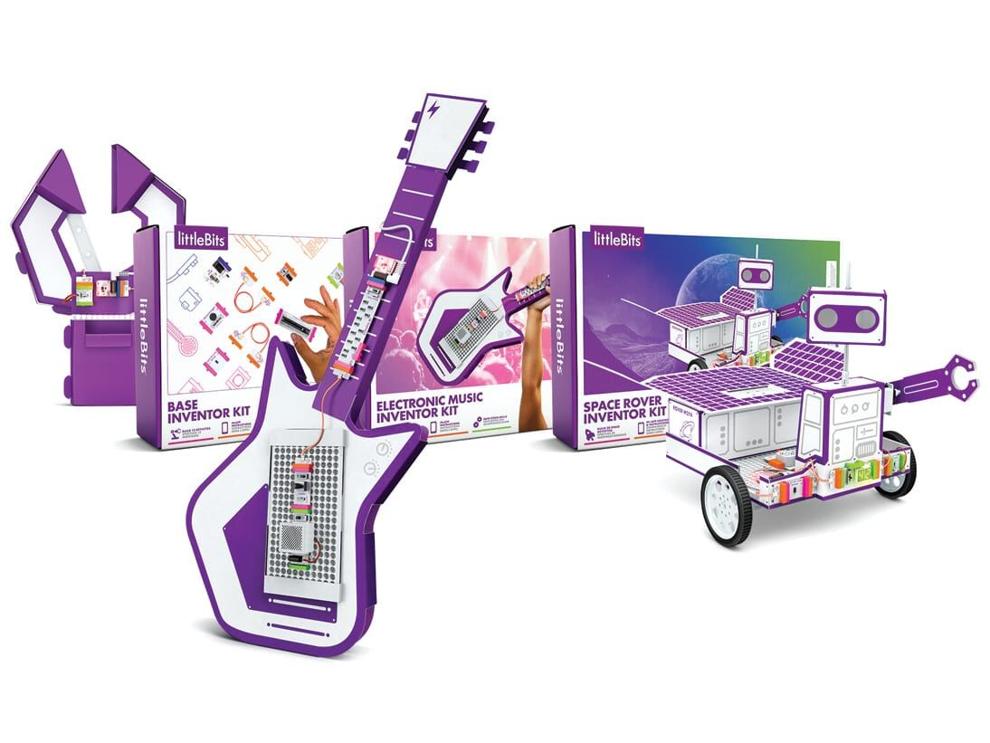 You build your invention by snapping together the four kinds of bits — power bits to power the chain, input bits to control the following bits, wire bits to route and change the flow, and output bits to do something at the end. The input bits include touch controls like buttons, switches, and sliders, sensors for light, motion, and sound, and sound generators like a keyboard and micro sequencer. The wire bits can perform logic (and, or, not), fork the signal on multiple paths, and communicate wirelessly to other bits via radio. Then the output bits display light like a bar graph or number, generate a sound with a buzzer or speaker, or can be in motion, from a fan to a DC motor.
Newer bits even perform more sophisticated actions that bridge from toy circuits to smartphones and computers. These include taking input from a microphone or MP3 player bit, communicating using USB or Bluetooth, sending/receiving signals from the Internet, and programming with mini-computer bits.
littleBits also has packaged a variety of kits with a selection of bits for different themed types of inventions. You can get started with Hall of Fame starter kits ($39), a Rule Your Room kit for touch-based inventions ($79), and a Droid inventor kit for creating robots ($99). The new collection of Inventor Kits includes the introductory Base Inventor Kit to build an intruder alarm or voice-activated robotic gripper arm ($99), the Electronic Music Inventor Kit to experiment with electronic instruments from a keyboard synth guitar to a hands-free air drum ($99), and the Space Rover Inventor Kit to customize a planetary rover ($199). There's also an Avengers Hero Inventor Kit to build high-tech hero gadgets ($149).
In contrast, the Ozobot is simply a pocket-size 1.25-inch robot, first released in 2014. The brilliance of its design is that you can play with it at many different levels. You can start out with only pen and paper — just draw lines to have it follow paths and randomly pick directions at intersections. Then add commands by drawing patterns of colored dots or using stickers — change speed, move in a direction, pause, count down until change, and perform pre-defined moves. You then can use the color commands to create activities for the Ozobot to perform, including race tracks, obstacle courses, mazes, puzzles, and other games. You can share these online and download and print designs to try out. The company calls this "screen-free coding" — you're thinking about programming logic by drawing colors on paper.
You also can bridge the physical and digital worlds by having the Ozobot explore different activities on a tablet. The Ozobot website (www.ozobot.com) has a playground section with a variety of play ideas and printable games, plus interactive games you can play using a web browser with the Ozobot on the tablet screen.
All this physical fun can then transition into programming using the OzoBlockly programming tool, which also runs in the browser. This has five levels of sophistication, starting with simply dragging and dropping to link icon-based code blocks, with the same kind of logic that you have already done using colored pens. You can transfer the program to the Ozobot by holding it up to a circle on the computer or tablet screen, which then blinks a sequence of colors to transmit the program without requiring connecting any wires or setting up any wireless connection. OzoBlockly is based on Google Blockly and can progress to advanced programming with logic statements.
There are now two Ozobots available. The original Ozobot Bit ($59) works as described above, and is designed for beginner coding for ages 6 and up. The new Ozobot Evo ($99) is designed for ages 9 and up to grow into advanced coding. It adds more lights to flash, proximity sensors for detecting obstacles, a built-in speaker, and a Bluetooth connection. You then can use the Evo app to play games, write code, and connect with others online. The Evo also has a few built-in tricks that it performs out of the box using the proximity sensors to follow or run away from your hand or to play musical notes as you touch the different sensors.
There are also DIY packs for decorating your Ozobot ($10), and Marvel Avengers Action Skins to turn your Evo into a superhero and program its actions ($15 each).
Over the River and Through the Woods: Portable Presents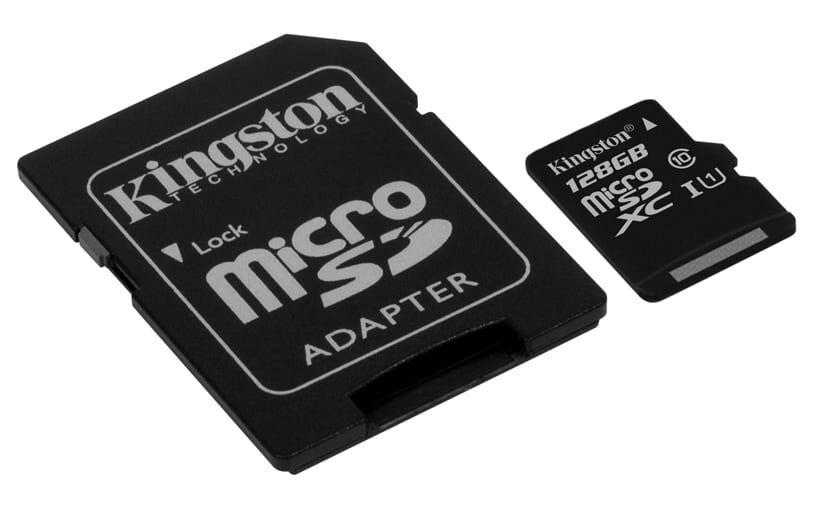 For every trendy toy and newfangled gadget given this holiday season, there are bound to be some more mundane items stuffed into stockings and nestled under trees. These necessities for power and storage aren't necessarily the things you want, but they may be the things you need.
Portable & Wireless Power. Even with continued technological advances, our portable devices still require power, which becomes more of a problem when we're on the go and carry more of these power-hungry devices.
All these devices typically lead to a growing collection of cables, but a big focus this year is on providing power wirelessly. And wireless charging does sound like a great idea, with no more profusion of cables, and no more confusing plugs that always seem to be the wrong type or positioned upside down. Instead, you can just put the device down on a mat, and it magically charges. However, this promise has been hampered for years by confusion in the market caused by different competing standards.
Now the industry has coalesced behind the tersely-named Qi format. (Think of qi as meaning "energy flow" from the Chinese.) Qi wireless charging now has the support of a critical mass of major manufacturers, including Apple, ASUS, Canon, Dell, Google, Lenovo, LG, Panasonic, Samsung, and Sony. In particular, it's built in to Apple's iPhone 8, iPhone 8 plus, and iPhone X.
Wireless chargers are typically designed as mats or pucks, so you can just put your smartphone down to charge. Of course, you do then need to plug in the charging plate. These products use inductive technology, which requires close contact (basically directly touching), and typically also requires aligning the device with the coils in the charging plate.
Companies like Ventev offer a range of power accessories, including portable batteries, wall chargers, and car ports. (Ventev uses a trademark matte light grey finish with orange accents.) For wireless charging, Ventev has integrated the charging mat into a smartphone stand, the Ventev Wireless Charge­stand (around $59).
The stand and its aluminum frame are adjustable, for two viewing angles, for different positions (portrait, landscape, or flat on table), and for optimal charging centered on the back of the smartphone. And the wireless charging puck is removable, so you can use it (and the stand) independently.
The Chargestand provides 15W of power, so you can use the smartphone while it is charging. And it supports fast wireless charging, so the smartphone can charge 50 percent in one hour. It also supports both the Qi and PMA wireless charging standards, so it can work with a variety of older and newer devices.
As an example of a flexible portable wired charging, the Ventev Powercell 6010+ Backup Battery is a combination external battery pack and wall charger (around $49). It has everything you need built in — folding AC prongs to plug in to the wall to recharge the battery, and a built-in cable (Apple's proprietary Lightning power cable or USB-C) to feed your devices.
The battery can charge a tablet, or two smartphones at once using the built-in cable and the additional USB port. It still is relatively small and light — shirt-pocket size at 5.2 x 0.7 x 2.7 inches, and 6.7 ounces.
Another option is a combination desktop charging stand and backup battery like the Ventev Chargestand 3000c Backup Battery/Stand (around $49, with built-in microUSB, USB-C, or Apple Lightning).
As a stand, it pops open so you can position your smartphone in either portrait or landscape orientations. As a desktop charger, you can dock your smartphone with the included flat cable that nests in the stand. As a portable battery, you can close the stand and unroll the built-in cable to charge your smartphone on the go.
Portable Storage: SD Cards. Our portable devices also need storage for all the images, videos, and other data that we collect and carry around with us. The preferred storage medium for portable devices is SD cards for larger devices like cameras, and the tiny microSD cards for smaller and thinner devices like smartphones.
Since SD cards are removable, they can bridge nicely to computers, where you can copy files using an external USB card reader like the Kingston MobileLite G4 USB 3.0 Card Reader ($11). It's small enough to easily carry along with your laptop and has slots to read both SD cards and microSD cards (without requiring a separate adapter). Or you can solve several needs with one accessory by using a multi-outlet USB hub that also includes SD card slots.
For these cabled connections, the big development this year is the broad adoption of the new USB Type C connector. For portable devices, USB-C is like microUSB, except that the connector is reversible — so you no longer need to fuss with plugging the cable in the right way around. For laptops, it's smaller than USB, and has the capacity to be used for power, disk data transfers, and even digital video displays.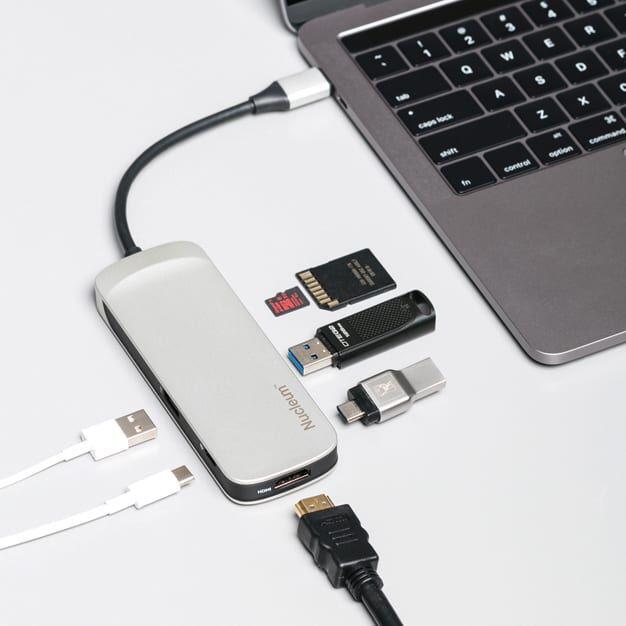 The Kingston Nucleum USB-C Hub ($49) is a multiport adapter that showcases the flexibility of USB-C. This small and light device includes a built-in cable to plug in to your host laptop and seven expansion ports to allow for charging, connections to other external devices, and additional memory — all in one device.
However, some smartphones and tablets do not have a microSD port (here's looking at you, Apple), so how can you do backups or transfer files locally, without the need for intermediate SD cards or the vagaries and slower speeds of wireless connections or cloud services?
One answer comes in flash drives for portable devices, like the Kingston "Duo" products. These take a traditional flash drive with a standard USB port (for computers to access the stored files) and add a second port on the other end to connect directly to portable devices (either microUSB, USB-C, or Lightning).
The Kingston DataTraveler microDuo 3C is a tiny dual drive (1.2 inches long) with both standard USB and USB-C ports. It's available from 32 GB of storage for $12 up to 128 GB for around $39.
Similarly, the Kingston DataTraveler Bolt Duo looks like a USB flash drive but also has a Lightning connector to provide extended storage for iPhones and iPads. Since Apple's operating system does not support general file access to storage, the Bolt Duo focuses on handling your photos and videos. From your device, you can transfer your photos/videos to the drive, capture directly to the drive, and view the files on the drive. It's available from 32 GB of storage for $34 up to 128 GB for $69.
Portable & Wireless Storage: External Hard Drives. SD cards are great for local storage on portable devices and for transferring files between these small devices and computers. But if you need serious external storage for computers — with lots of capacity and big-file speed (especially for high-def video) — you really need an external hard drive. Today we're talking about a terabyte or more of storage.
The new focus in external drives is hardware encryption. The contents of your drive can be password-protected and encrypted, so the drive is always safe from prying eyes if happens to wander off. And the encryption is in hardware, so it is built-in and unnoticeable.
For example, Western Digital has a full line of portable storage products. You can get simple plug-and-play drives starting as low as around $50 for 1 TB of storage, but for $10 to $20 more you can step up to higher-performance drives with built-in encryption.
The WD My Passport portable drives are available with two types of drives, wired and wireless, and with two different storage technologies, Hard Disk and Solid State Drives (HDD and SDD). HDD are significantly less expensive and offer higher capacities, while SSD are smaller, faster, and more rugged, which is especially wonderful for small, thin, and light laptops. However, SSD is still expensive — prices are multiples of hard-disk drives.
You can start with the Western Digital My Passport Ultra portable hard drive. It's slim and light (4.44 x 3.21 x 0.5 inches), with hardware encryption, and is available from 1 TB of storage for around $69 up to 4 TB for $129.
Then the Western Digital My Passport SSD provides the advantages of solid-state storage, in a smaller and thinner package (3.5 x 1.8 x 0.39 inches), also with a USB-C native interface and hardware encryption. However, the advantages of SSD requires a serious jump in price for the benefits of SSD — from 250 GB for $99 to 2 TB for $599.
Or you can go wireless with drives that also can communicate over Wi-Fi, so you can access them without wires and from multiple devices, including computers, smartphones and tablets, and even cameras. The Western Digital Plus My Passport Wireless line also has a built-in SD card reader and a USB port so you can share files wirelessly from a camera or another drive. And they even can serve as an external battery power source for your other portable devices.
The Western Digital My Passport Wireless Pro is a wireless hard-disk drive, plus SD card reader and powerbank. It's a bit bigger, at 5 x 5 x 0.9 inches, and weighs around 15.5 ounces. It's available from 1 TB for around $149 up to 4 TB for $189.
The Western Digital My Passport Wireless SSD provides the same functions using a solid-state drive. 256 GB of storage for $229 up to 2 TB for a hefty $799.
For the fastest wireless connection, you connect directly to the wireless drive as its own Wi-Fi hotspot. Or you can connect your devices and the drive to your local Wi-Fi connection, which then allows you to access the Internet as well — though with lower transfer rates since the connection is indirect and shared.
Holiday Tech Talks with Doug Dixon
Princeton Public Library, 65 Witherspoon Street, Princeton. Wednesday, November 14, 6:30 p.m. www.princetonlibrary.org
Princeton PC Users Group, Mercer County Library, 751 Brunswick Pike, Lawrenceville. Tuesday, November 27, 7 p.m. www.ppcug-nj.org
Computer Learning Center at Ewing, Ewing Township Senior & Community Center, 999 Lower Ferry Road. Tuesday, December 4, 2 p.m. www.clcewing.org
Hopewell Public Library, Hopewell Train Station, 3 Railroad Place. Wednesday, December 5, 7 p.m. www.redlibrary.org
Douglas Dixon is an independent technology consultant. Visit www.manifest-tech.com.